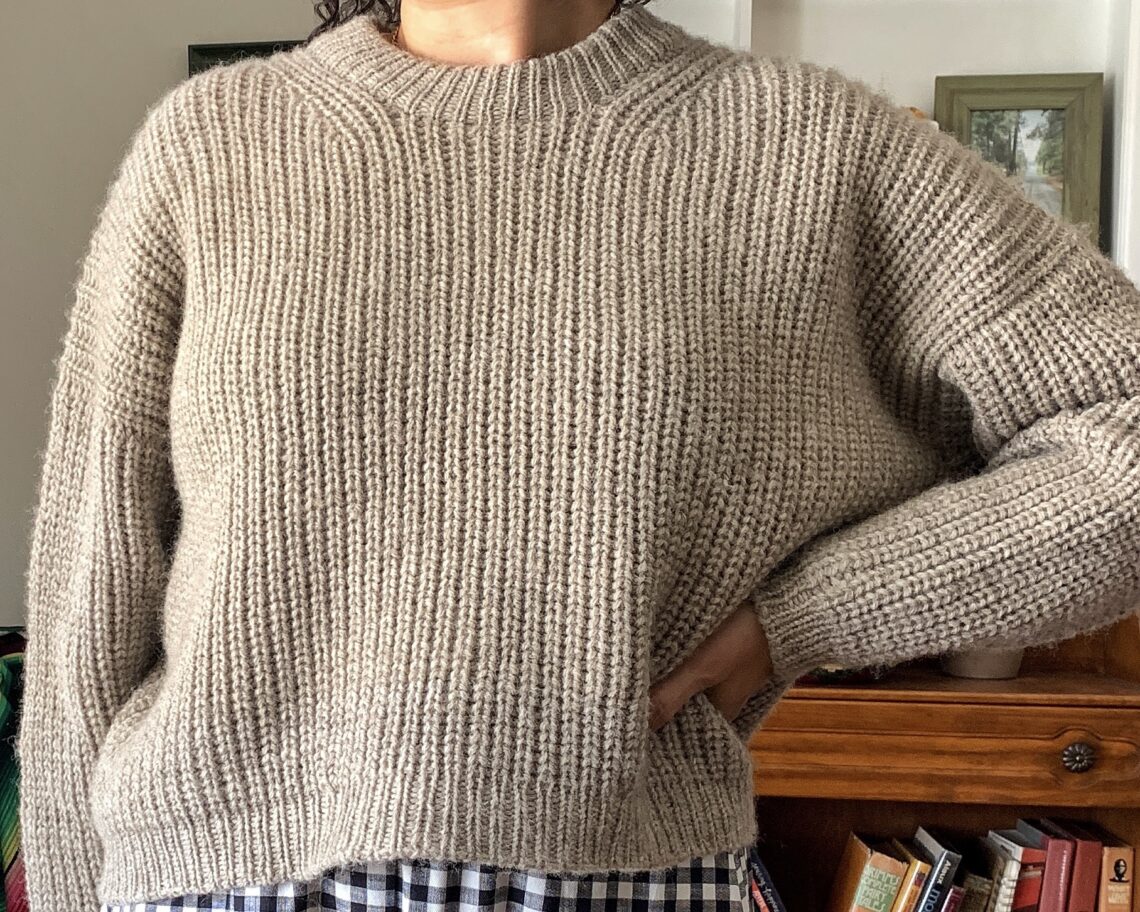 Emerson Review and Another Pair of Bob's
Meet my new crush, Emerson. I'm a little heartbroken that we only just met. I can see my magnolia blossoming and Kansas will morph from cool spring to sweltering hot summer in no time flat, but I'll just enjoy my newly finished wool Emerson pullover for as long as I possibly can.
Emerson Review
This is the Emerson Pullover pattern by Vivien Shao Chen. It is an oversized crew neck sweater with a folded neckband, knitted top down. This was my first time knitting in Half Brioche. I knitted up the size 40″ (my bust being between 38″ and 39″ inches right now). My gauge was a little small so I crossed my fingers that the finished garment would end up close enough. Knitting swatches and gauges are still usually a head scratcher for me. Although I've been knitting for a while know, it really isn't super intuitive for me. Maybe it's because I'm not much of a numbers girl.
Halfway through the process I was very worried my Emerson was going to be way too small. The pattern does warn about the tendency for Half Brioche to grow considerably after blocking and I can confirm this to be true. I was so relieved as soon as I pulled it out of the bath. I do wish I added at least an inch to the length of the sleeves and body but I am seriously loving it as is and will definitely make another in the future with a yarn that better matches the suggested gauge.
To all of my budget conscious friends, this was knit up in I Love This Wool Naturals in Biscuit, so this was very economical. It's getting a little fuzzy with wear around insides of the arms which is not bothering me yet. We shall see!
If only it didn't take almost 4 months to knit! This has all to do with me and not with the pattern. This was actually super simple and straightforward to knit up, although I did misread the pattern and ended up seaming the shoulder seams together instead of knitting continuously, as the pattern clearly states. Again the error is completely my own and it all ended up working out in the end. Apparently I'm the WORST at reading knitting patterns and will go to great lengths to make things more complicated for myself. I seem to always get ahead of myself while knitting, which I do with sewing as well. Sewing is just way easier to fix. LOL!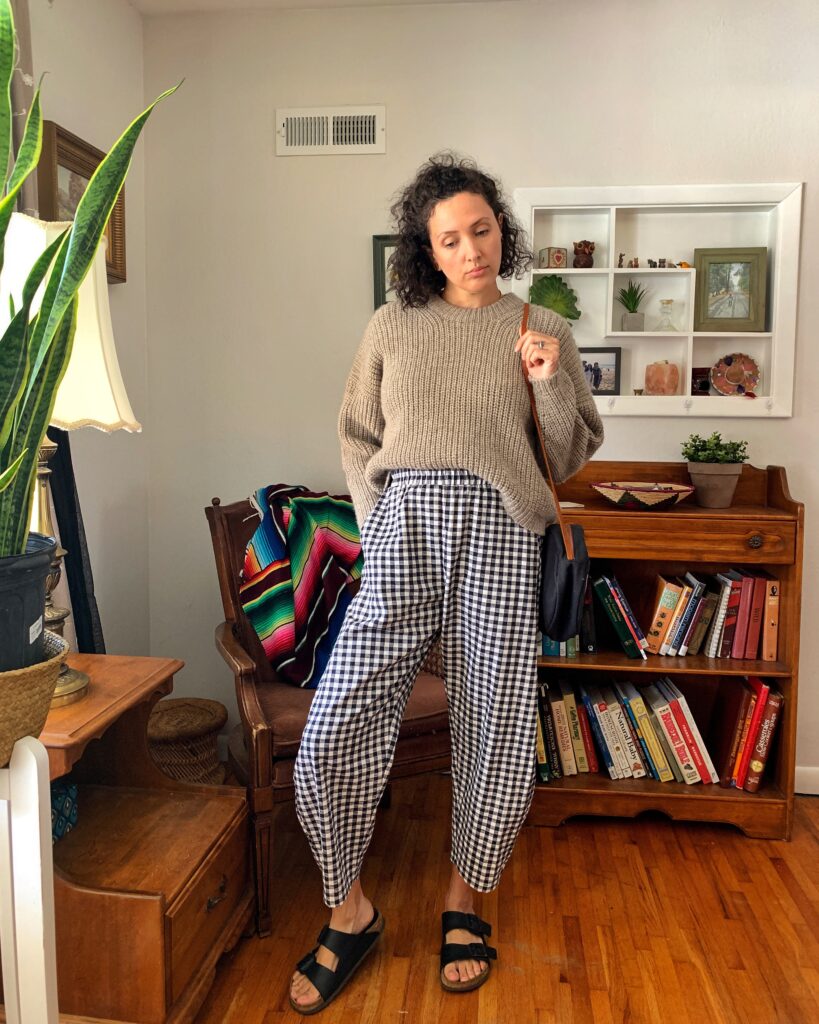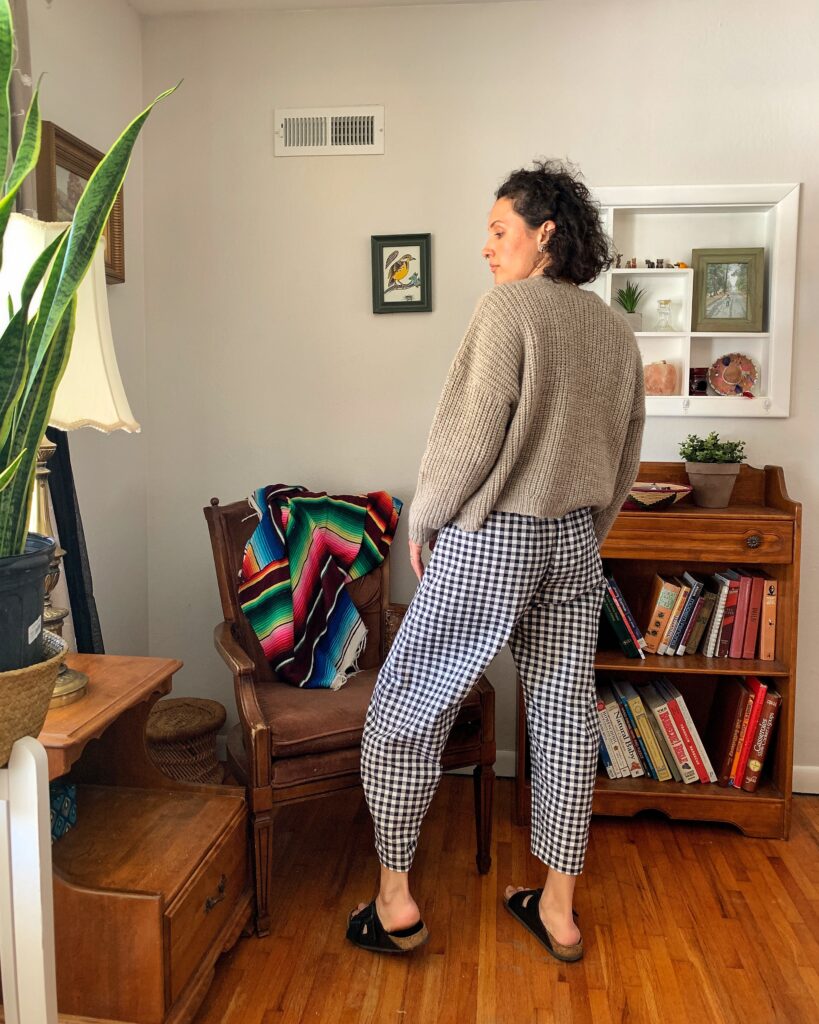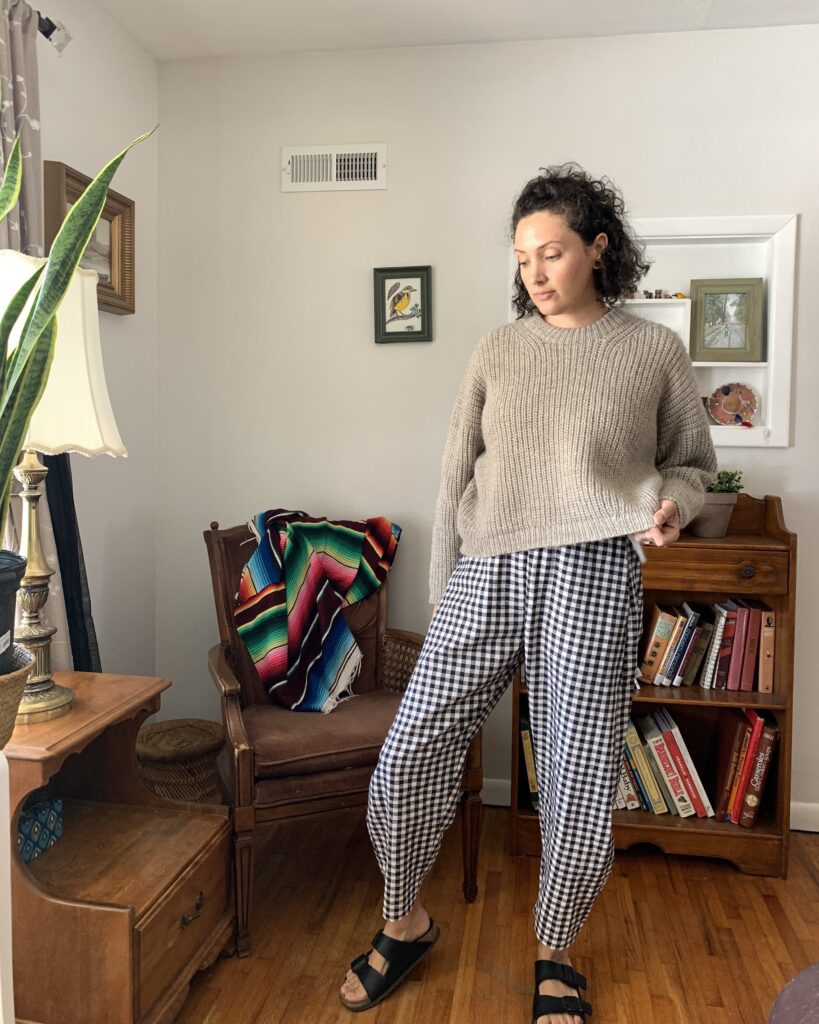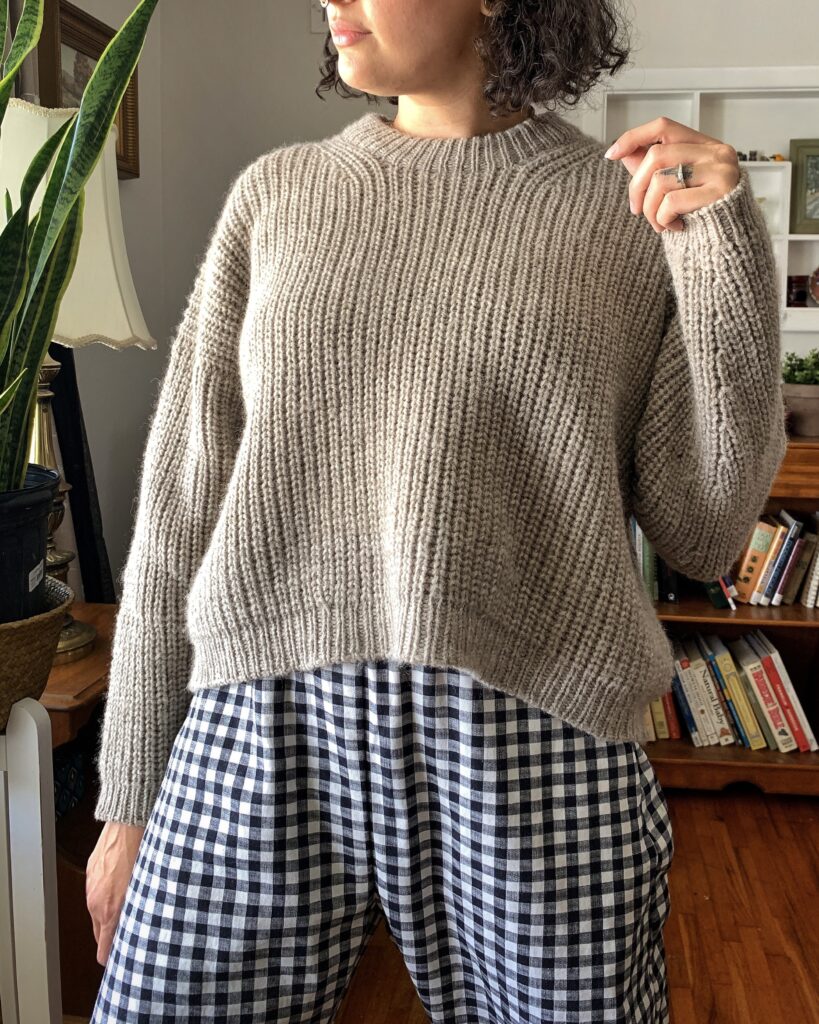 Bob Pants No. 2
In these photos I'm wearing Emerson with my second pair of Bob's. This is the ever popular Style Arc pattern, and I'm loving the adjustments I made this go around. I love these pockets so much more as mentioned in my story highlights. I lengthened the pocket pieces so that they meet the waistband. Since The pocket bags sit a little higher up on the side seams, the pocket openings are also higher up which I very much prefer. The lower floppy pockets as drafted is not to my liking.
I did not create a pattern piece for the pocket. I simply used the front pant pattern piece to extend the pocket up the side seam and across the top, eyeballing the rest. The pockets were also sewn in using my favorite method as per the Tessuti Lisa Dress pattern instructions that I have mentioned before. They don't move around at all while wearing which I LOVE. I also added a sweet label gifted to me from Juno Design Co. The labels are geared toward the home sewist and the quality is so great.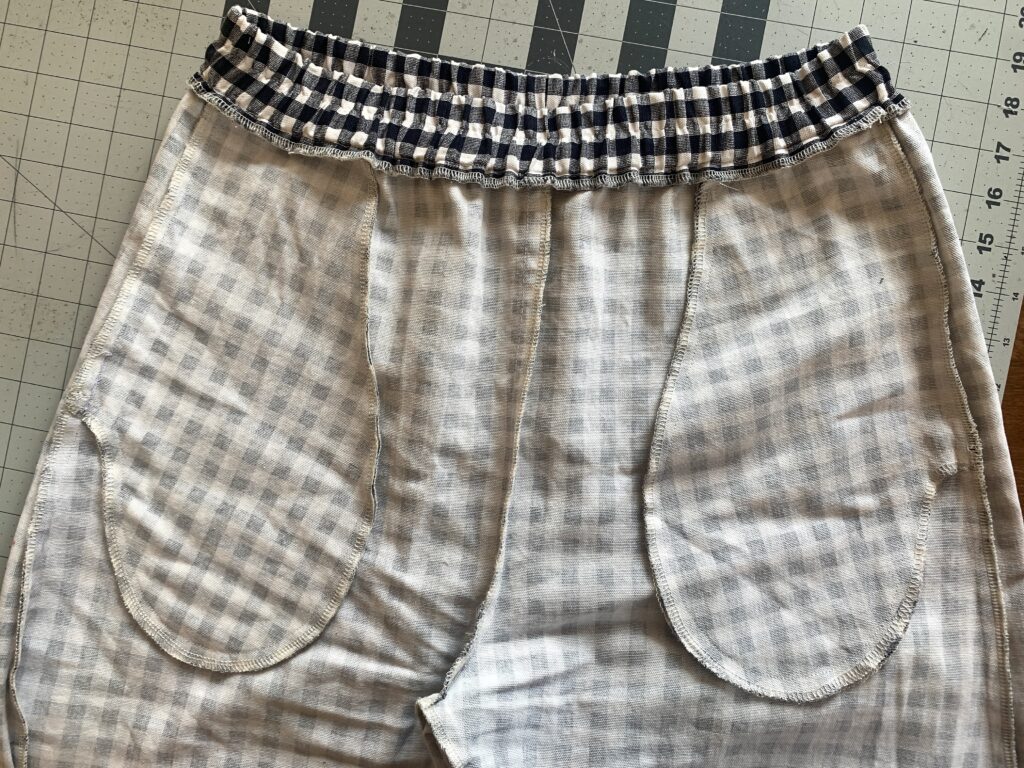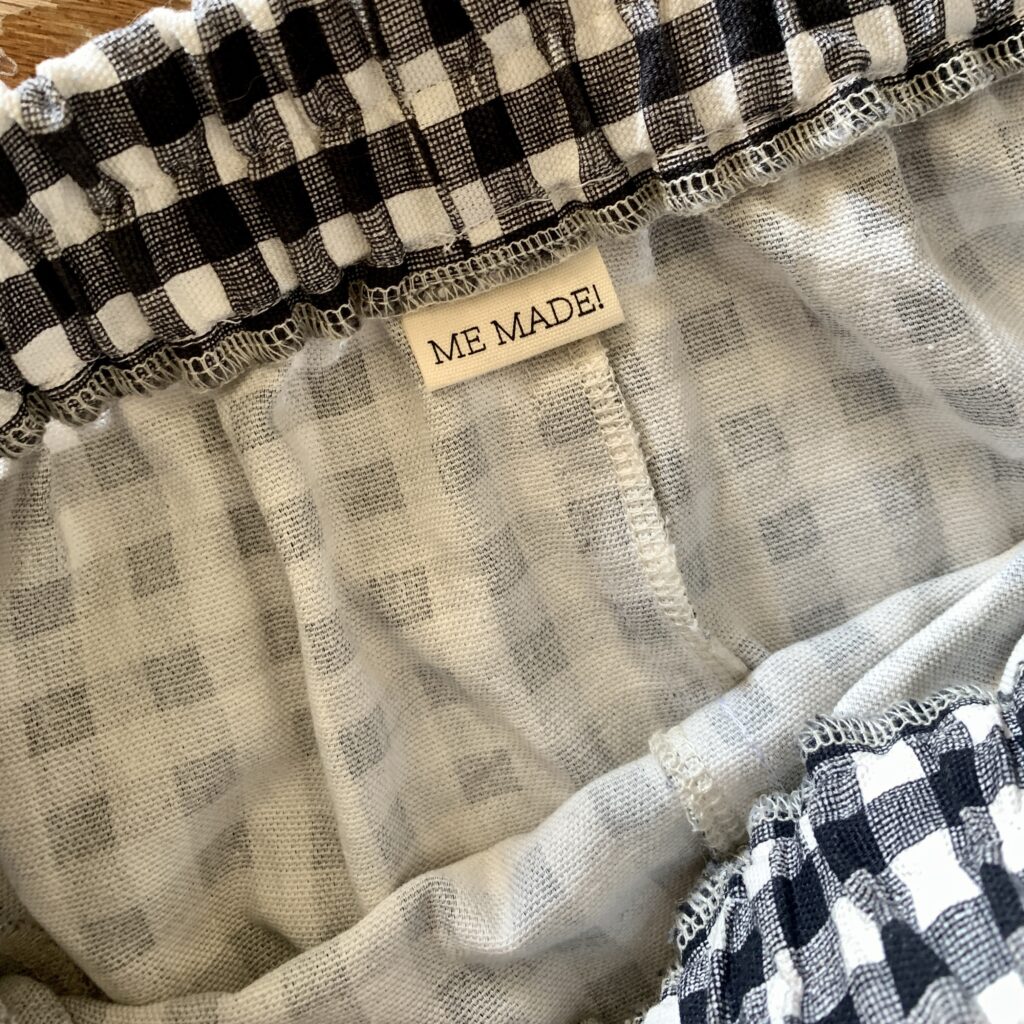 The other adjustment I made with this pair is that I loosely used the Top Down Center Out method to fit them. If you haven't researched this method I highly recommend you do. Check out the hashtag on Instagram, too.
Since I expected I'd only be removing extra fabric based on my last pair I skipped a toile altogether. I quickly basted the pants together and constructed the waistband separately by sewing the elastic into the waistband fabric and topstitching. I tried them on together, pinning around and decided where the excess was on the pants. After carefully removing the pinned pants and waistband I marked the areas I wanted to remove from the top of the pants, made my adjustments, and finished construction as normal. In the end I removed 3/8" from the Center Front tapered to nothing at the side seams, and 3/4" from the Center Back rise tapered to nothing at the side seams as well. It's crazy what a huge improvement such a small adjustment makes.
I also prefer a slightly stiffer fabric pairing with the Bob pattern. The extra fabric at the waist seam added by the pocket alteration is not too bulky either which I was slightly worried about.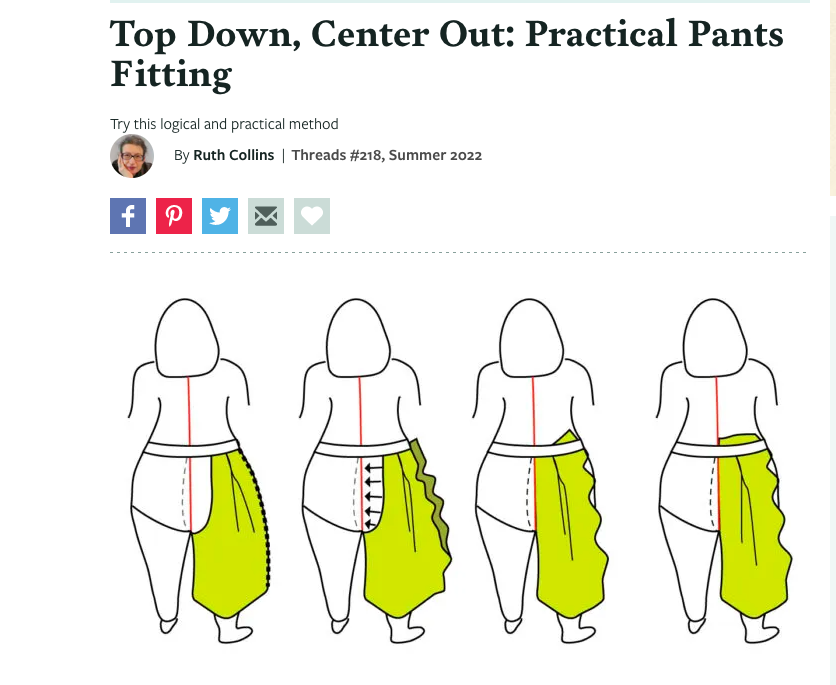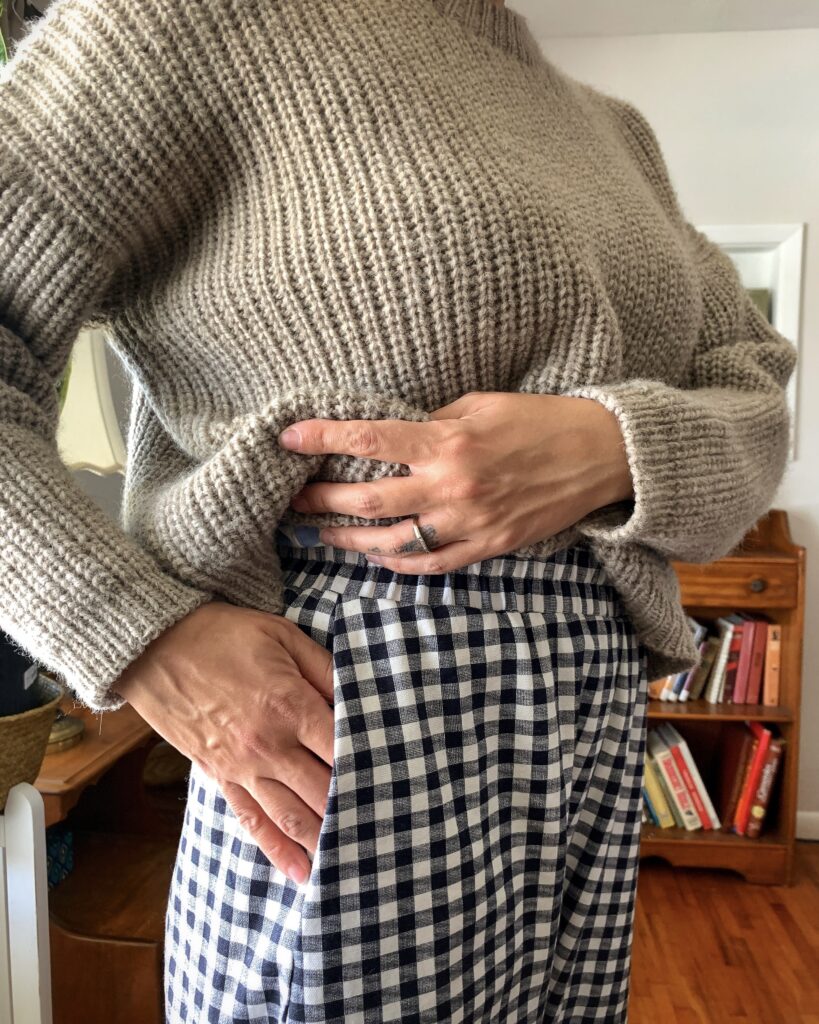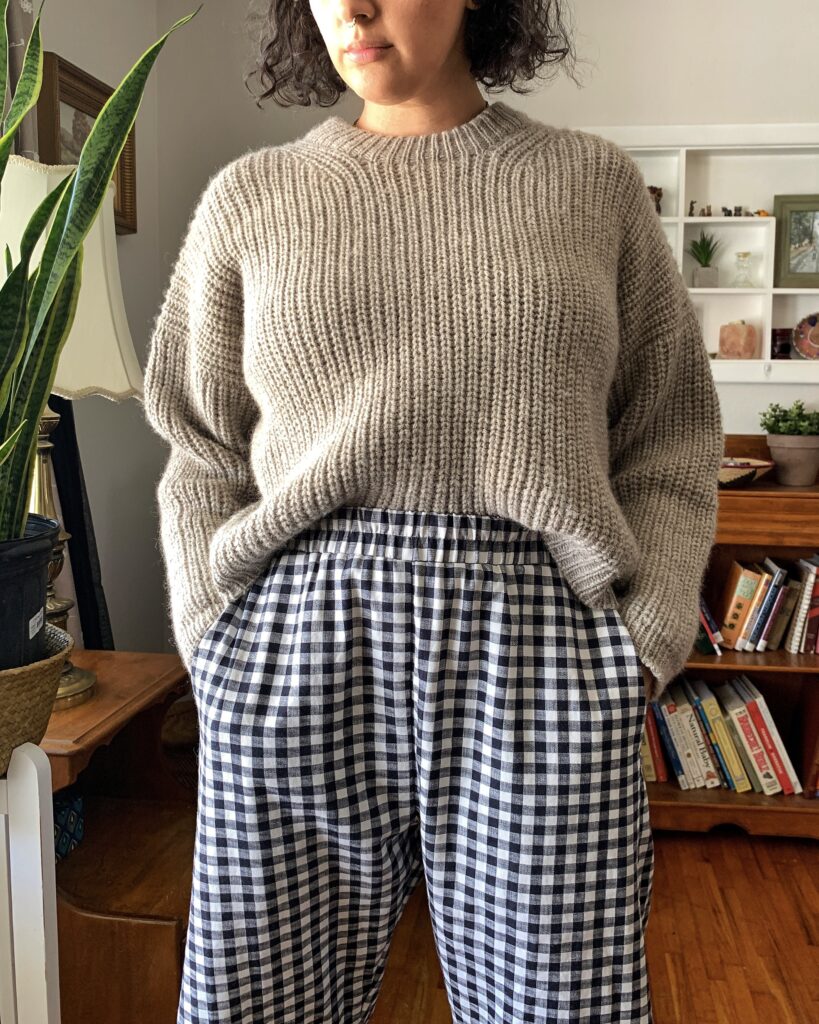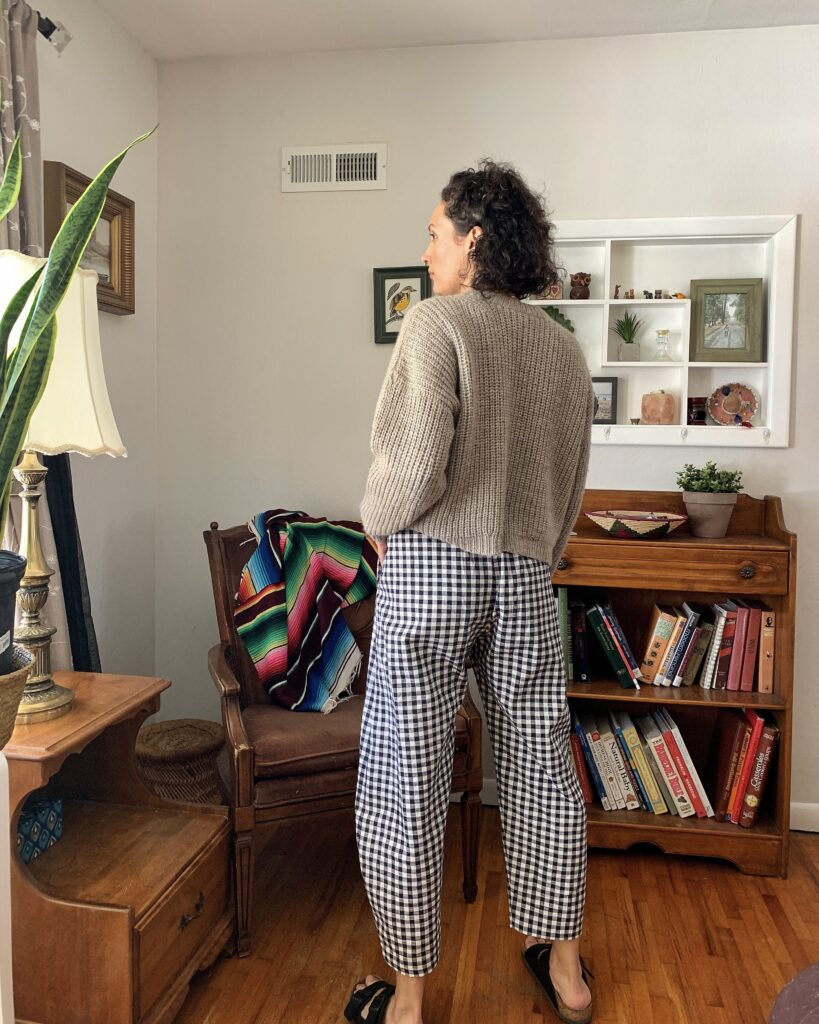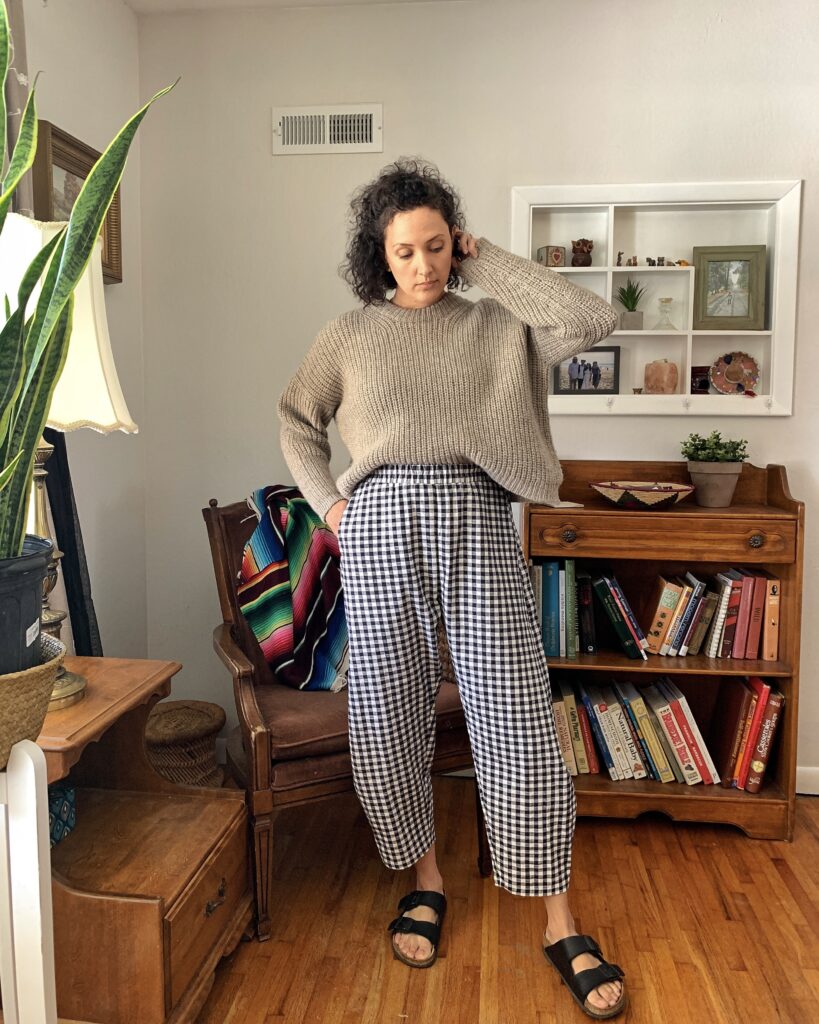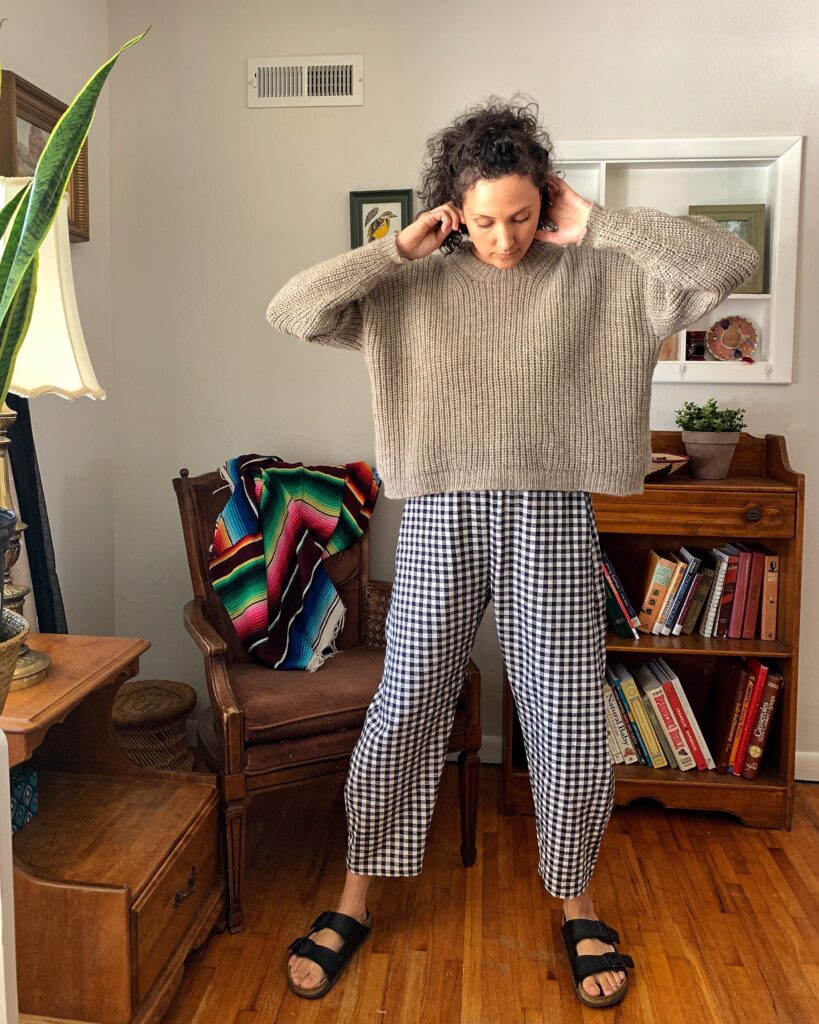 Final Thoughts
I'm excited to have finished two much needed wearable garments. They feel fun and unique to wear with the comfort and practicality that I love and reach for over and over again. I've worn both of these multiple times already and highly recommend these patterns. My only regret is that if I wasn't such a slow, inconsistent knitter I could have gotten way more use out of my new beloved Emerson this past winter. Boohoo!