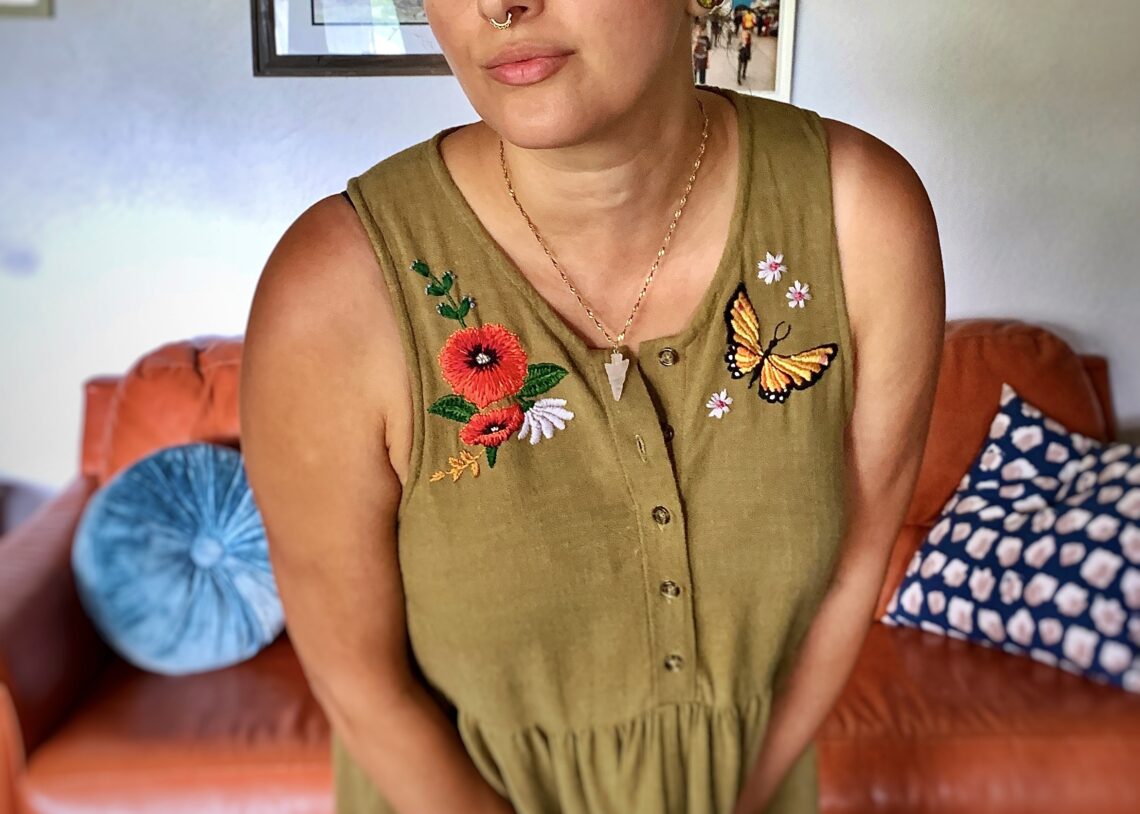 Hand-Embroidered Lisa Dress featuring Fabric + Flow
Hello, my dear sewing friends! I have a fun little project to share. I'm very happy to announce that I have had the opportunity to sew a bit for myself over the last few weeks. There was a baby item or two sewn up of course, but my hand-embroidered Lisa dress is complete thanks to the help of the fabric store Fabric + Flow.
I've been attempting to focus more on my own wardrobe and the planning that goes along with it. It isn't easy. Westley is seven months old and very mobile so he keeps mama quite busy. Regardless of being a mom to a crazy active infant, the planning that goes into sewing clothes is never easy. It may be the hardest part for a hopelessly disorganized individual such as myself.
I feel as though my decision making is a little stunted. I'm having trouble making the best fabric-to-pattern matches to be honest. An attempt and improvising a basic wardrobe necessity recently ended in a big sewing fail which I hadn't experienced in quite some time! Ugh. Luckily, and in the words of the great Tim Gunn, I've become pretty skilled in my ability to "make it work" most of the time. Not that this is something to brag about by any means, but things could be worse I suppose. Anyway, onto the current make.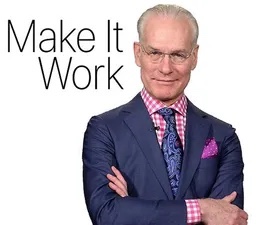 Fabric + Flow Textile Co. Collab
Firstly, this dress was made as a collab with the Canada-based Fabric + Flow Textile Company. I am so excited that I elected to be a part of their sewing team because I was pleasantly surprised when I came across this Viscose-Linen in the colorway Seaweed. I was even more delighted when it arrived in the mail.
This is really my kind of fabric, and that is an honest opinion. I shamelessly adore linen and linen blends. This one has all of the lovely texture and sturdiness of a linen while still having that soft, heavy drape and swish that the viscose fibre adds. The Seaweed color is a green that leans slightly chartreuse. It has a lovely shine to it and that delicate earthiness that I just love. This fabric is a great choice for any dress pattern but is opaque and heavy enough to make a gorgeous pair of pants. Oh, the possibilities.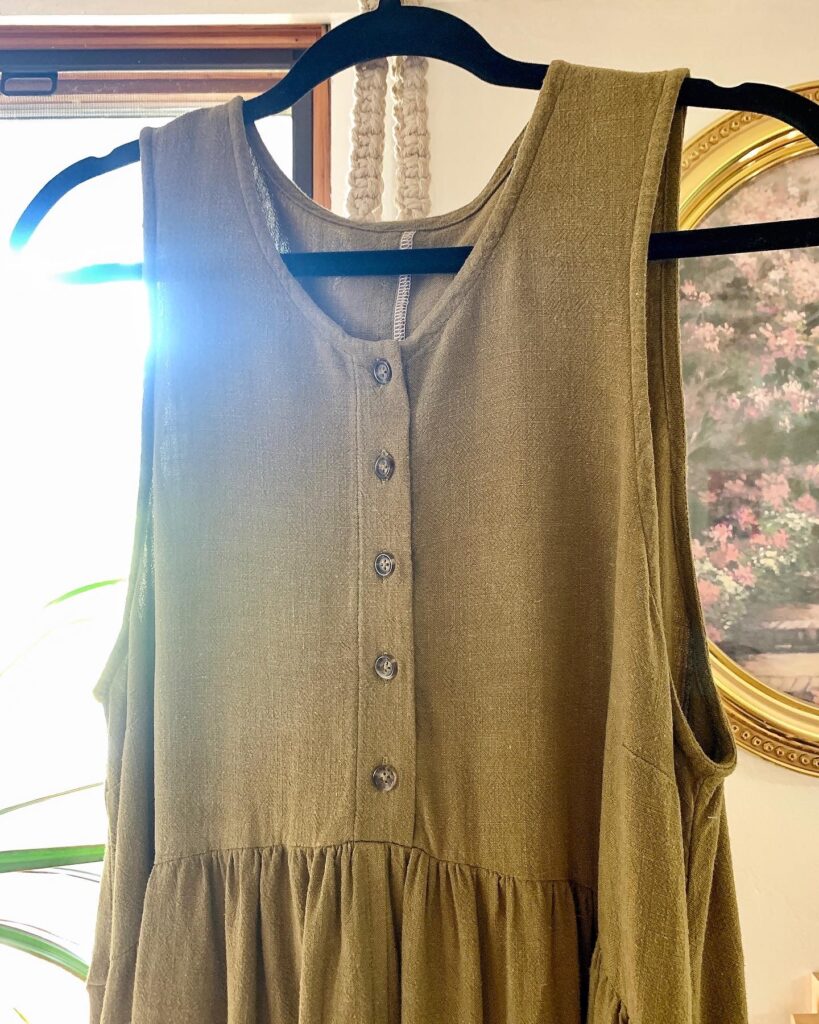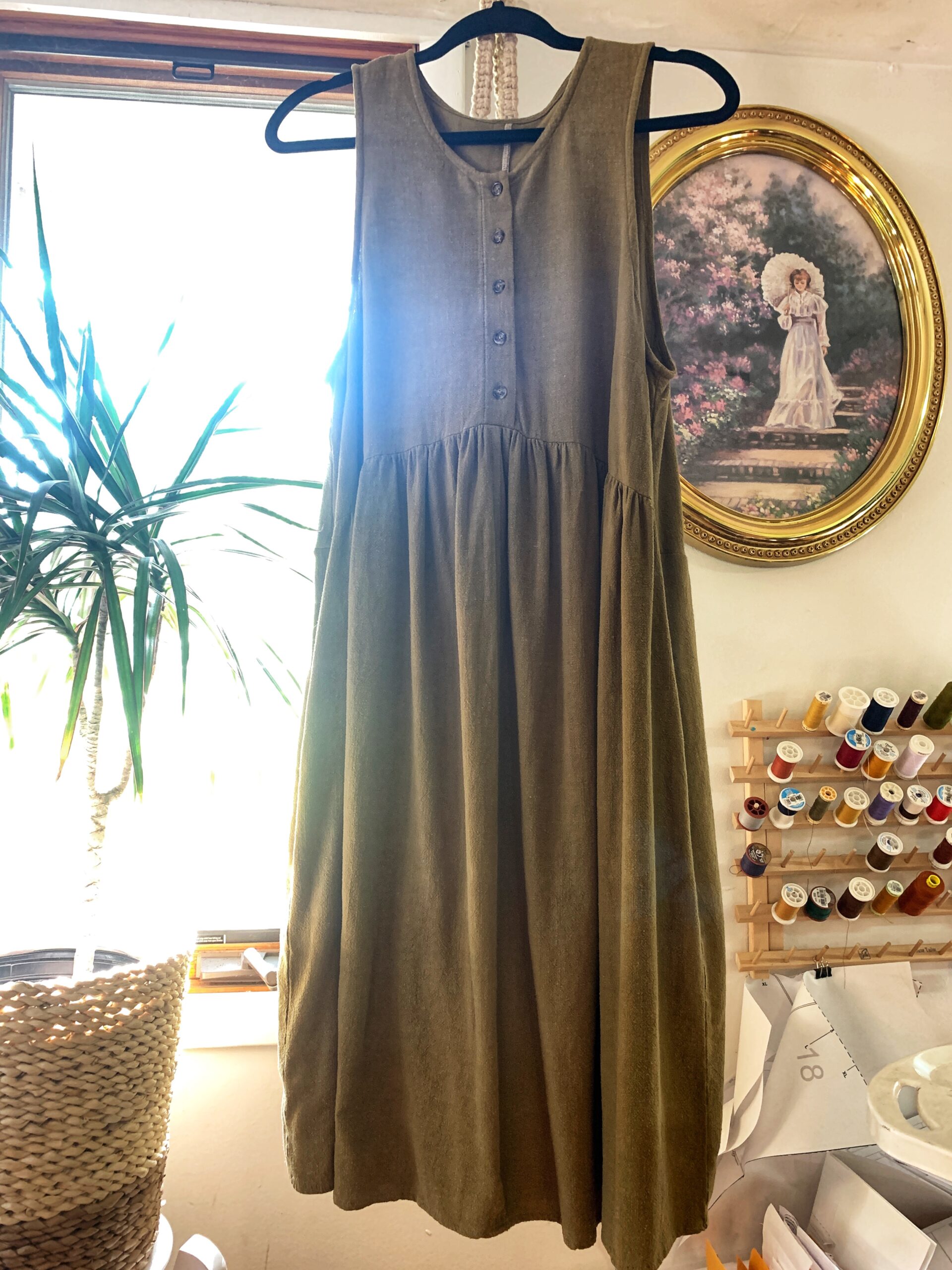 The Pattern
I went with a dress pattern that I have made before and one of my most worn garments. The Lisa by Tessuti Fabrics is such a great everyday dress pattern with some subtle features that make it just a bit more special than average. The inseam pocket directions are my most favorite of any other pattern I've made. I often opt to use this method with other patterns. They are basically sewn in a way that make them a touch more stable and less messy on the insides. If you've sewn inseam pockets then you know how floppy they can be.
It is these sorts of unique details that make following sewing patterns so satisfying in my opinion. The cut of the armscyes and neckline on Lisa are so unique and flattering along with the high-low waist seam. As a plus I was able to squeeze it out of a mere 2 meters. This includes self bias. Win!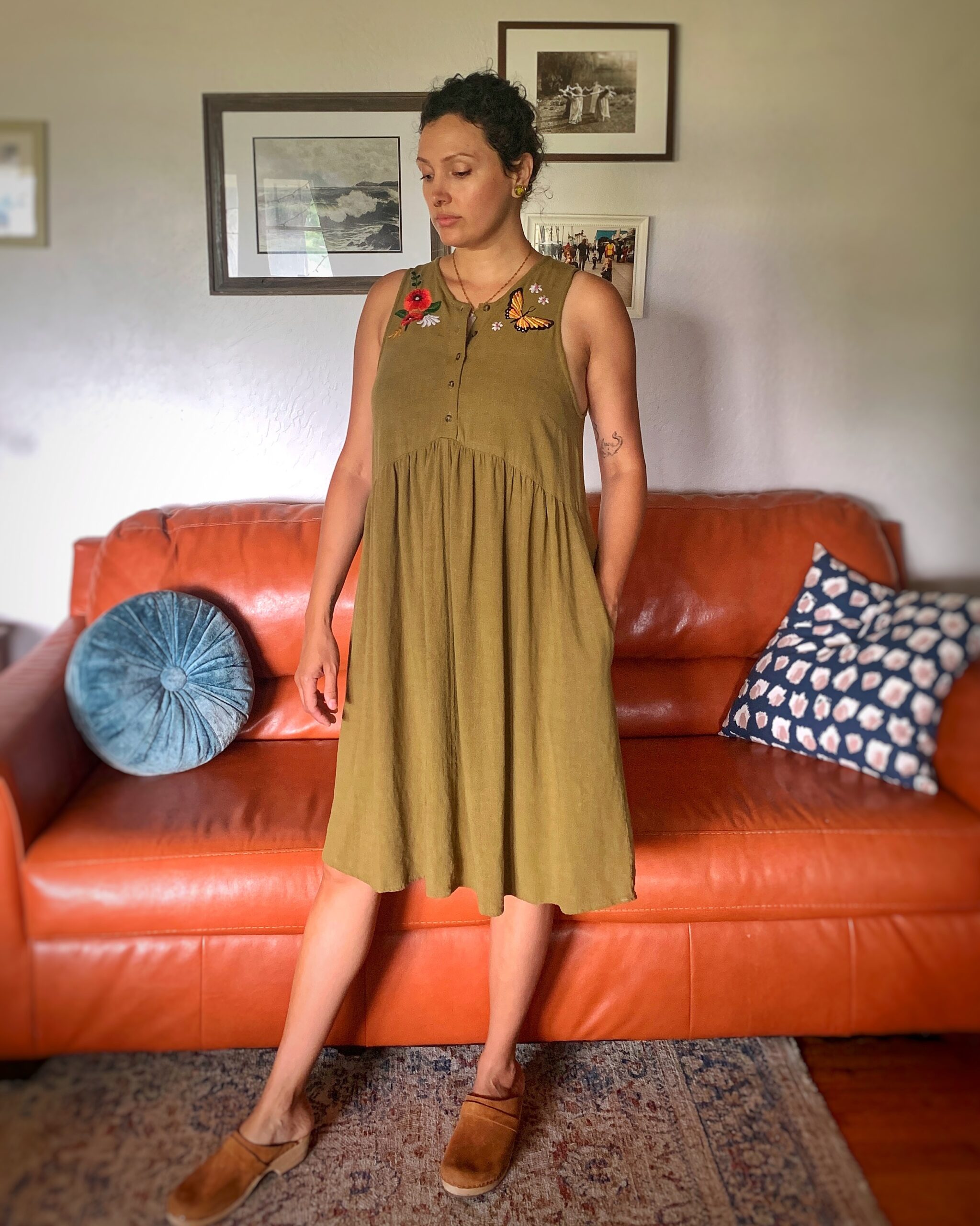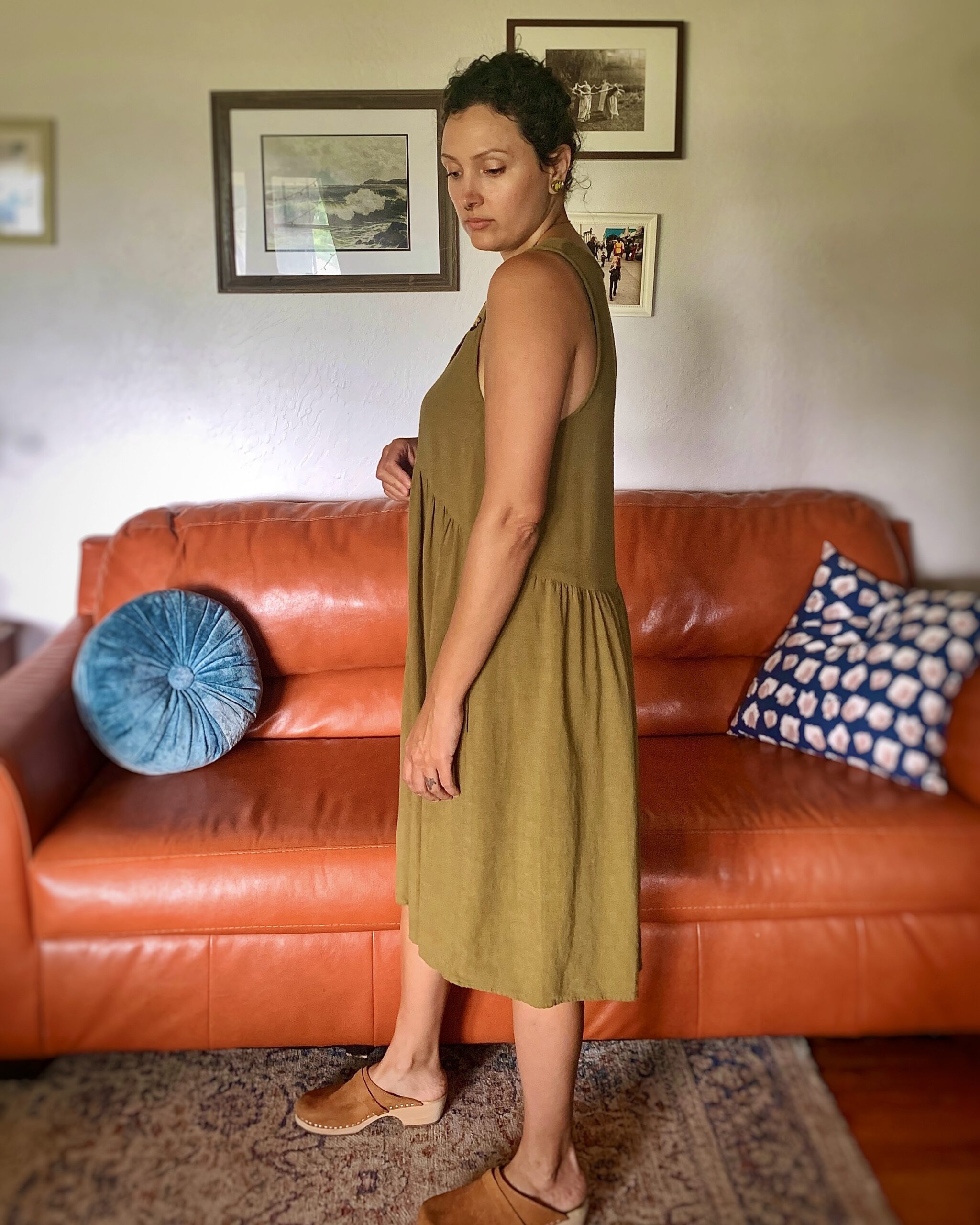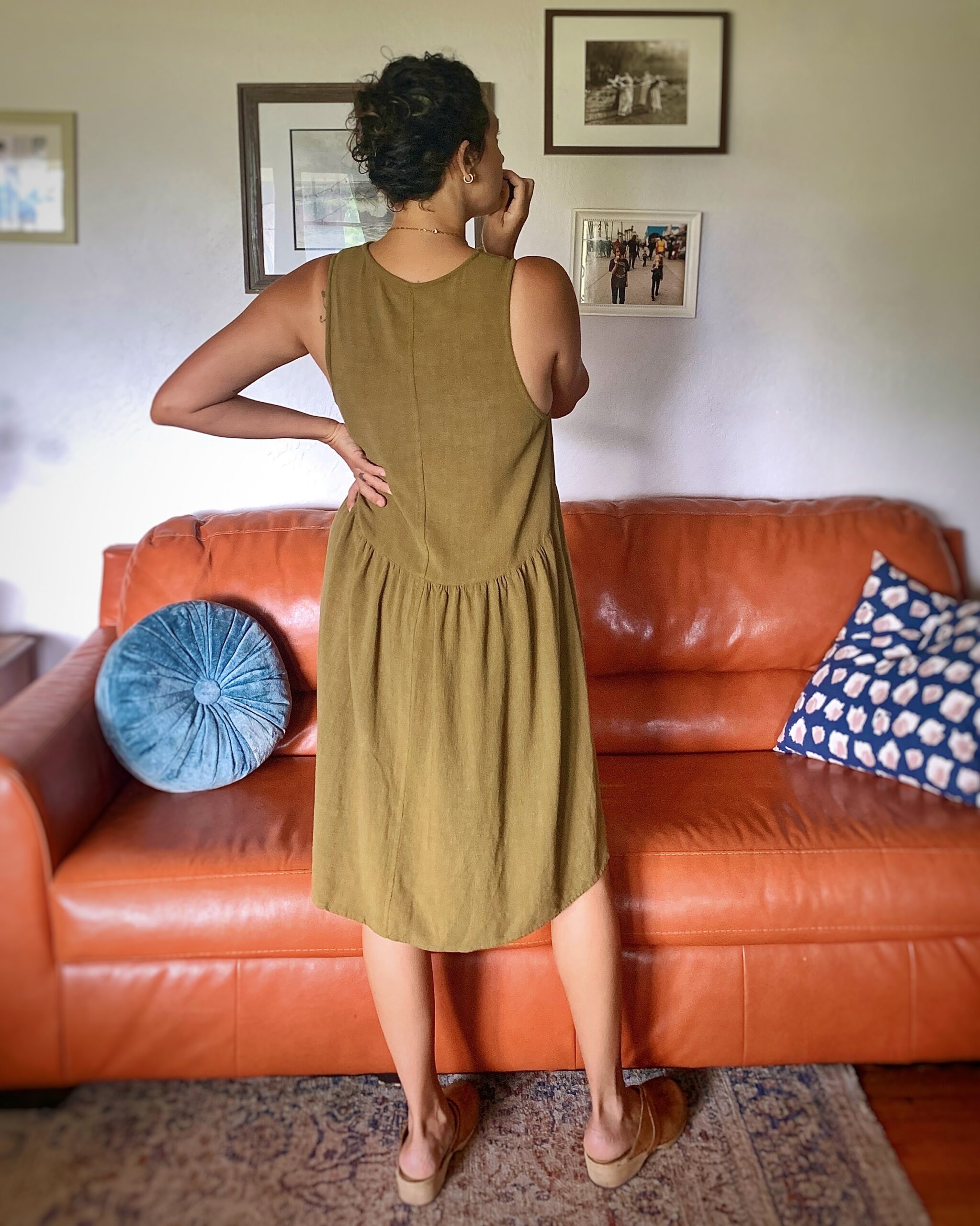 Embroidery
This Lisa dress was actually completed in time for a wedding I attended and I did love wearing it. However, I really wanted to add something extra. I've been playing with embroidery quite a bit lately. Even with some of my very first little projects I have been pleasantly surprised with the simplicity of this craft and just love the way my projects have turned out. It's a skill that definitely does not require perfection but somehow tends to always look lovely as a finished thing. I do foresee more embroidered garments in my future.
Process
I simply hand drew my designs directly onto my dress using an erasable Frixion pen and went to work. I played with some needle painting techniques with this project and worked on a slightly larger scale than I have in the past.
It was a bit nerve-wracking at the start to hand draw straight onto a newly finished garment. Apparently, although the Frixion pen is removable with heat, a shadowy stain can return on your project so I tried not to overdo it with the design. Once I got it down and began embroidering that insecurity went away and I was able to really enjoy the process. I did not use a backing and remained mindful of keeping the the underside neat as I went.
Adding embroidery to this viscose-linen fabric was such an addicting process and I have so many ideas now for adding some embellishments on clothing, including many older items in my closet. I was curious how this somewhat delicate fabric would hold up to some moderately sized designs and I really had no issues at all. The finished garment feels really special. I love the slow process and the unique, handmade result. I am very curious how it will hold up to washing – crossing my fingers there are no issues there.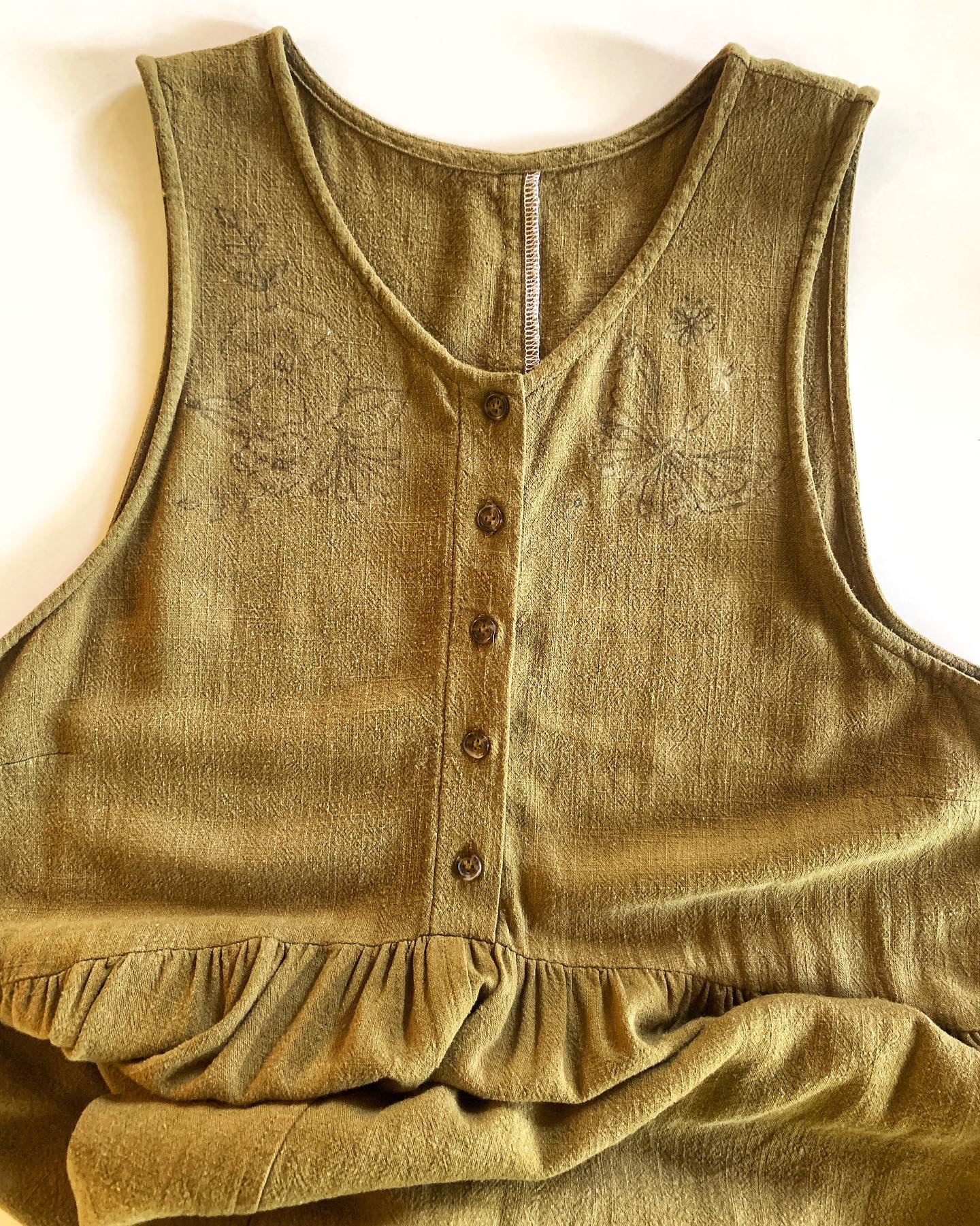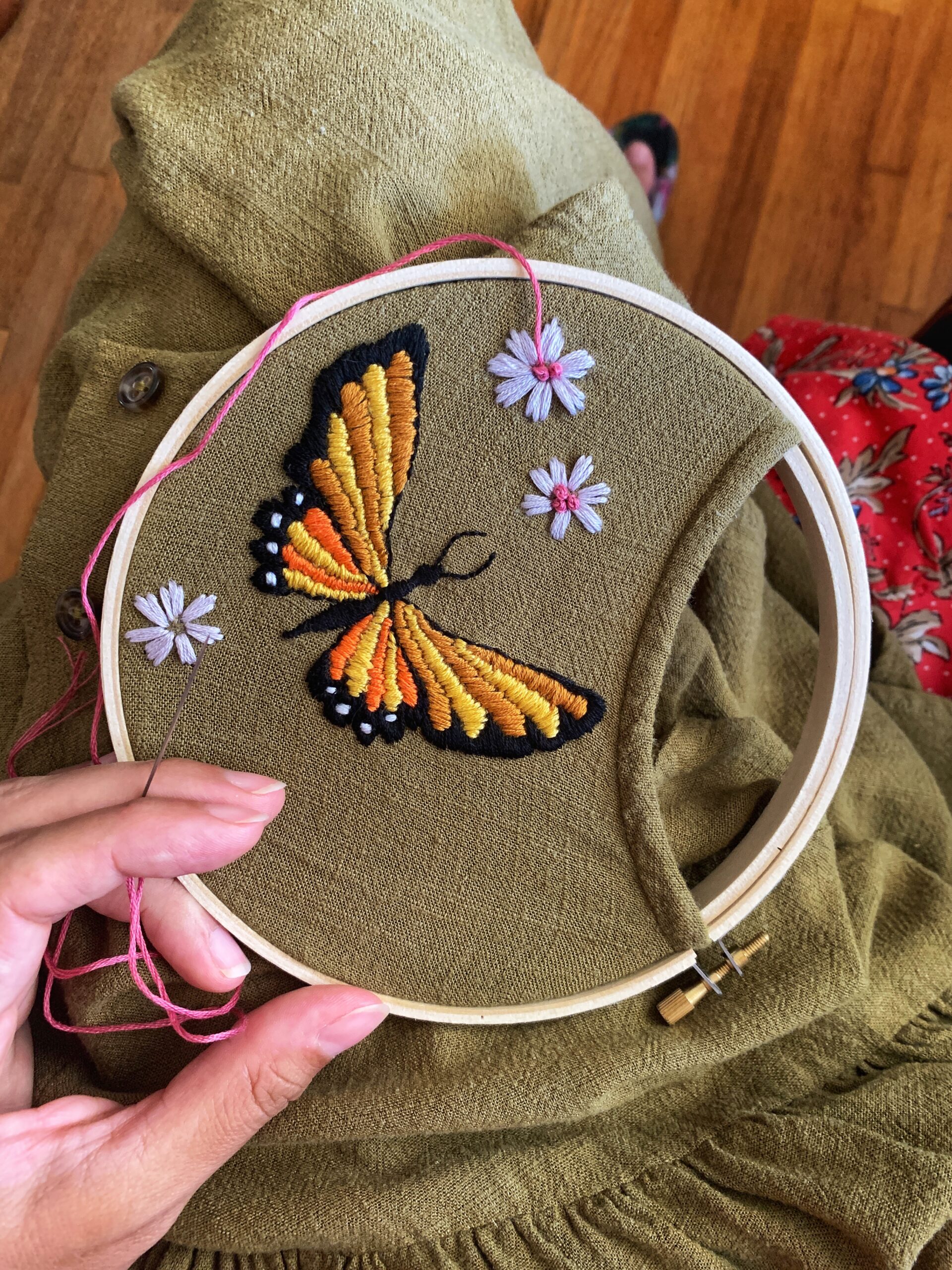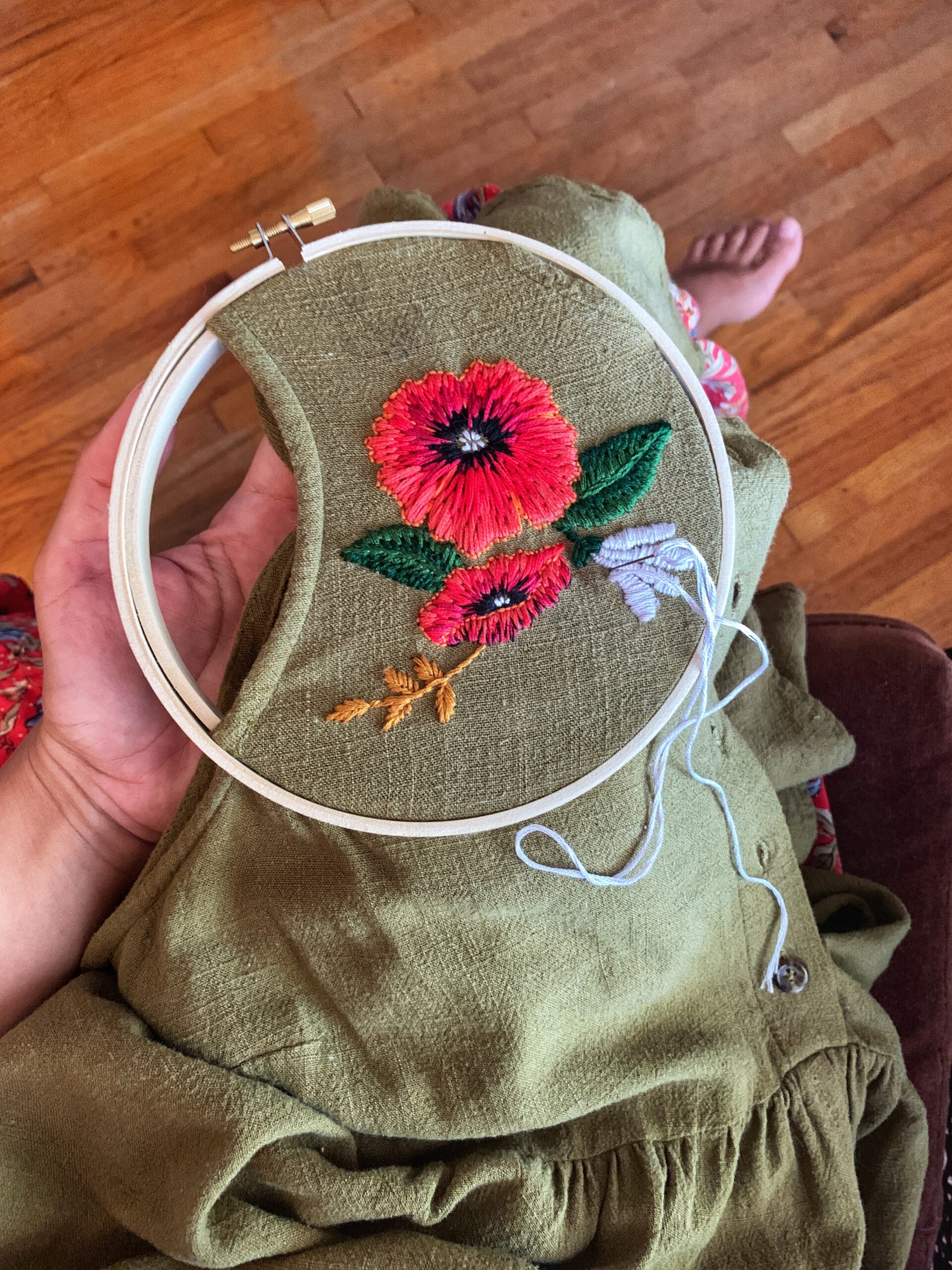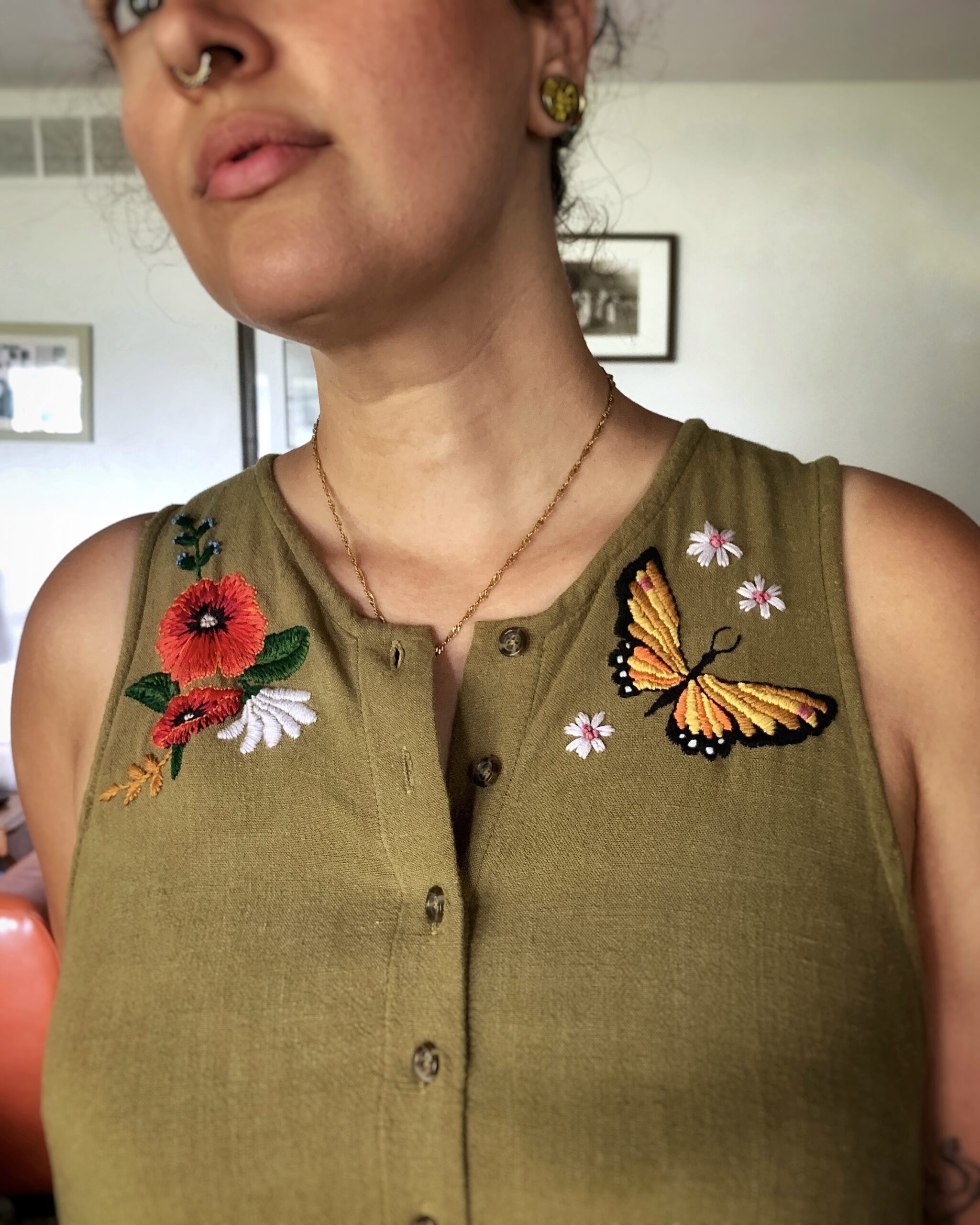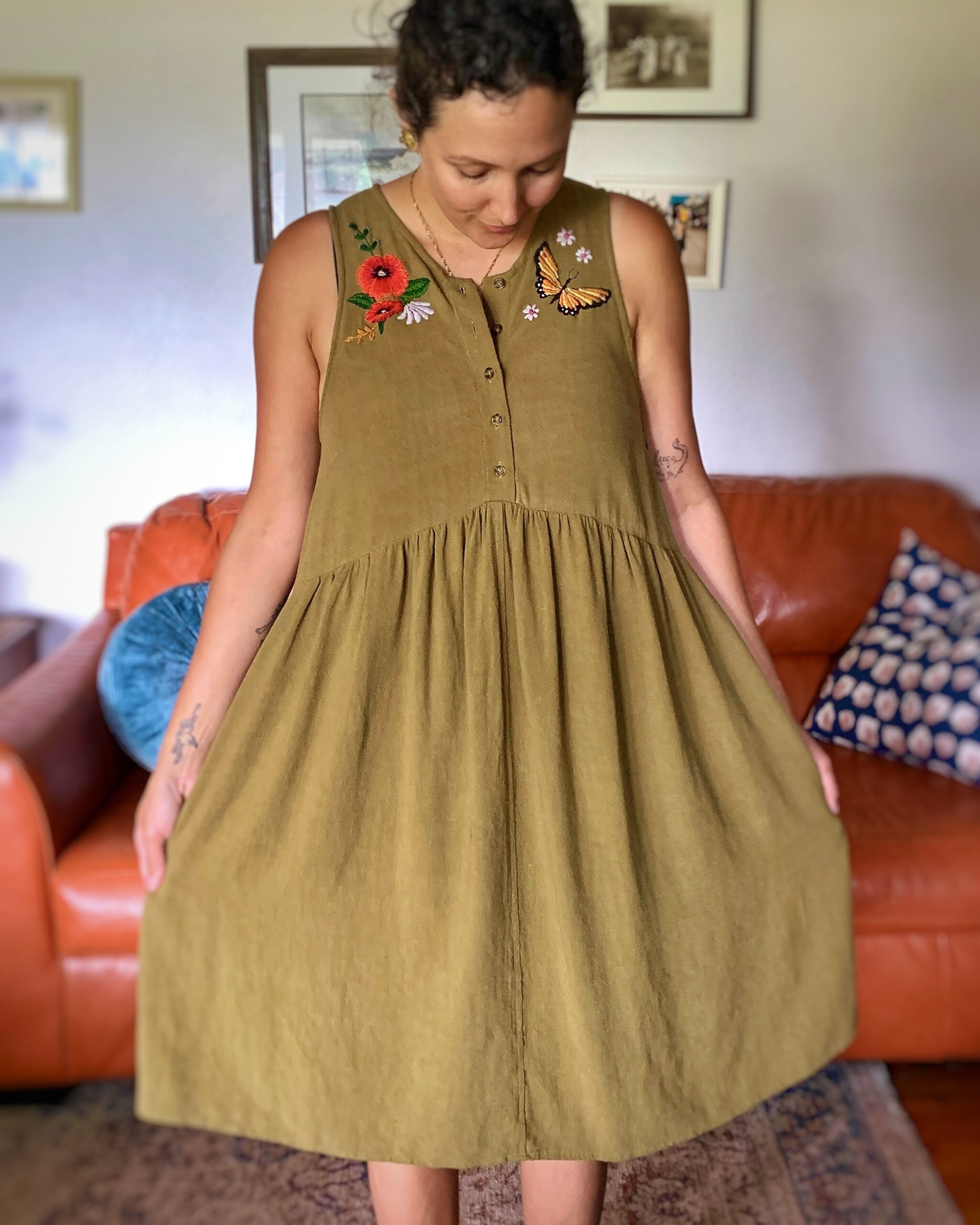 Final Thoughts
If you have made it this far, thank you so much for the visit and reading about my hand embroidered Lisa. I thoroughly enjoyed engaging in some selfish sewing and couldn't have asked for a better result. I am ever-grateful for this craft. 'Tis a good day.