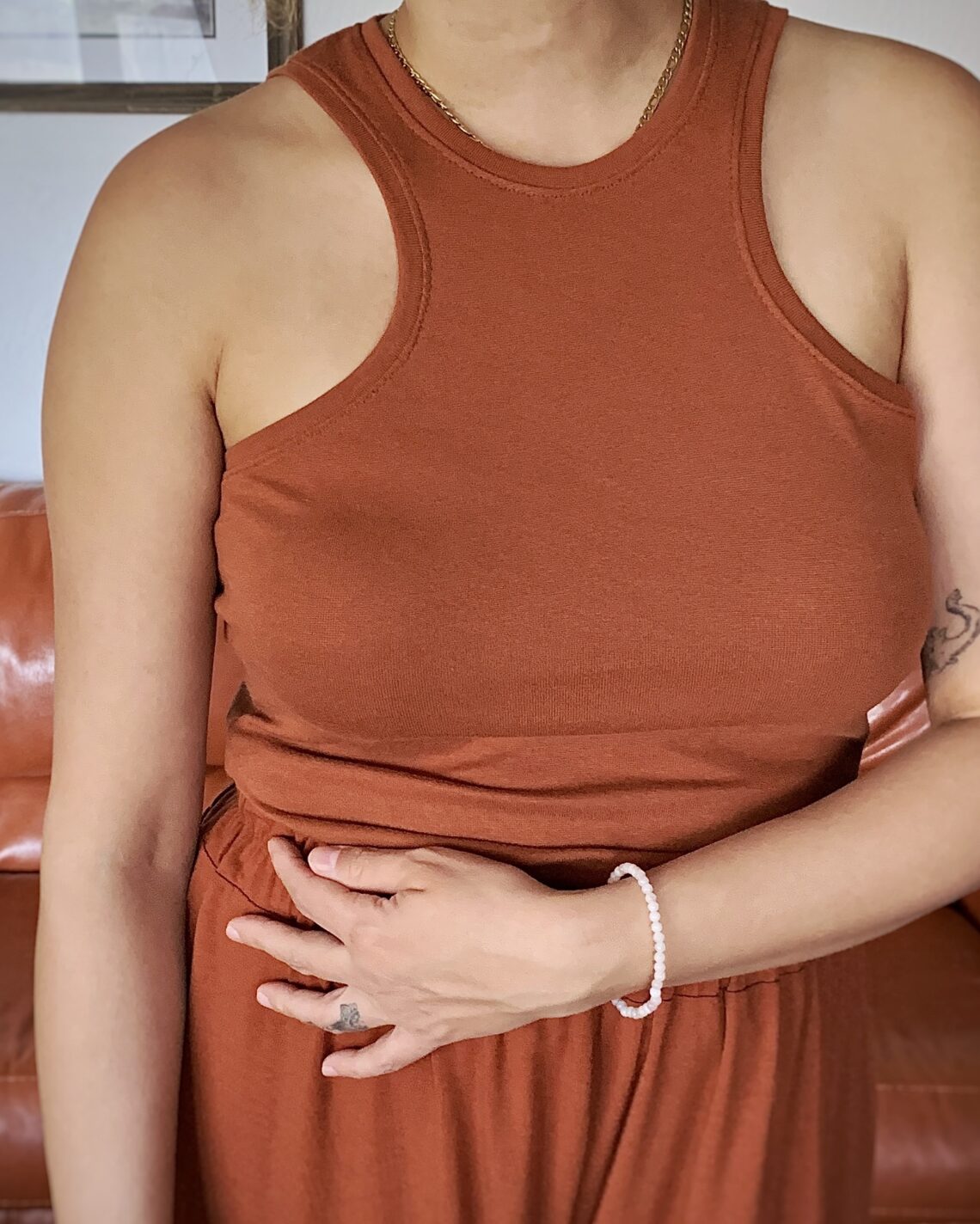 Spring Sewing with Nature's Fabrics
After a very long sewing break, relocating our family half way across the U.S., buying a home in the country, raising backyard chickens, starting a home-based business with my husband, and having a fourth child, I have finally made it back to The Mindful Sewist with a new blog post. Phew! Life has been hectic, wild and adventurous. I am not exaggerating at all when I say that the last two years have been a whirlwind of change and surprises. This is true in some way or another for most people around the world I'm sure considering the times we're in, but looking back I am awed and grateful. Life truly is amazing. Now, on to sewing.
I have been sewing lots lately, it just isn't the type selfish sewing you're used to seeing on this blog. What really got my 'sewjo' back was my surprise pregnancy and the desire to make all of the baby things in preparation. I do have plans to write a blog sharing patterns and some pretty baby sewing tips soon. In the meantime you could check out some of my recent Instagram posts. Baby Westley is here, I am four and a half moths postpartum, and finally beginning to fit into some of my me-made pants again. Plus, Springtime is here. Exciting times.
A Collab with Nature's Fabrics
Today, the star of the show is a company that may be known primarily as the go-to shop for the best quality children's fabrics around the interweb. Nature's Fabrics – who carries the absolute best organic, luscious, absorbent fabrics for cloth diaper making and the highest quality waterproof PUL (polyurethane laminate). They carry natural fabrics as the name suggests, but mainly of the stretchy variety – many of them luxurious wools, silky bamboo, and beautiful prints.
Organic natural fabrics are obviously an excellent choice for children's clothing and accessories, but as an advocate for comfort-over-fashion and the Secret Pajama Party, natural fabrics are a huge part of my aesthetic. When Jeanne offered fabric in exchange for a blog, I jumped at the opportunity. It was just what I needed for a push to finally sew for myself and I am so grateful for the opportunity.
One thing important to note about Nature's Fabrics and I reason why I am their number one fan girl is the fabric descriptions on their site. You can expect the weights and stretch percentages to be clearly labeled in their listings which is incredibly helpful when shopping for knit fabrics online. The lack of fabric descriptions among online sewing shops has become a pet peeve of mine and knits are especially tricky. The type, weight and stretch percentage of a knit determines whether it will make a good (or hideous) pair of sweatpants.
Choosing Spring Fabrics
I'll be honest, I immediately started browsing the beautiful wool section of their website. However, the practical person that I am had me change course. Spring is here (although our midwest weather hardly reflects this) and I need an ensemble that I will want to reach for in the coming months. My eyes fell on their gorgeous Rust shades, and I decided on a monochromatic look using their Tencel/Organic Cotton/Spandex Jersey and Bamboo/Spandex Rib Knit. They are gorgeous coordinating shades. I can attest to the excellent quality of these fabrics and all fabrics I have purchased from them in the past. These two in particular are in incredibly soft. The Tencel/Organic Cotton Jersey is silky but durable and holds its shape beautifully. The Bamboo rib has the stretch you would expect from a rib knit and has excellent recovery. Upon receiving these fabrics I was so excited to get sewing.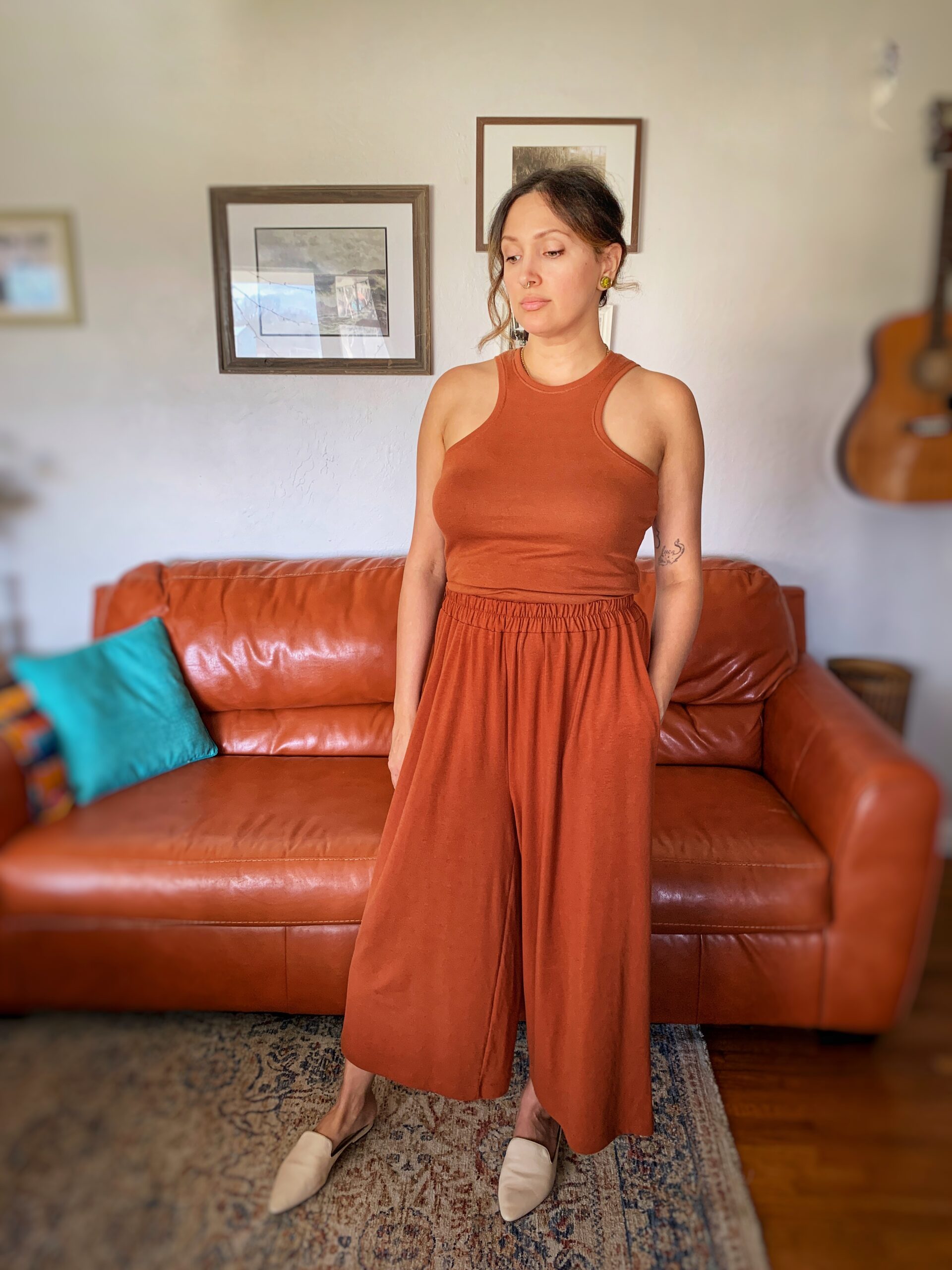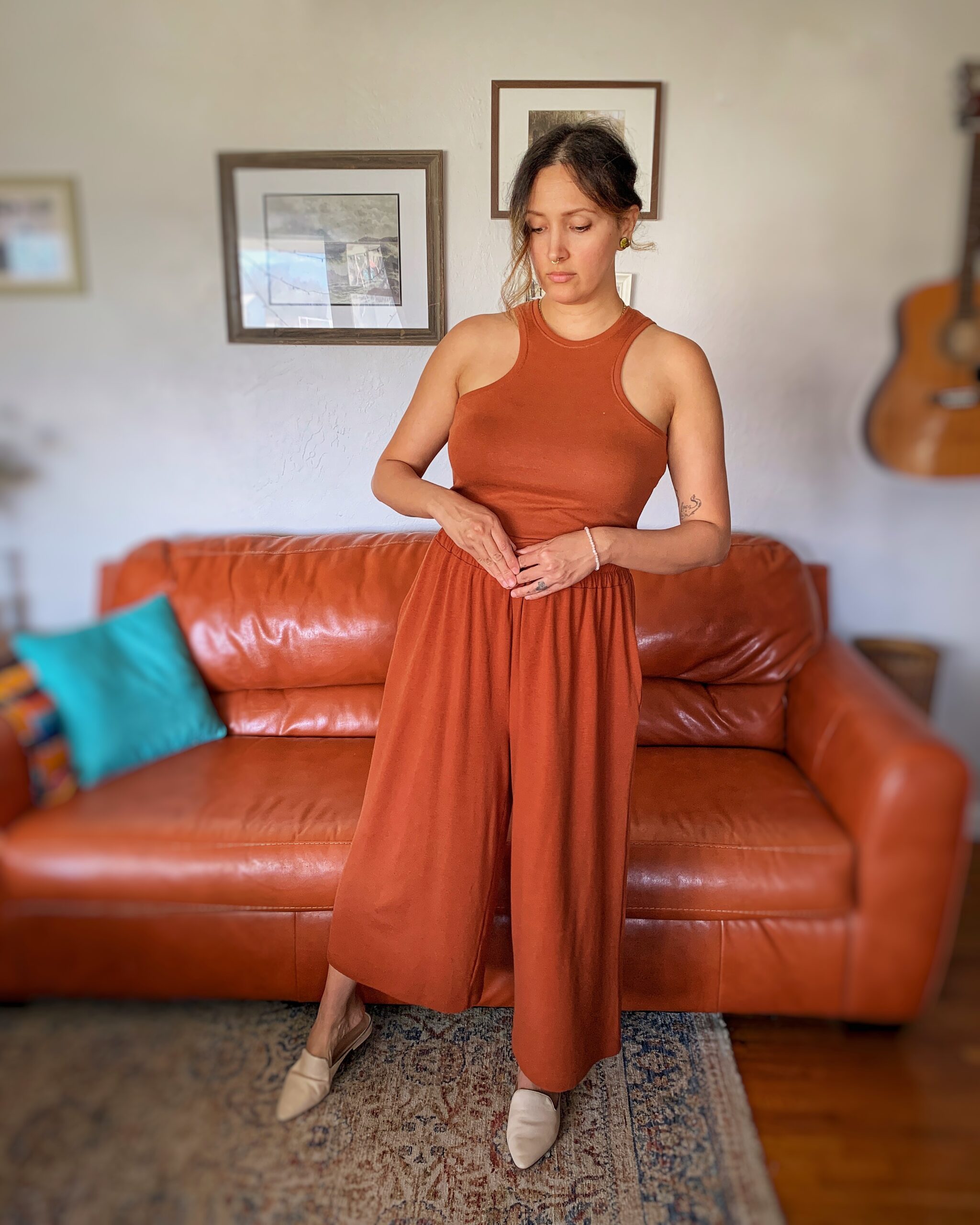 The Patterns
The Lola Tank and Dress pattern by Staystitch Pattern Co. has been all over my Instagram feed. I love the unique drafting of this pattern and decided to make this up in a rib knit. Sewing with knits is always such a joy especially with the help of my Brother 1034D. My serger had needed serviced recently after my enormous batch of clothing and diapers for baby Westley and now is running better than ever. I can sew up knitwear in what feels like lightning speed and thankfully so since my hands are rather full these days.
The other garment I decided on to finish this look is one of my tried-and-true's. It is the Ninni Culottes pattern by Named Clothing. This pattern is the epitome of secret pajamas. I love the fit and the wearability of this style. They are perfect. One of my previous pairs has become slightly tattered looking and I thought this would be a great opportunity to whip up a new pair but this time in a knit fabric as opposed to my there woven pairs.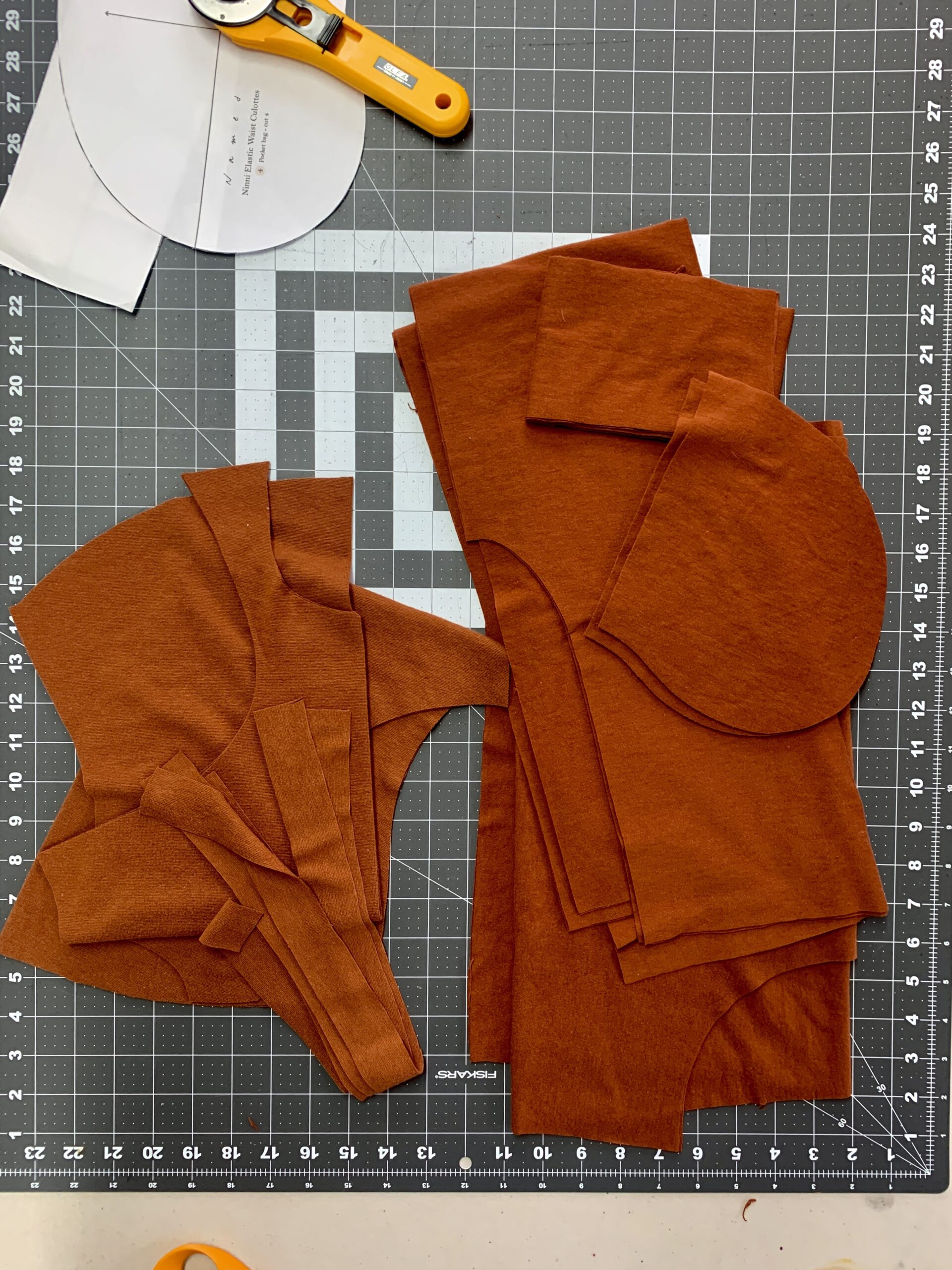 Lola Process
Both of these patterns are simple and beginner-friendly sews. Aside from some topstitching everything was constructed on my serger. I used a very narrow zigzag stitch on my machine for the topstitching and hems. (Don't get me started on my obsession with coverstitch machines that I simply cannot afford but am constantly drooling over.)
For my Lola I went with view B (the hem sits just above the hip) and have already whipped up view A (little cropped thing) version as well because the pattern really is as great as it's hyped up be. It does require a strapless (or going braless which I am all for but can't enjoy in my lactating state, if you know you know) but it's worth it, trust me. I was between bust sizes and went with the smaller which worked well. This is an excellent use of rib knits and view A requires very little fabric. An excellent use of some larger scraps in your stash. Nature's Fabrics' rib worked perfectly. I love this fabric's opacity and how substantial it feels while still remaining super soft and smooth to the touch.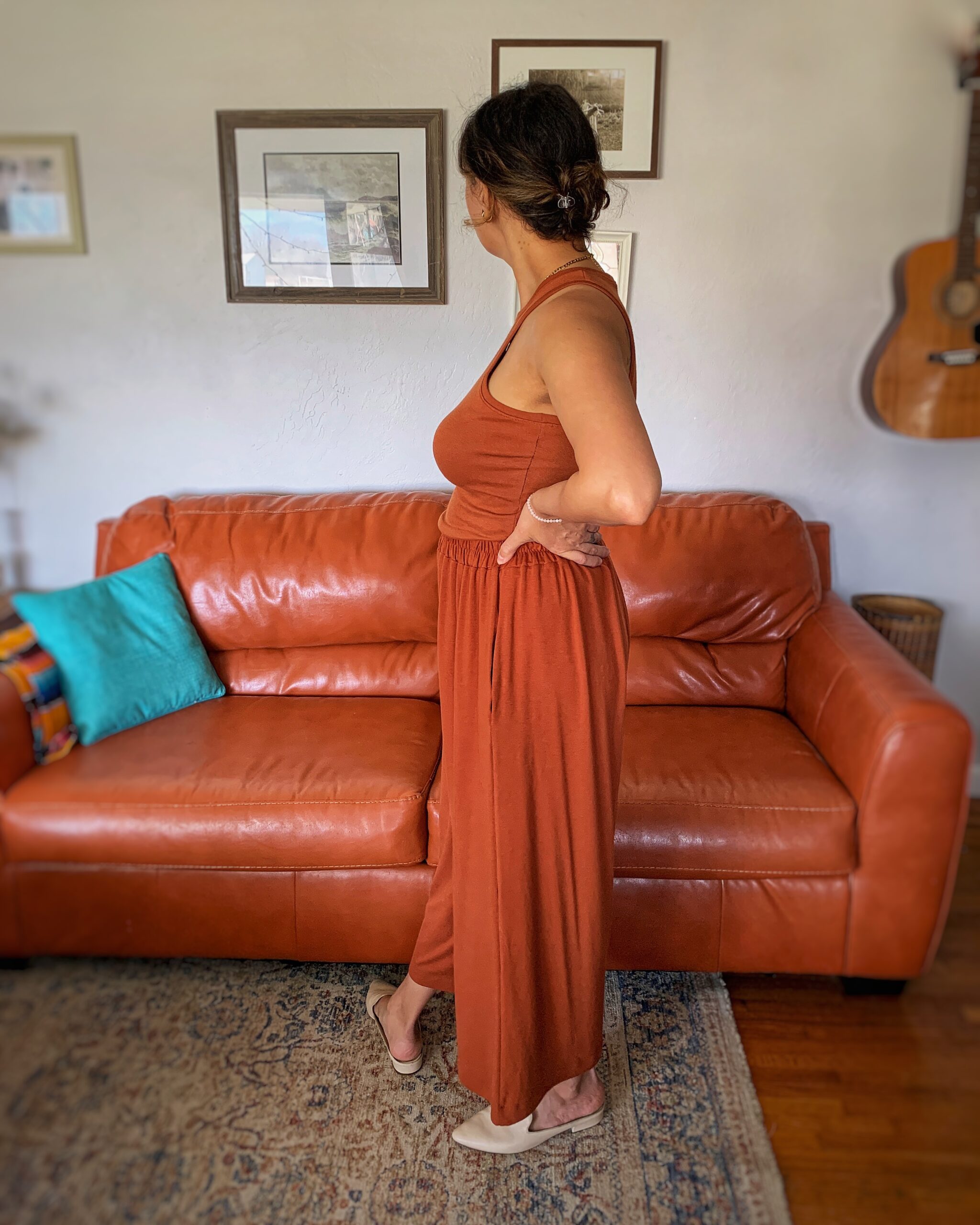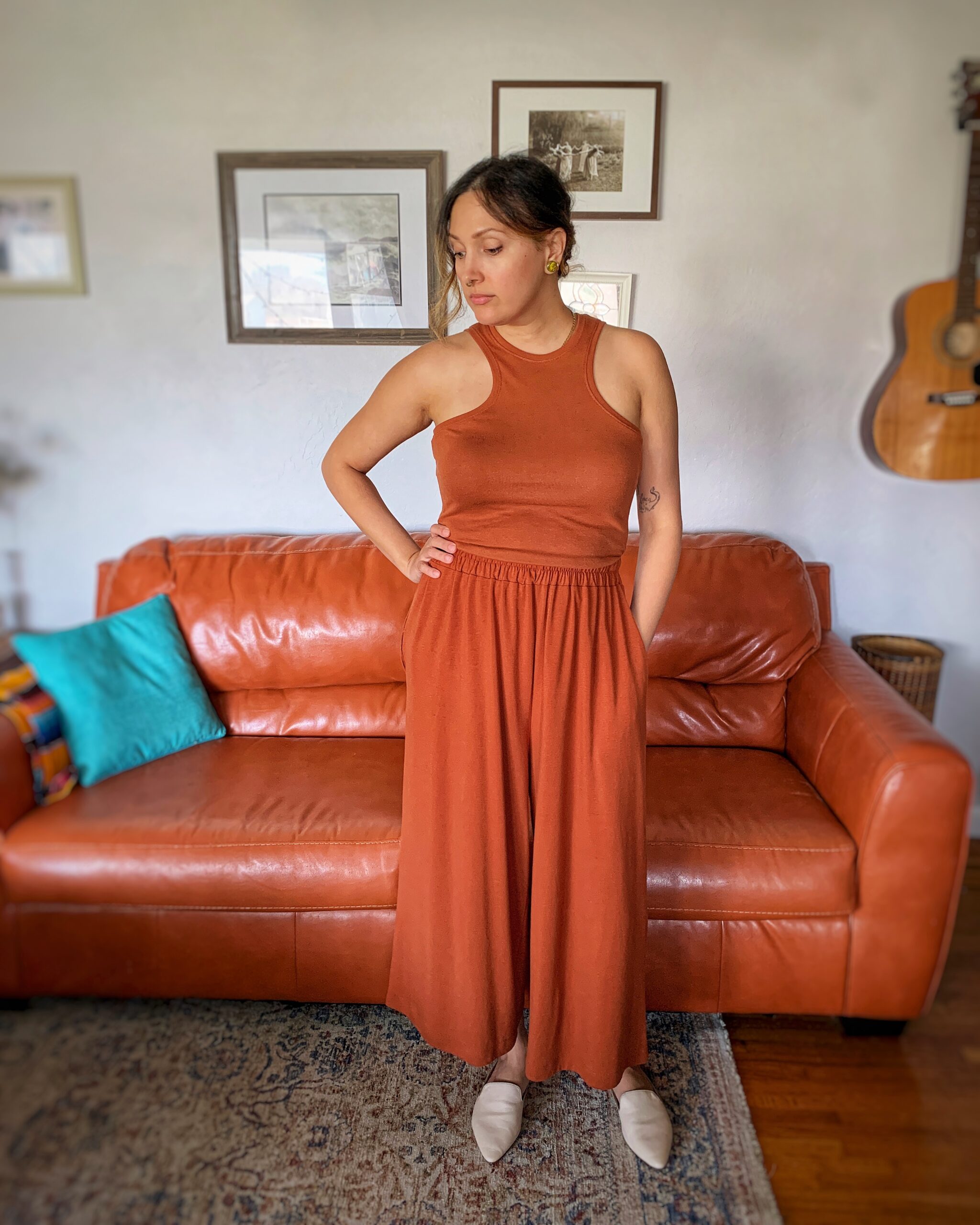 Ninni Process
These Ninni's are the first I've tried in a knit fabric. The fabric is so silky and luxurious feeling and the finished garment does not appear too casual to me. Tencel in my experience has a very smooth hand and the feel of this Tencel/Organic Cotton/Spandex Jersey from Nature's Fabrics is especially lovely. This fabric also resists wrinkles fairly well and is so comfortable I know I'll be wearing them to death. Construction of the Ninni Culottes is simple with inseam pockets and an elastic waist.
The size I have cut out is based on my waist measurement but one may choose to size down if they'd prefer less width and/or movement in the finished product. Personally I love the flowy look of the Ninni Culottes. I did add about 1.5" to the inseam on these. I'm 5'8" and these can run slightly on the shorter side, which I don't at all mind, but I am liking the longer length this time around.
The hems are finished off with some Heat n Bond Soft Stretch which helped keep them looking even and neat. This is a great product for hemming knits. It's a double sided web adhesive and is applied with an iron. One adhesive side is ironed onto the fabric edge and then the paper backing is removed. At this point you would fold the hem at your desired length and iron again to fuse your hem in place and then continue with topstitching. This product is actually specifically recommended in the Lola Tank and Dress pattern but I opted to skip it on my version since the Bamboo/Spandex Rib Knit from Nature's Fabrics was hefty enough to iron and topstitch a curved hem with a walking foot without an issue.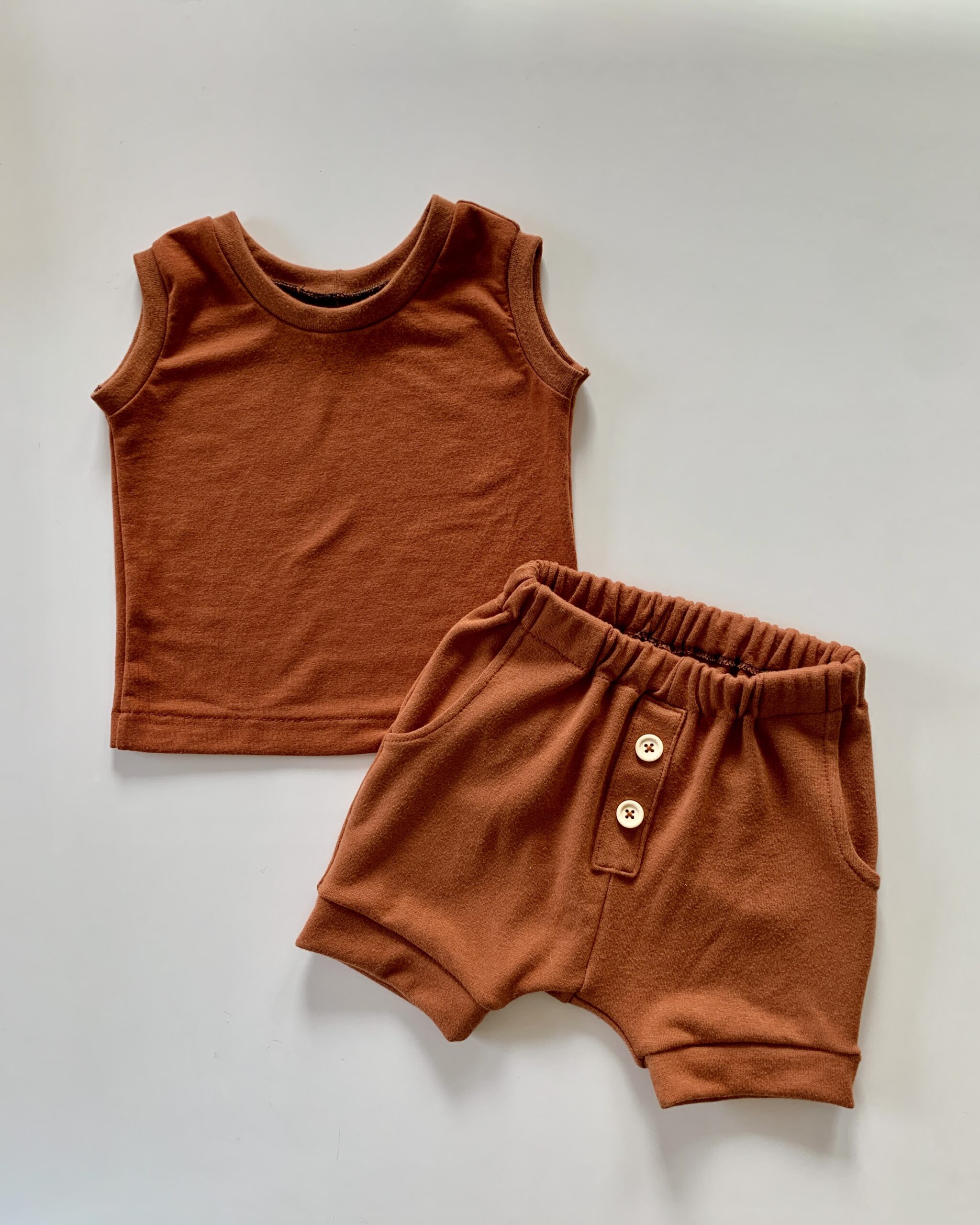 Thoughts
Sewing for myself again has my brain bubbling with plans. In all honesty I think I had forgotten how gratifying sewing can be. I often have a script running in my mind with self-judgement and negativity concerning my body as many women do. Especially following the pregnant body and full hair that came before this difficult postpartum time. A lack of self-love and unfair comparison among women is embedded in our culture. I know I've watched my own mother struggle with this impulse to self-deprecate and criticize her body to this day. In my postpartum 37 year old skin sewing offers a way to celebrate myself. It's important beyond measure. How did I forget this? I feel especially thankful for this craft and to Nature's Fabrics for a gift of fabric and some inspiration.
On a side note: I was able to squeeze out some tiny shorts and a tank from my fabric leftovers. Now that is especially gratifying. I think I may try to attempt matching outfits whenever possible. He is undoubtedly my very best accessory.
Until next time, friends. xx