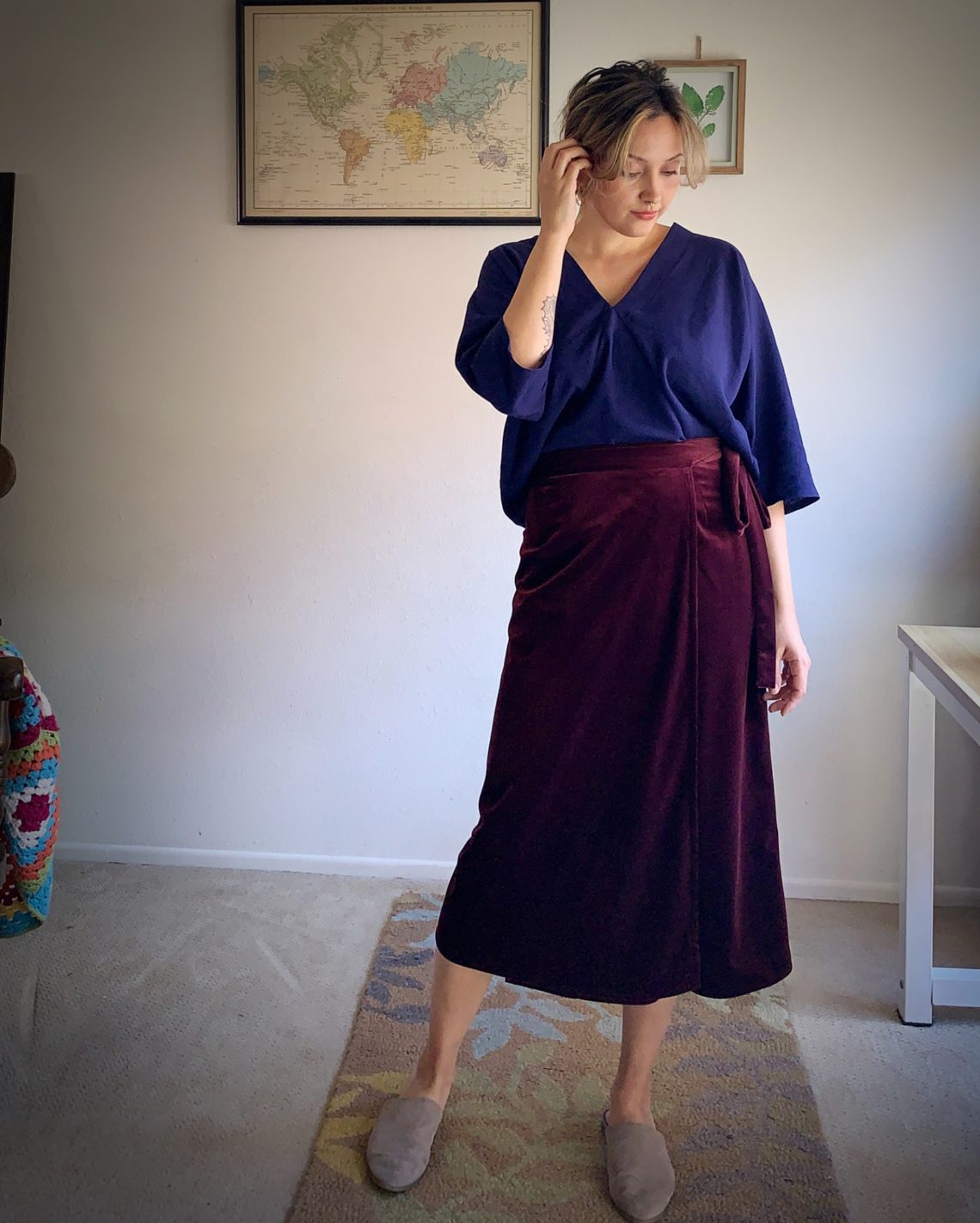 Pinnacle Hearts Peppermint
A Tale of two patterns
The new and free Peppermint Wrap Skirt
Peppermint Magazine has released yet another amazing "free" pattern. You can expect all of the skilled drafting and precise instruction that go hand-in-hand with In the Folds patterns because that's who drafts them. That's right, Emily from In the Folds creates "free" patterns in conjunction with Peppermint Magazine 'cause she's a saint with style.
I saw an announcement of the Wrap Skirt release on Instagram and printed it out immediately. It was instant heart eyes. The simple lines and the length made it a winner and I wanted to sew it up ASAP. Well, as ASAP as I could manage, which was not very ASAP at all.
My desire to have this skirt in my life immediately had me over to the local Joann for a quick looksey. The obvious choice was linen or maybe a lightweight denim. However, the fabric that really called out to me was this faux suede in a deep burgundy. Faux suede was new to me and not as sustainable as I'd have liked but I sometimes can't pass up buying locally at such an affordable price. The instant gratification aspect can be so tempting.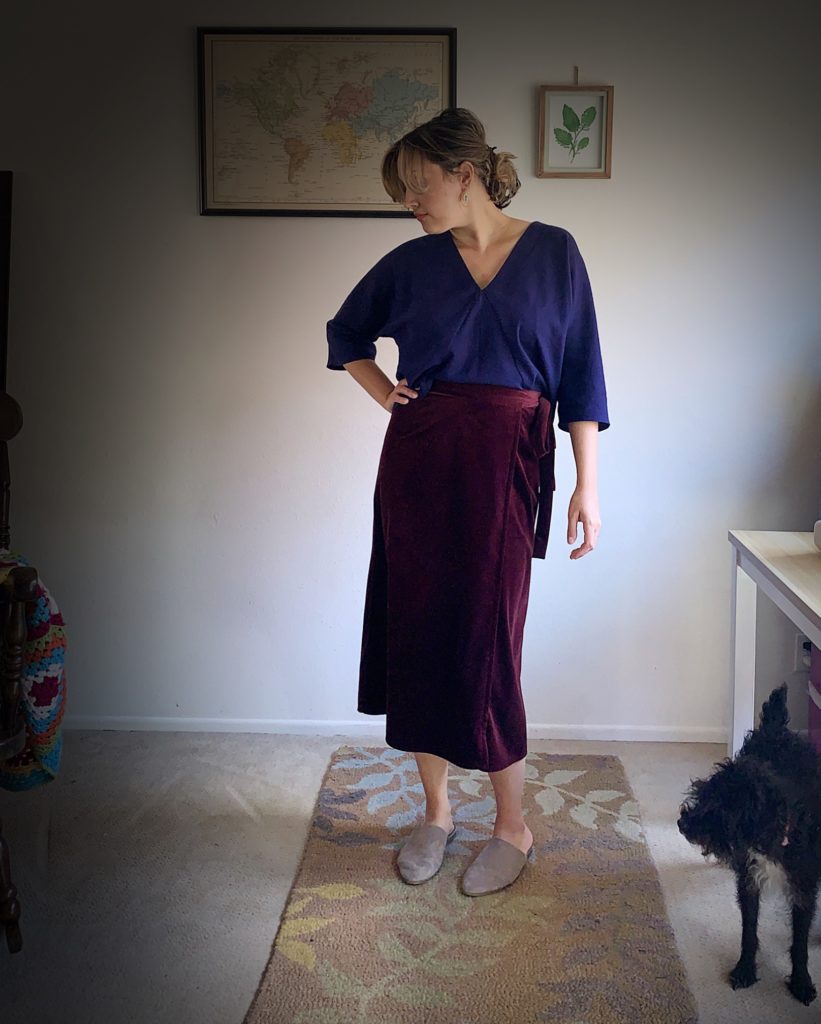 Making time…
Sewing time for me is very limited. Three boys keep me busy and usually if I feel an inspiration to sew I have to just go with it. I should be washing dishes, but then I try and remind myself how important self-care is. It must be pushed to the forefront, wouldn't you agree? As a mom I do A LOT for others and taking care of myself is essential to being the mom/person I wanna be. At times that means not vacuuming for a week. That's what I keep telling myself, anyway!
This is my thing! I have a deep need to make things. Always have. Having a family makes it difficult sometimes, it's got me jumping through hoops, but it's just a necessity and I'm so glad I've found a craft that I enjoy as much as sewing. It's fast-ish, it's gratifying, it's very useful, and it makes me feel pretty. Quadruple win! ?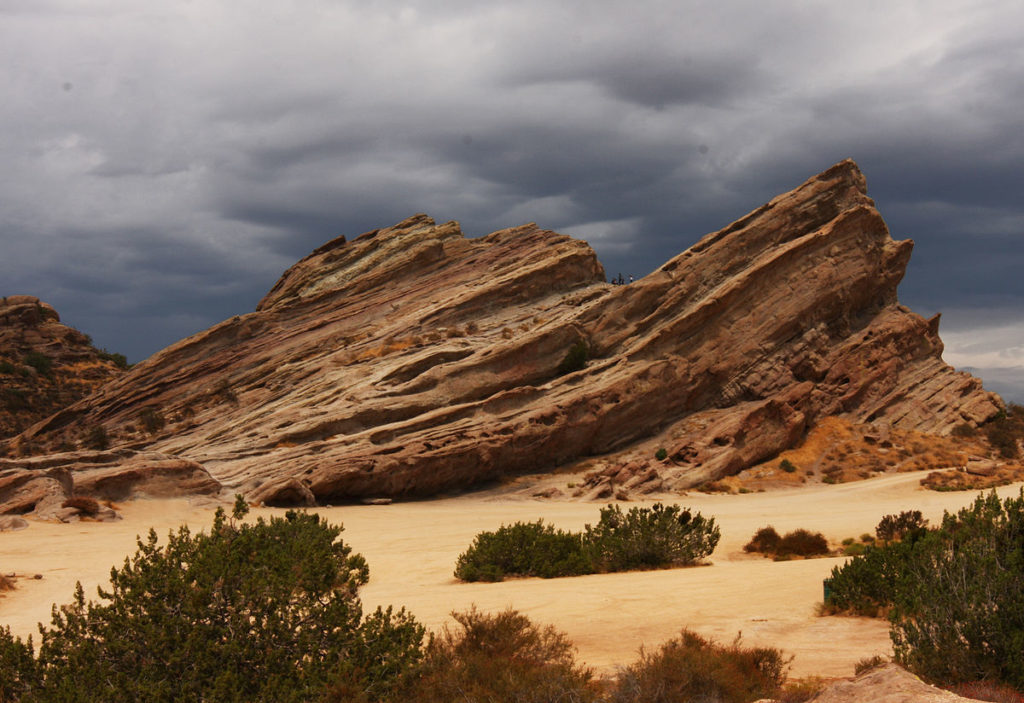 An outing…
Last weekend we went out to Vasquez Rocks Narual Area Park out in the beautiful Agua Dulce, CA. Yup, you go there to see rocks, ha, and some movie posters in their tiny museum that displays all of the movies that were filmed on said rocks. It really does look otherworldly and I can see why it makes for a desireable movie set. The best is watching my kids go wild there. Something about these giant rocks poking out of the earth at 45 degree angles brings a look of madness into their eyes.
Observing them in these situations satisfies some nameless thing deep in my bones (and has me fearing for the life of my 2 year old, but that's part of it I suppose.) It reminds me that children were made to be outside and makes me want to ditch the condo life and make this kind of adventure more accessible to them on the daily.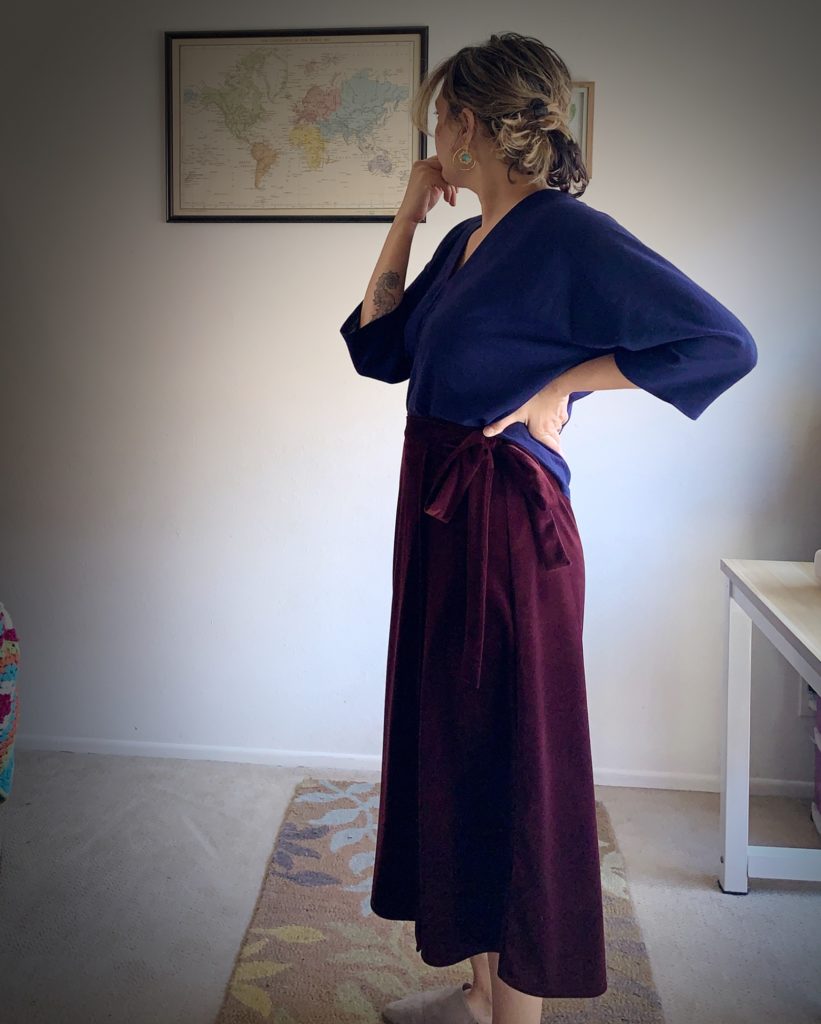 Construction…
So, back to why you are really here! This skirt pattern is a very simple project. It did take lots of paper to be honest, and took quite a bit of time to tile it together. I don't mind this. It's part of the process that I've become so accustomed to it. Especially since I am a total indie pattern fan-girl! This fabric, however, wasn't the easiest to work with. It didn't respond to pressing well and wanted to move around while sewing. It has a directional nap and the look of a pin stripe. Similar to a corduroy but without the whales. It feels luxiouroius on, but likes to cling to itself a bit. I wish it wasn't so impossible to photograph!
Here's a tip for working with any fabric that has a nap, like corduroy or this faux suede. Cut all your pattern pieces following the direction of the nap. Hold up your fabric and it will either appear light or dark depending on the direction of which the nap is running. I chose to have the nap pointing upward with a richer color. I love how such a simple piece can add so much character to an outfit.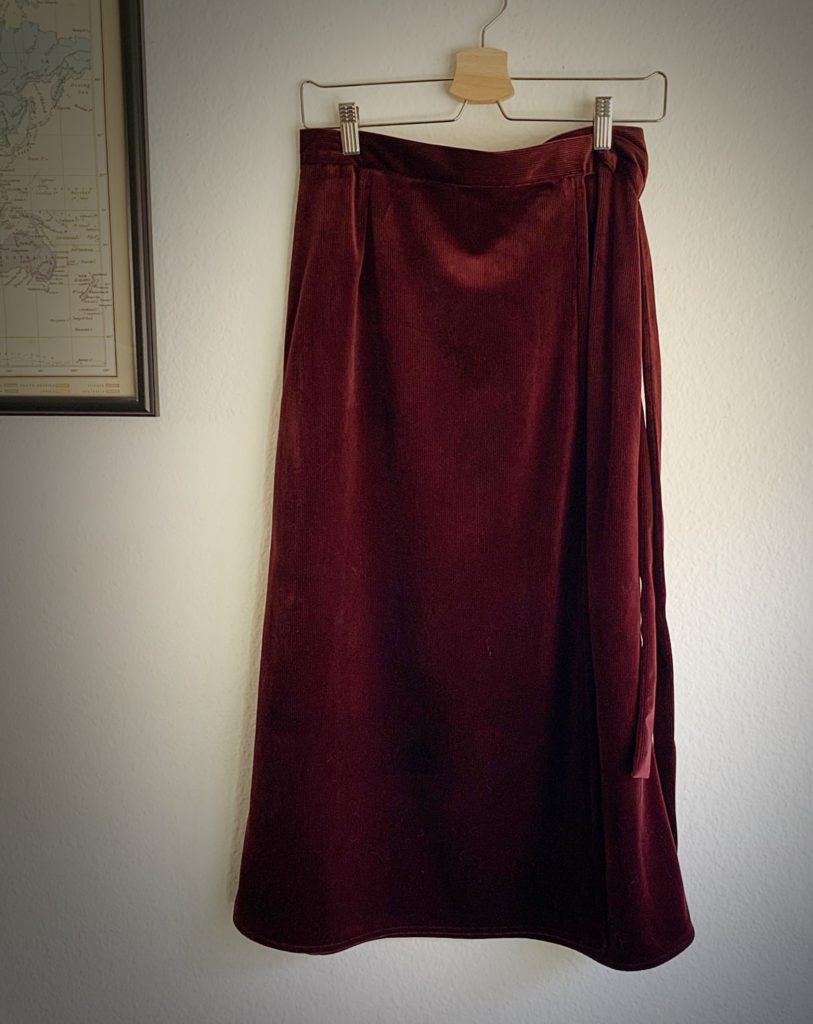 The directions were what you'd expect. Very detailed, with some nice finishing techniques. She has you finish the side seams with a French seam making this a great pattern for beginners to learn new tricks. This also makes it enjoyable for a more experience sewist. It's a straight forward skirt pattern but it still requires your attention. She keeps you on your toes! Aside from my fabric choice not wanting to be stitched in the ditch or buttonholed without a fight – thus requiring some seam ripper action – this is a very quick make. A large vertical buttonhole is required on the waistband at the side seam. The long waist tie is pulled through for a neat finish.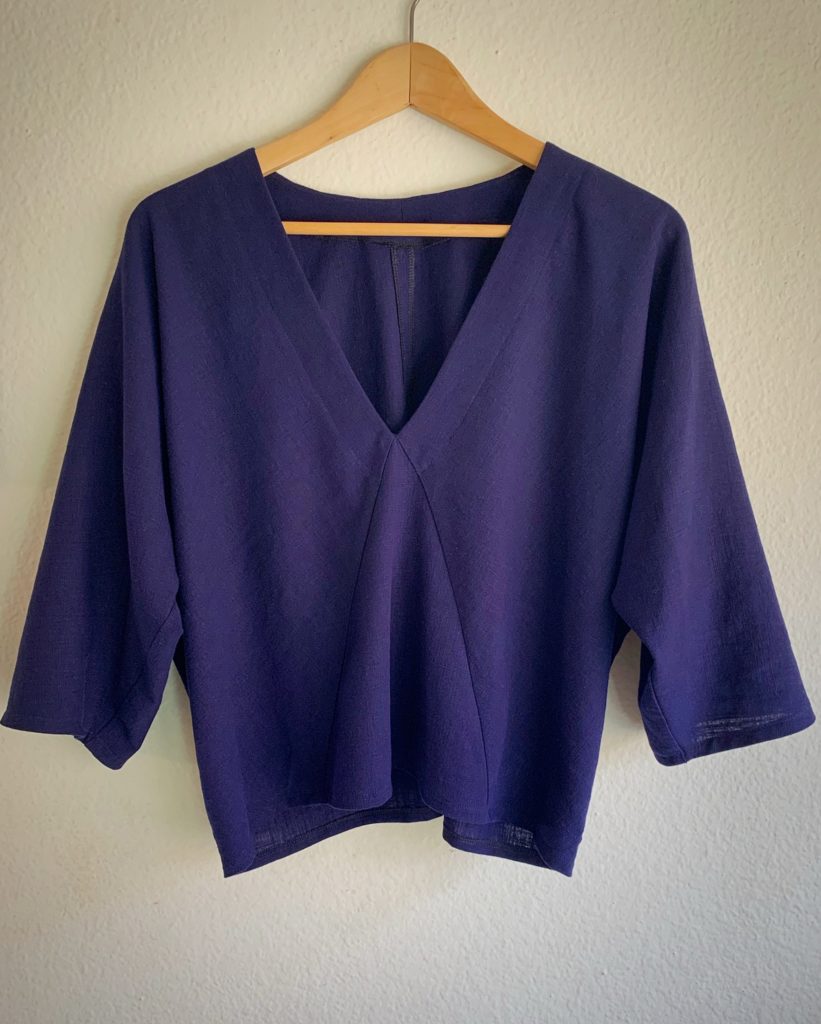 Papercut Patterns Pinnacle Top
This is my third Pinnacle. I've made a sweatshirt version and another v-neck version. There's still one more version to try! I love a pattern with variations.
Needless to say I'm in love with this pattern. As a Papercut Patterns fan, I was so thrilled to see their Geo collection (it was released several months ago now.) I love their fun and unique aesthetic. This pattern has some triangular pieces and is fun to piece together. Very puzzle-esque (that's not a word is it.)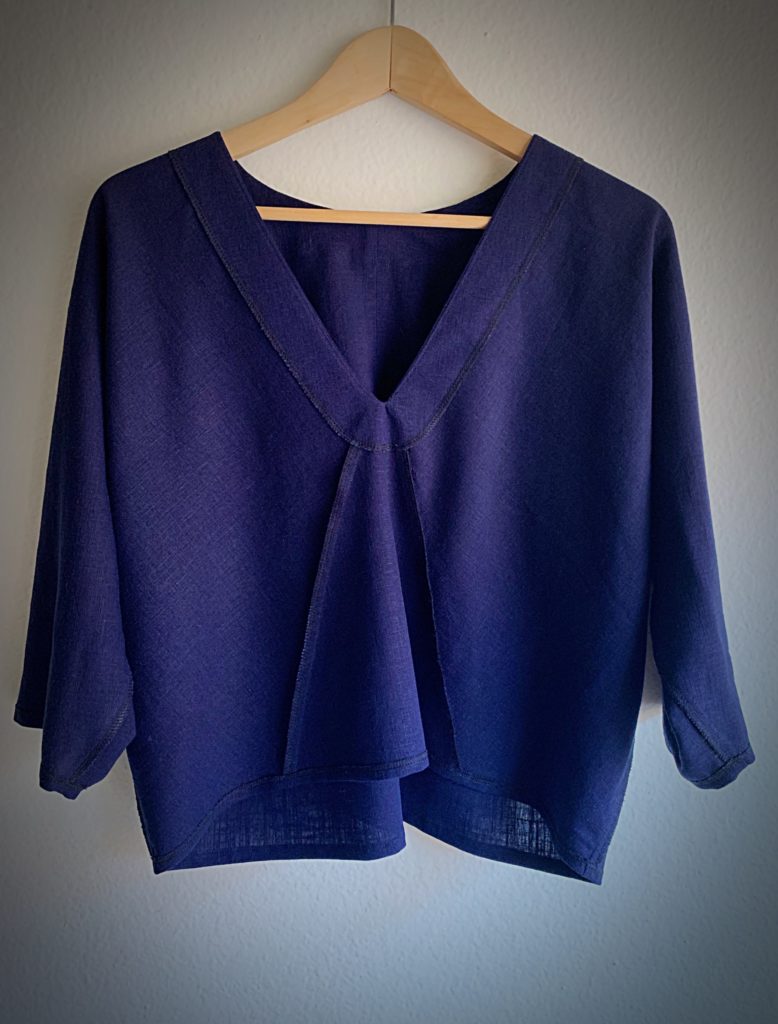 Constructing the Pinnacle Top…
I can whip this bad boy up in no time, although this had been sitting in a stack all cut out and ready to sew for weeks. The fabric is a rayon/linen blend and has a beautiful drape with the softness of rayon.
After attaching one side of the triangle I prefer to overlock that seam and press it away from the center front before moving onto the next side of the triangle. This helps me to get a nice point at the center front. I also mark the beginning and end stitching points before topstitching the shirt to the facing to ensure evenness on either side of the triangle.
I find that for some of the notches in this pattern don't exactly align specifically on the side seams. In fact, this has happened for me with other Papercut patterns. Is it just me?? In these instances I use my better judgment and align the pattern pieces in what I assume would be the proper way. Hasn't failed me yet!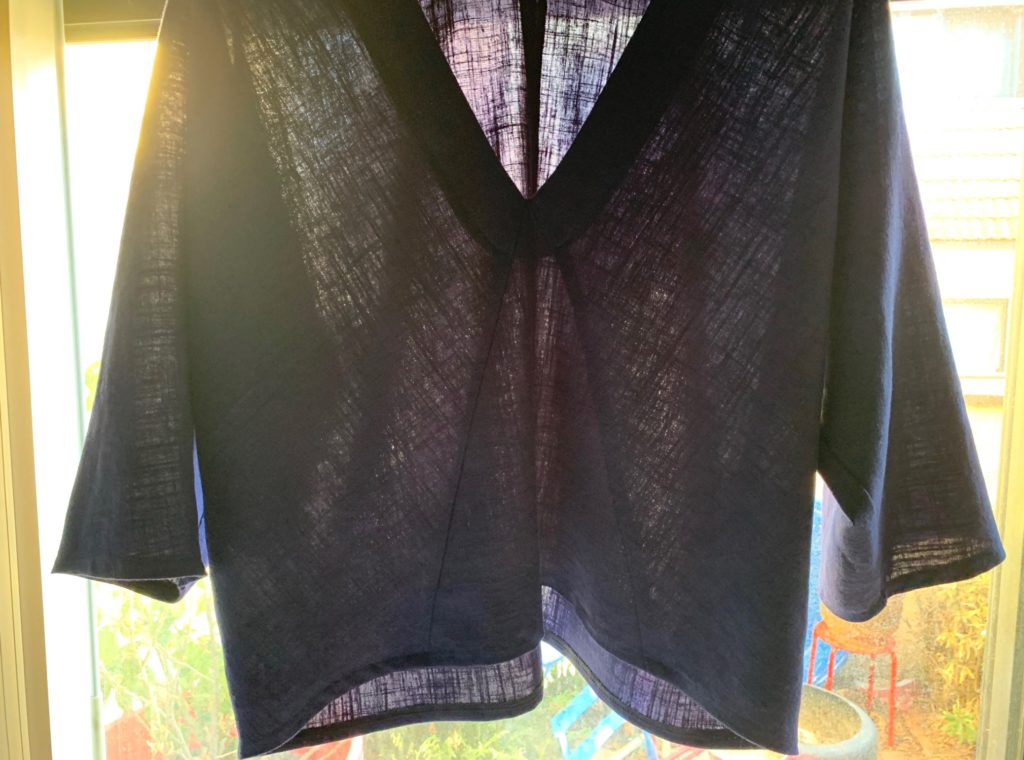 The Pinnacle is slightly cropped and pairs well with skirts and high waisted jeans. It's comfortable which is usually a must for me. The lines are super feminine and it really stands out as a unique staple in my eyes.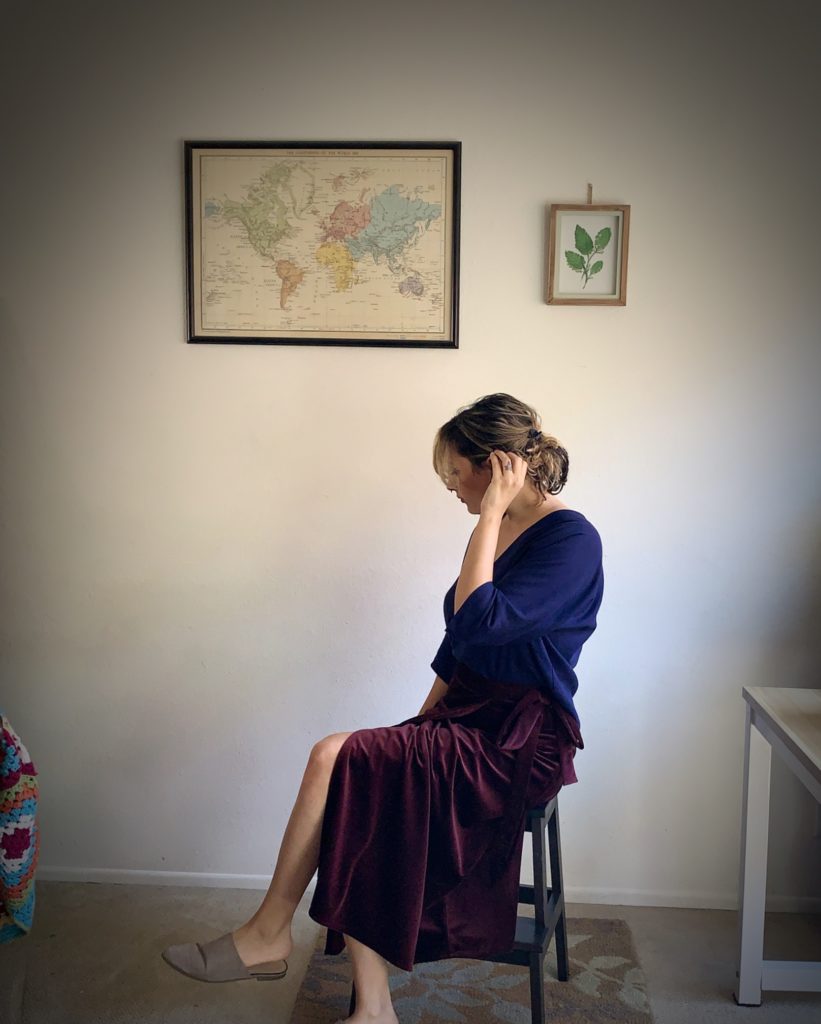 Final thoughts…
I love these together! These two patterns pair nicely together I think. I feel effortlessly dressed up which is a lovely feeling. Thank you for reading and if you have any questions/comments stick them below!