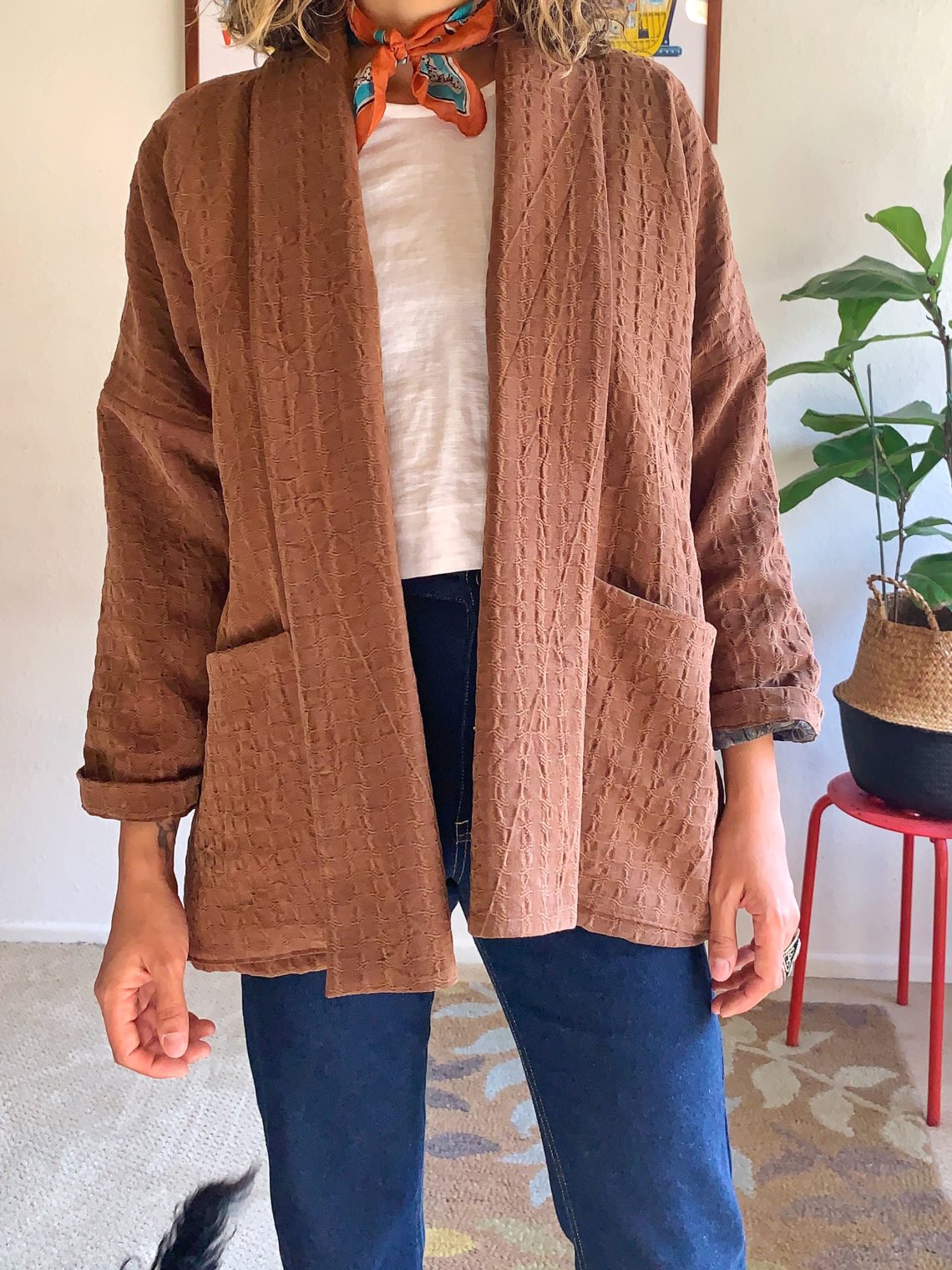 I'm back again sharing my new best friend, a textured Wiksten Haori! It amazes me that it took so very long to try this pattern. Seriously, what was I thinking? This may be one of the dreamiest garments in my closet.
I am so in need of more layering pieces and after completing my Haori I know this pattern is going to get a ton of use. If you haven't made one for yourself, you really should. I am now a full-blown Wiksten Haori fan girl and there is no looking back, guys!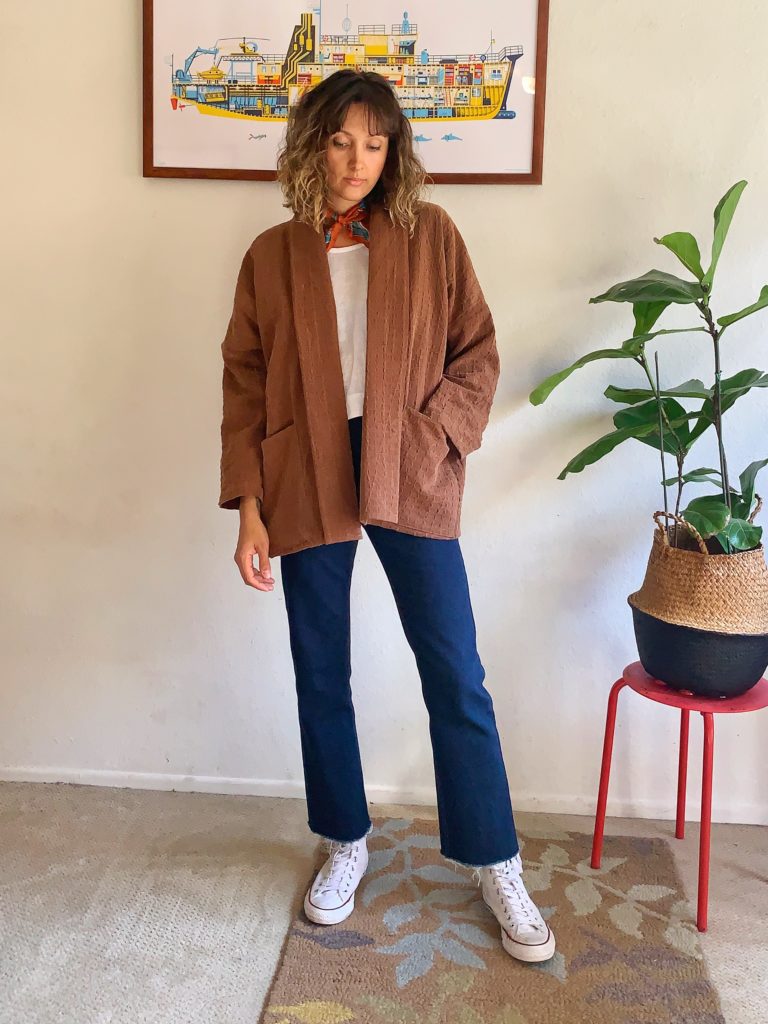 The Pattern
The Wiksten Haori is a sewing community super star. It seems to be a pattern people sew in multiples. People have raved about it! I realize that this is a natural tendency of mine. Whenever there is a whole lot of hype surrounding something new (think movies or bands) I tend to hold back. Like I wanna resist a sweeping trend, which follows me since my high school years at least.
Well, let me just tell you that I can see now what all the fuss was about. It is fabulously versatile and easy to wear. It is oversized and easy to fit, yet your fabric or sizing choices can greatly affect the overall look. Lined or unlined, reversible, and even quilted (as I have seen popping up in the Instagram community of which I have enormous jacket envy!) The options seem to be limitless.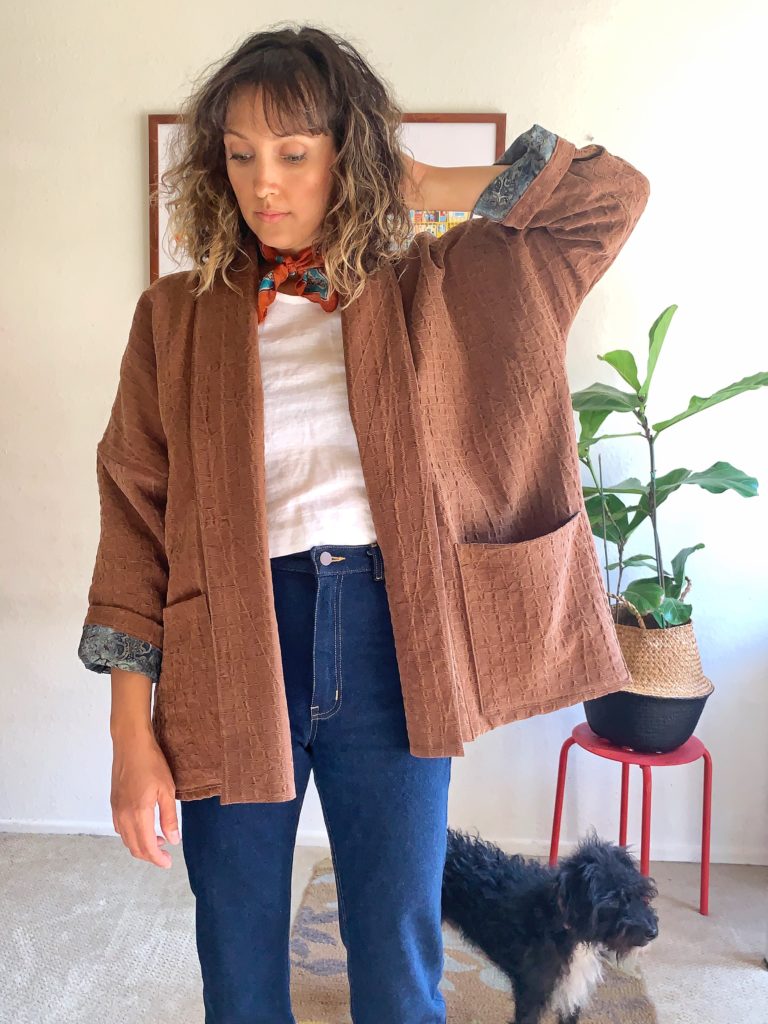 The Fabric
This fabric, however, is a major contributor to the dreamy quality of this Wiksten Haori. Blackbird Fabrics is known for their quality and this fabric did not disappoint. It is a Vintage Tencel Jacquard in Dark Caramel and as soon I saw it I new it was what I was looking for. This jacquard has a slight distressed appearance with the most amazing texture and ultimate squishiness. The drape and weight are lovely.
For the lining I used a batik from Joann. I think the colors work well together and I honestly love the reverse side of the jacket. I made no changes to this Wiksten Haori yet it works really well as a reversible jacket as drafted.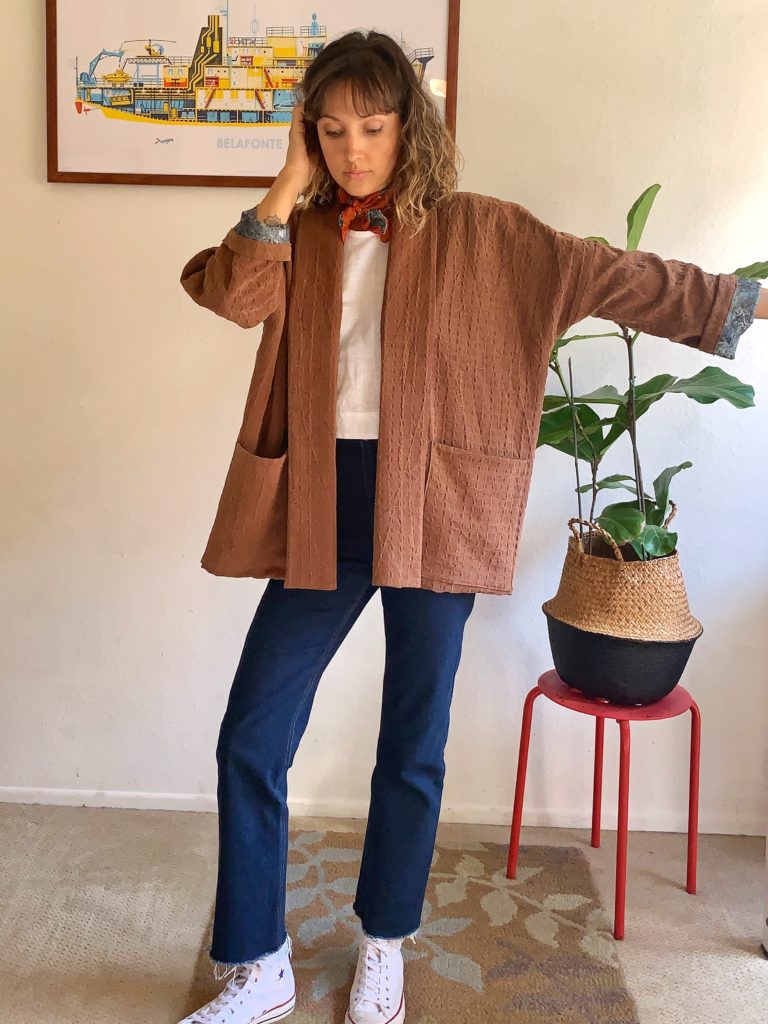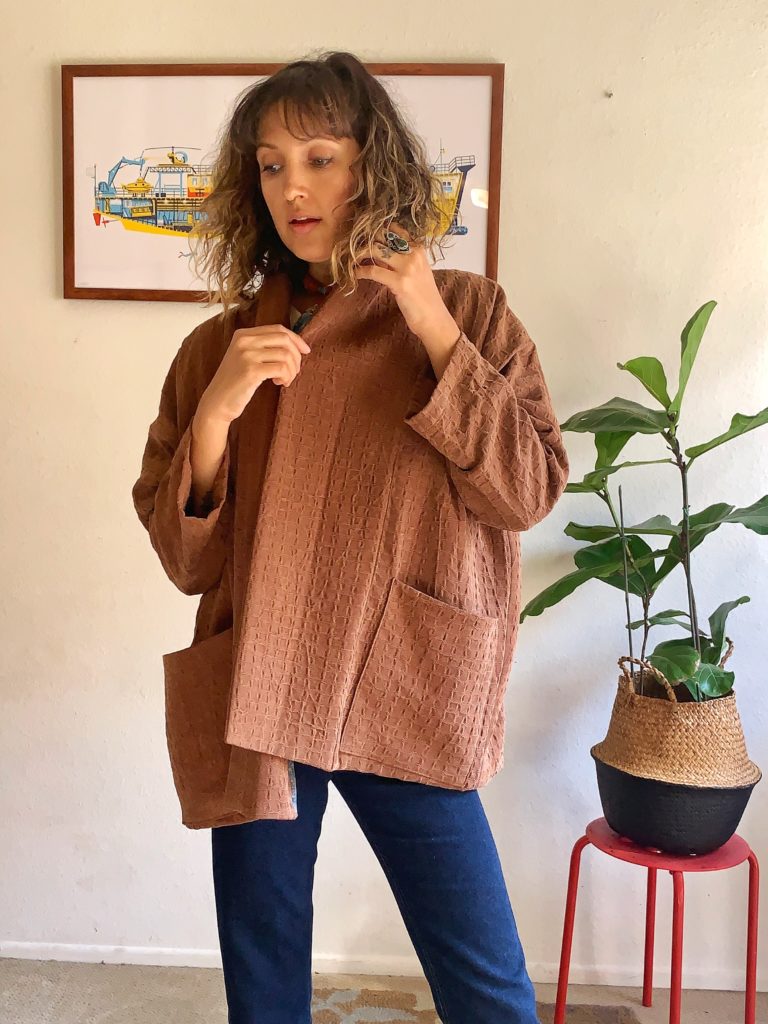 Construction
The Wiksten Haori is a fast and simple sew. It can easily be completed in a day which, although I love more complex projects such as jeans or collars, is so rewarding. Both fabrics pressed beautifully and everything came together as instructed without a hitch.
For this version I went with the medium length. My bust measurement put me between a medium and large and my waist measured into a medium. I went with a small but I've seen people choosing to size down two sizes for their Wiksten Haori's. I knew this jacket was going to have some structure and girth so I did decide to size down, but I did not want to loose too much for the oversized look intended in the drafting. Plus, I am all about oversized looks.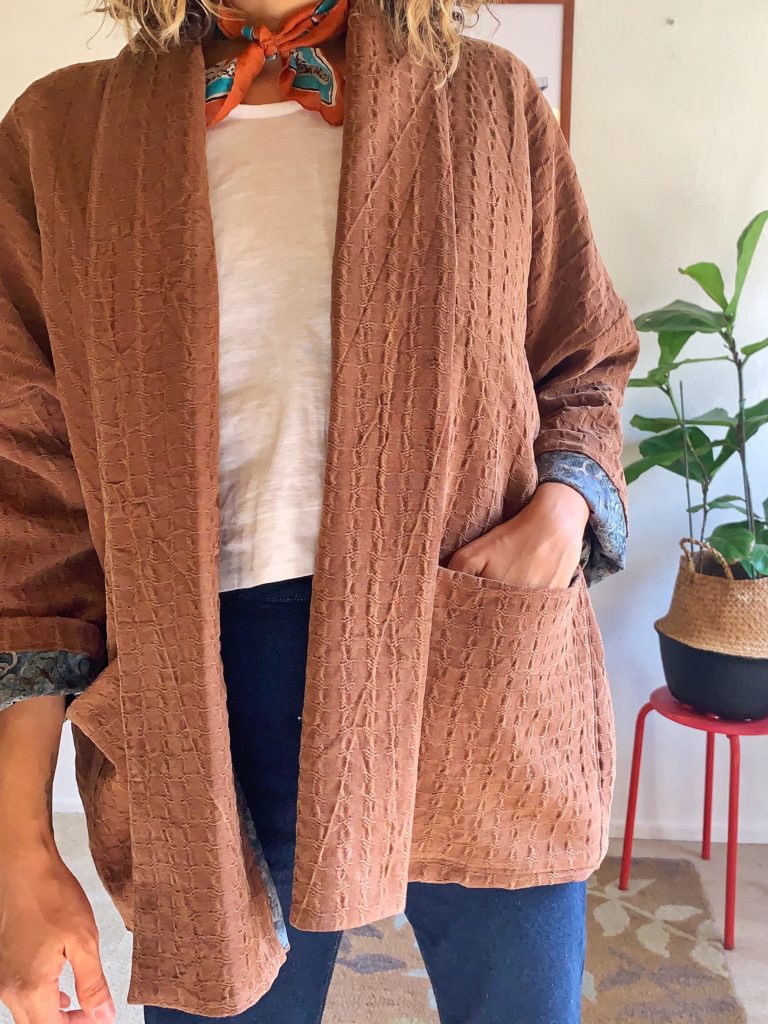 This is my second Wiksten pattern and the instructions are reliably clear and beginner friendly. Since sewing two Wiksten Shifts, a dress and a top, and now this, I am a huge fan of the drafting and aesthetic of her patterns.
I believe that the main fabric I used for this Haori has a bit more drape than recommended, but using a less drape-y lining fabric really countered any potential issues. The batik has just the right amount of structure. These fabrics layered together makes for an extremely cosy and warm jacket. This would easily get me through most of the southern California winter.
For the lining I went with a fusible knit interfacing, also from Joann fabric. I love knit interfacings. They give stability but still retains a bit of softness and movement. My main fabric is fairly thick so I wanted to avoid the fold over collar having too much stiffness.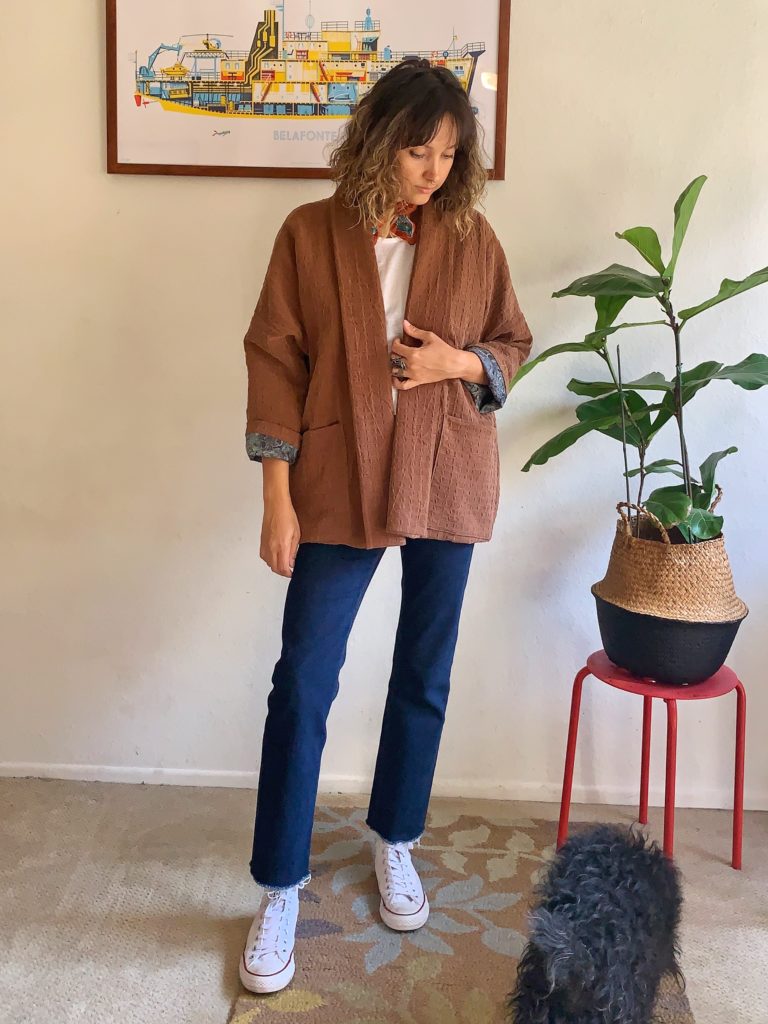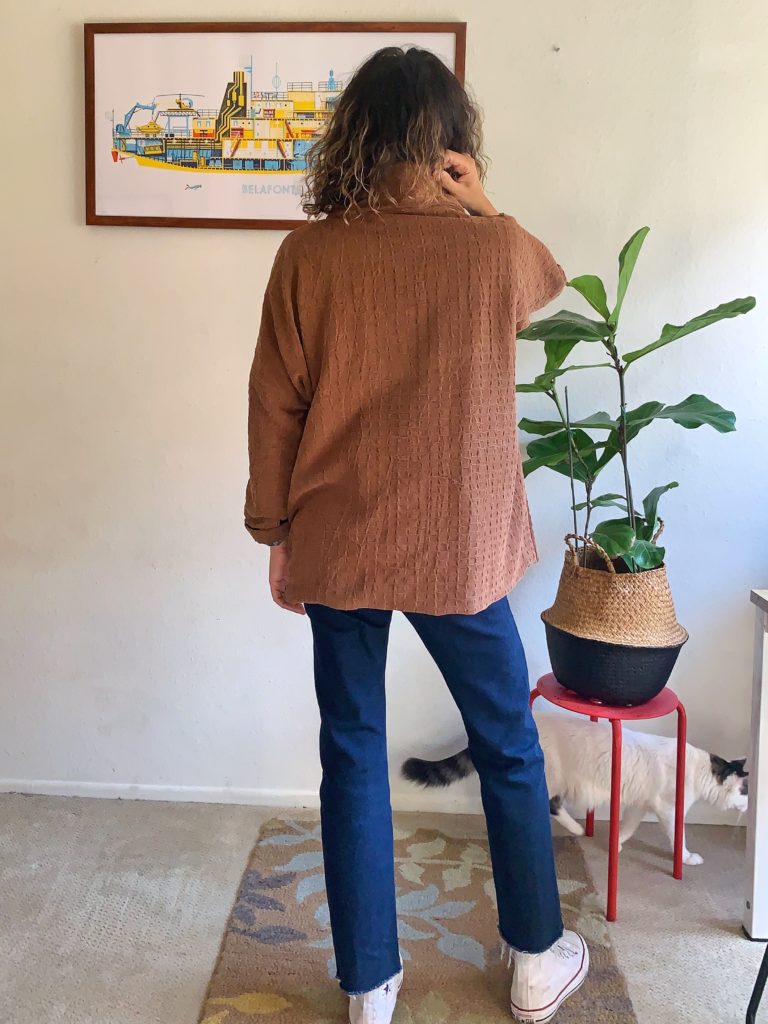 Final Thoughts
So, I am going to need more Wiksten Haori's. That is a fact. I would love to experiment with a long quilted version. The short version is also a necessity, obviously, but it may have to be more lightweight and possibly made in a single layer. This is such a great layering piece and it looks cute paired with my newest dawn jeans and white linen ashton top.
I can't stress enough how great it feels to sew with beautiful fabrics. The right fabric can make a simple project that much more gratifying and fulfilling. I love my finished Wiksten Haori so much and I really hope it lasts for years to come.