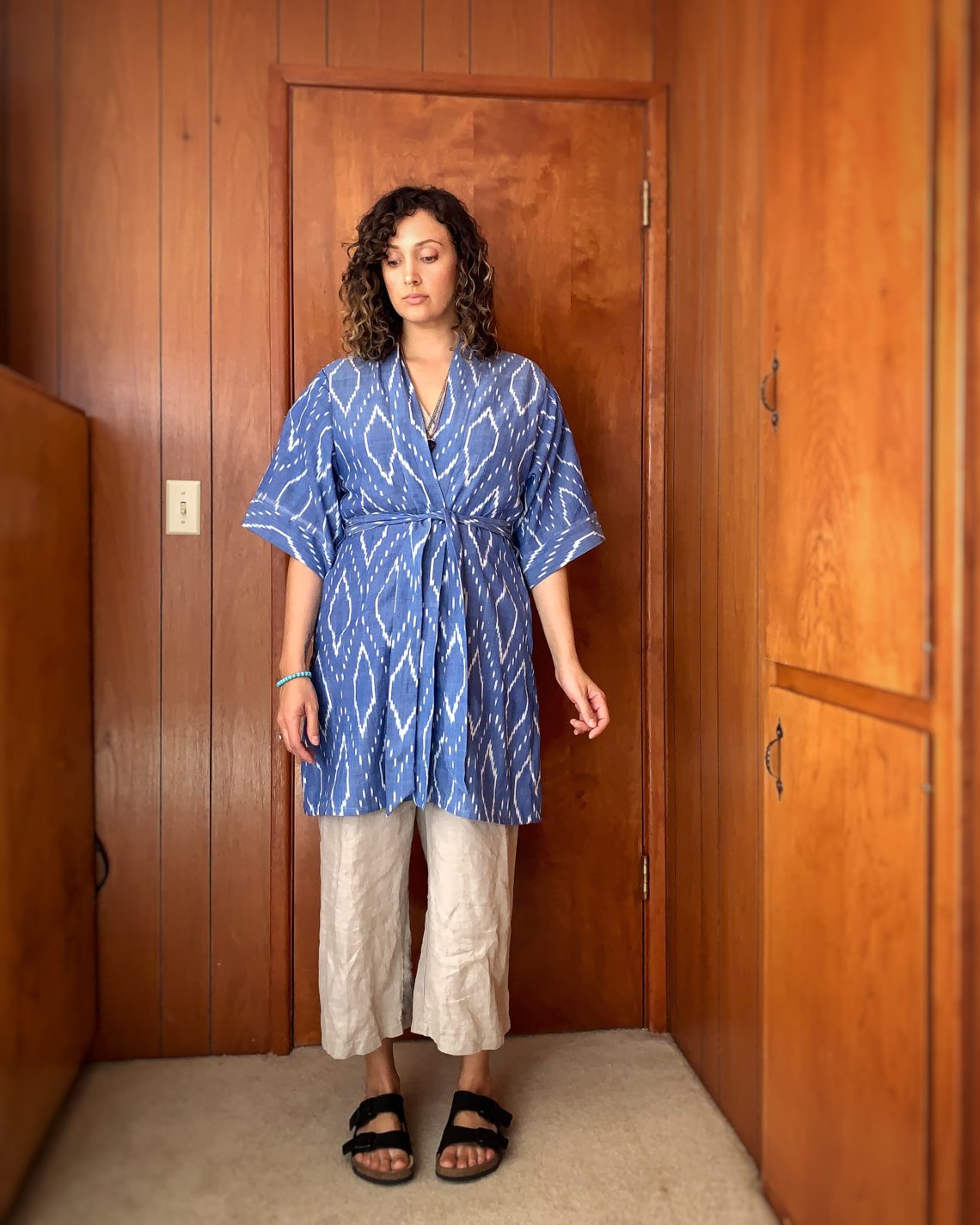 …a Measure Fabric Collaboration
It's been a while! Life has been busy but I'm back again sharing another finished garment. This time I got to play with some beautiful gifted fabric from Measure. I made something very cozy which is all I want to wear in our current quarantine situation in California. I'm not going to talk about Covid 19 today. Although it's on my mind almost 100% of the time, I will be forcing myself to take a mental break from the topic as I blog it up.
The Fabric
So I have to start with this fabric because that also happens to be where this project began. As a Measure Maker, I was given some fabric options to choose from and when I laid eyes on this cotton Ikat Batiste, I knew I wanted it in my wardrobe. It is light and airy as batiste's usually are, it's a bit sheer, and its cotton. I do love cotton and I know that sounds boring. However, the fact that it is breathable and loved by my sewing machine always makes it a top contender. This Ikat is a soft blue chambray color with a white print. It has a slight textured look to it but isn't sticky like a gauze. It is floaty as well as strong.
The woven Ikat print is very cool, and both sides of the fabric are almost identical. It honestly is gorgeous and lovely on the skin. After some careful consideration I thought the fun print could make an interesting layering piece. When my little mental catalogue of sewing patterns thought of the Suki Robe by Helen's Closet, I was very exited to give it a try. (Note: This is currently on sale as I write this up!) So far, everything from Measure Fabric has been a gem. I absolutely love their unique options and the quality is truly superb.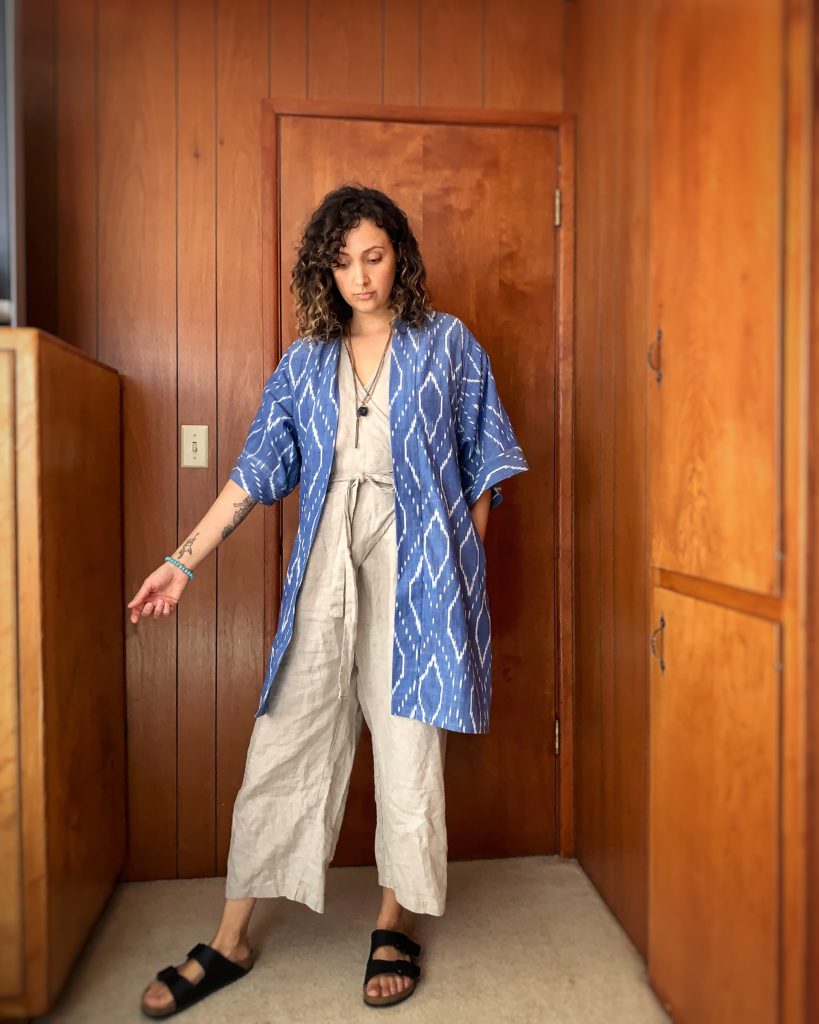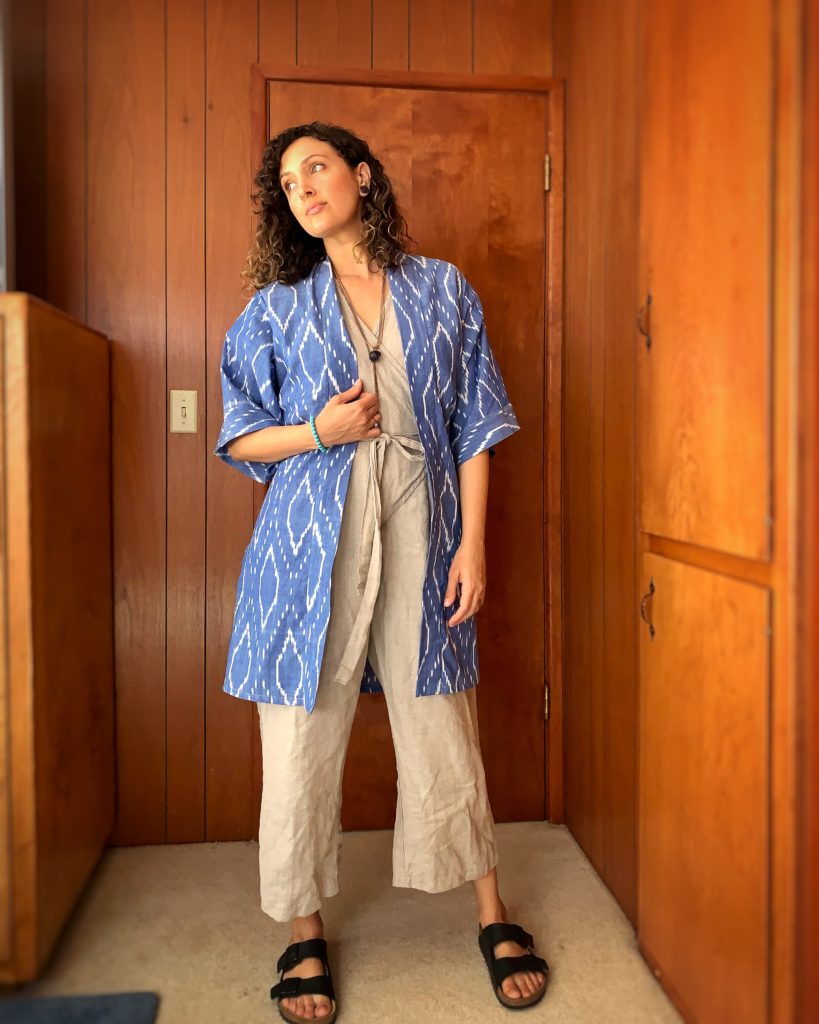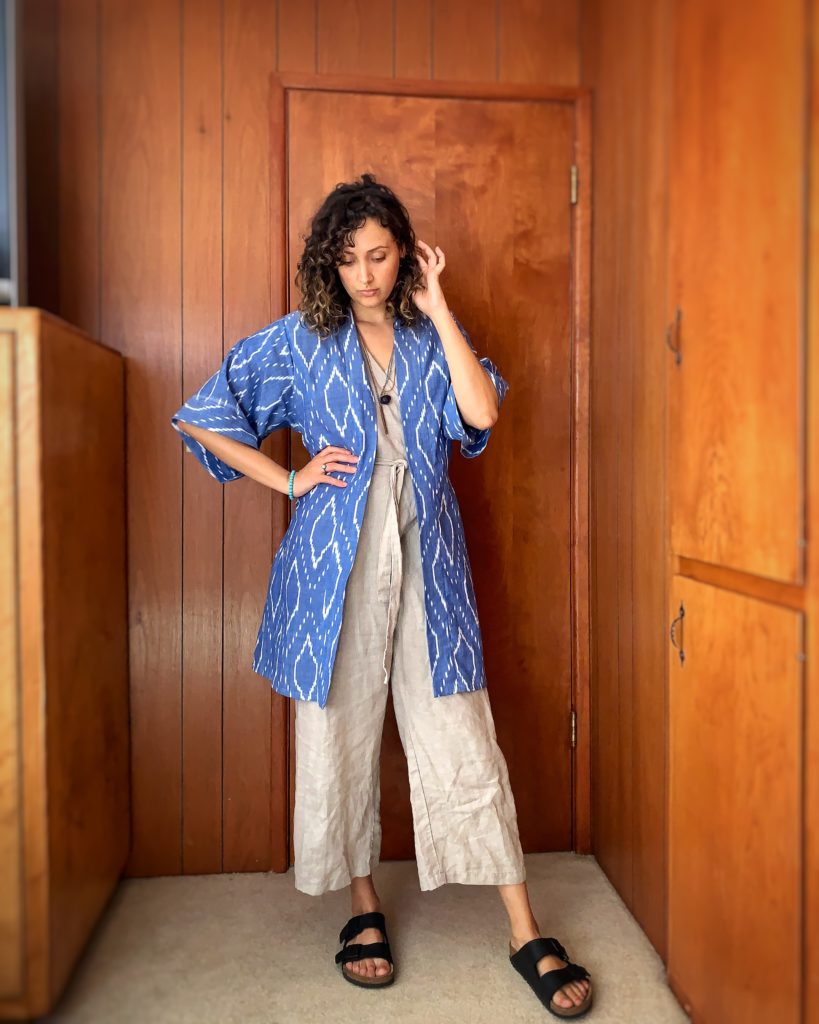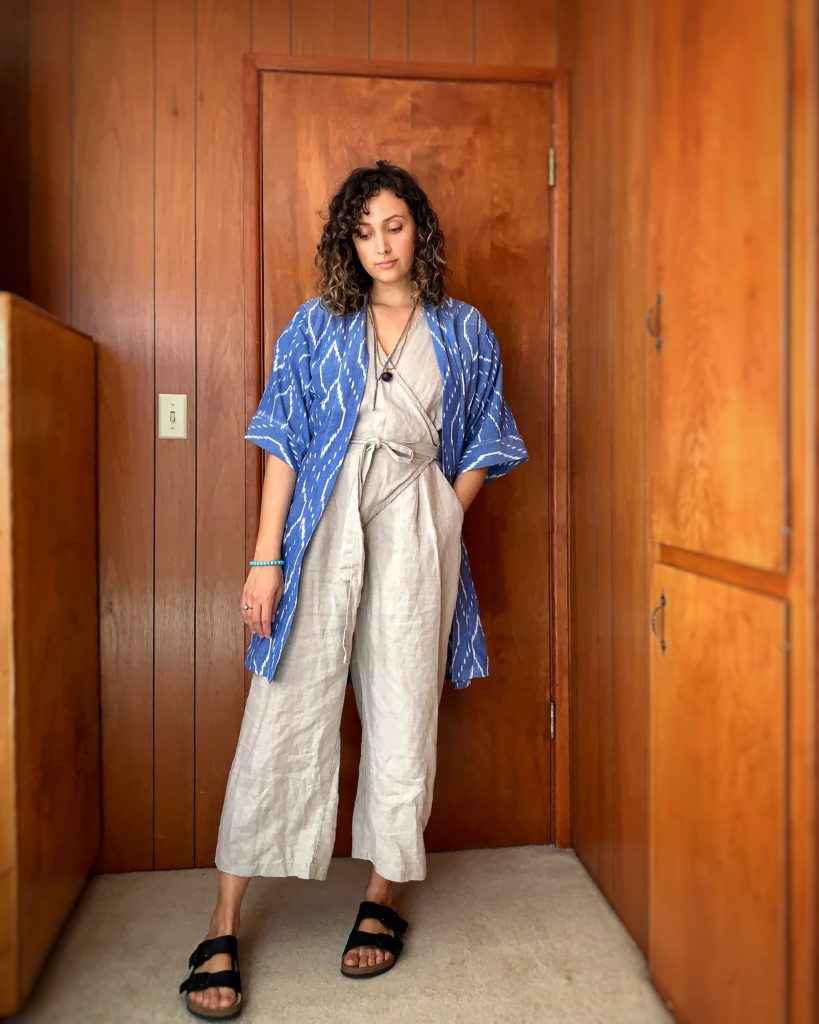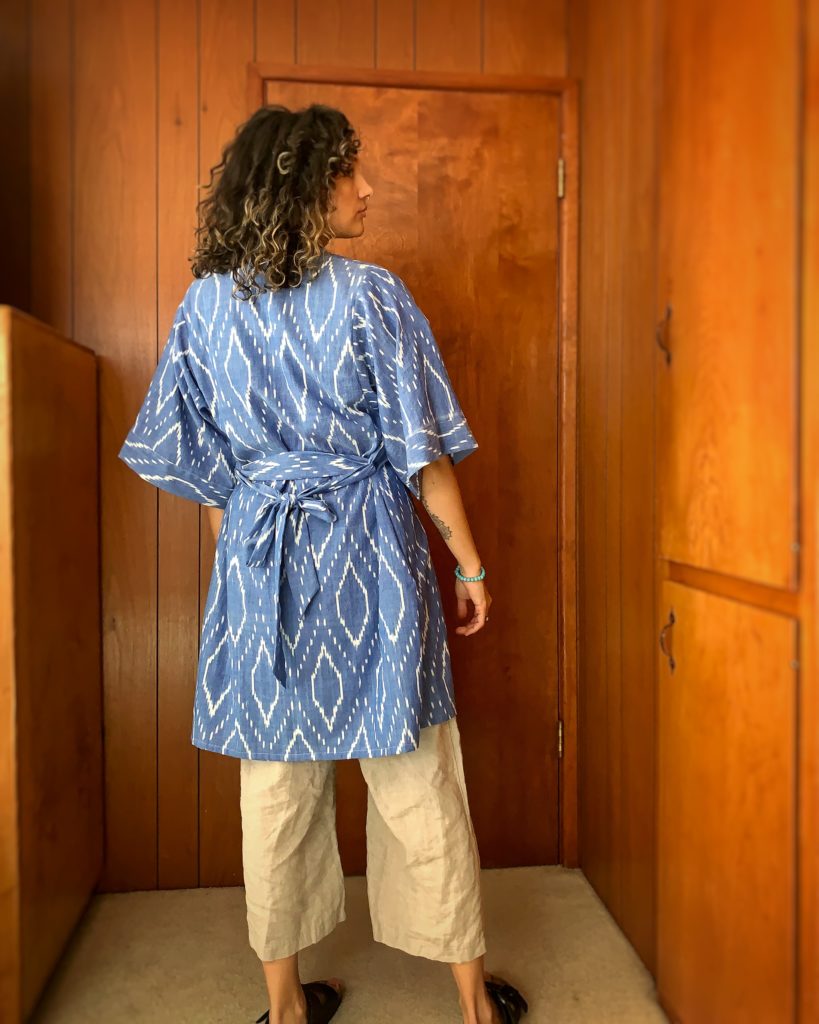 The Pattern
What a joy to sew. I chose my size based on my waist measurement, not wanting this to be too oversized. My waist put me into a size medium while my bust placed me between a medium and large. I'm really glad I went with a medium. The instructions are exactly what you would expect from an indie pattern and more. This would be a great choice for an adventurous beginner in my opinion. Helen also offers a whole bunch of pattern hacks on her blog. This is such a great resource! I just love hacking patterns, and not only do I plan on making a robe version for lounging around at home, but I can't wait to make a shorter cover-up version sans waist ties.
The sleeves and shape of this robe are surprisingly flattering. I actually love the way this turned out but I did follow some of Helen's hacks. She has a post on how to straighten the front of the robe to make it more outerwear friendly. This involves altering the front pattern piece and extending the front band which you can find here. So cute, and easy to do!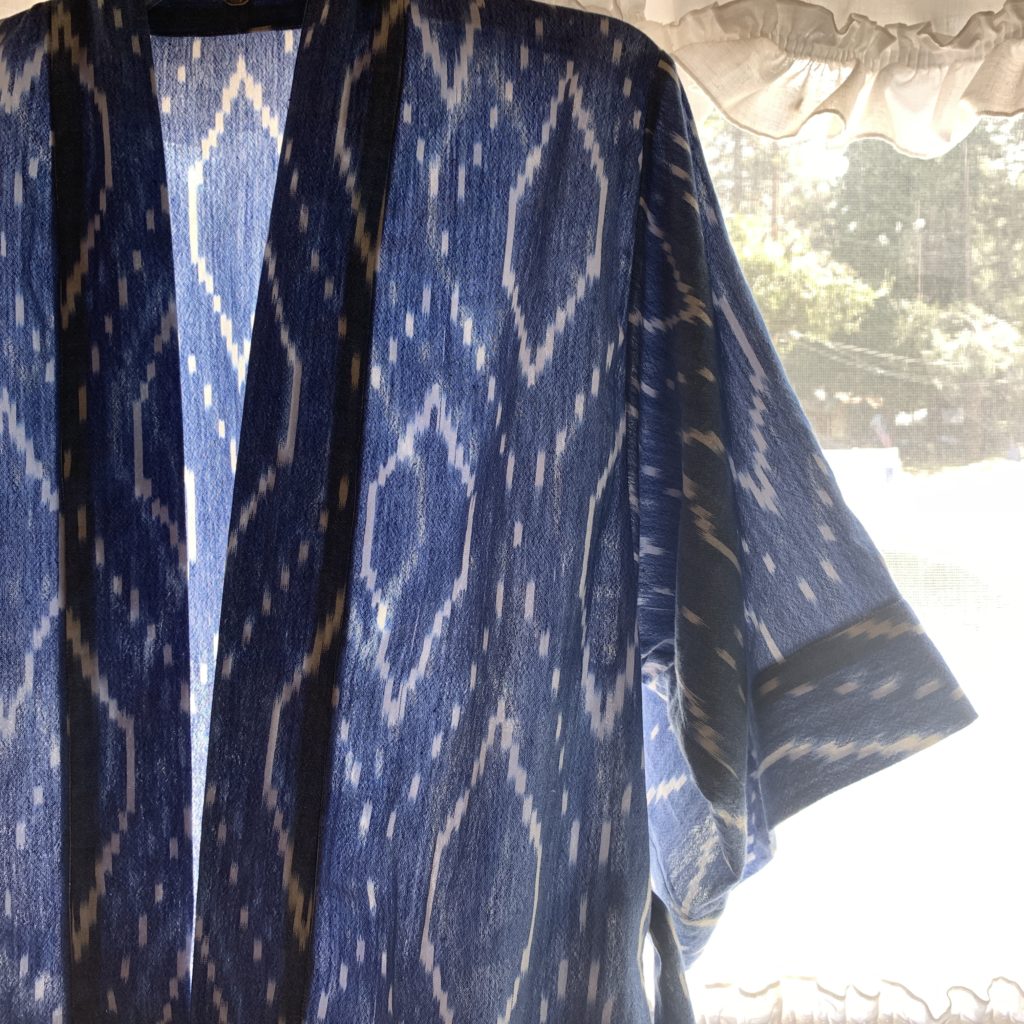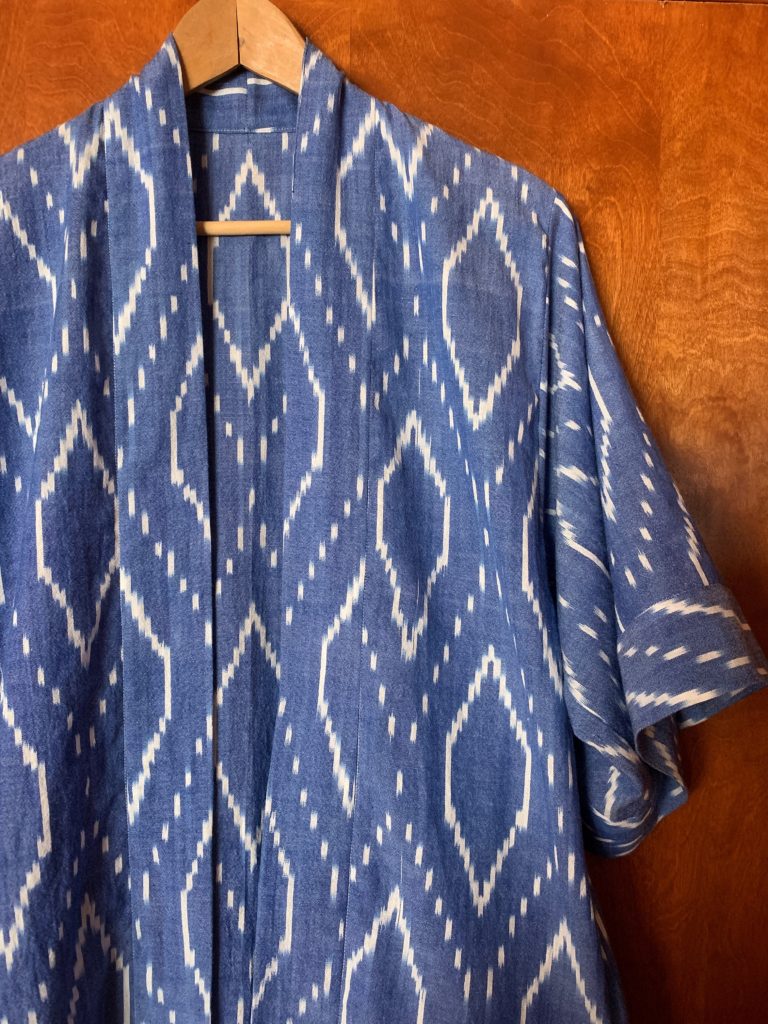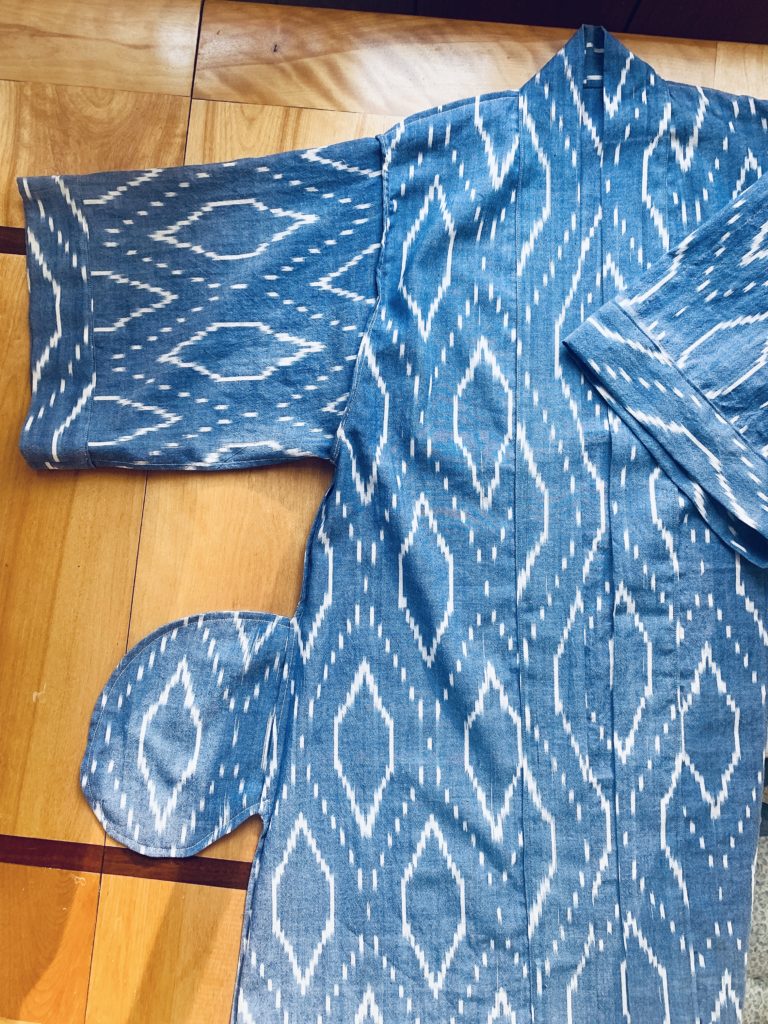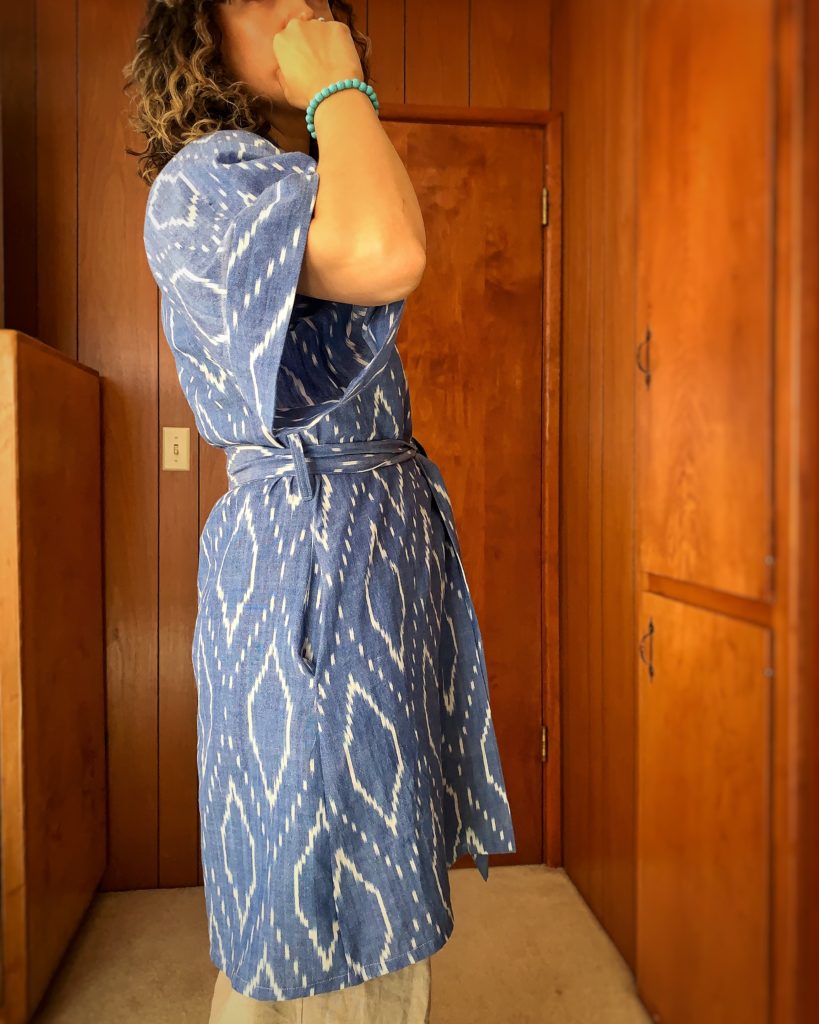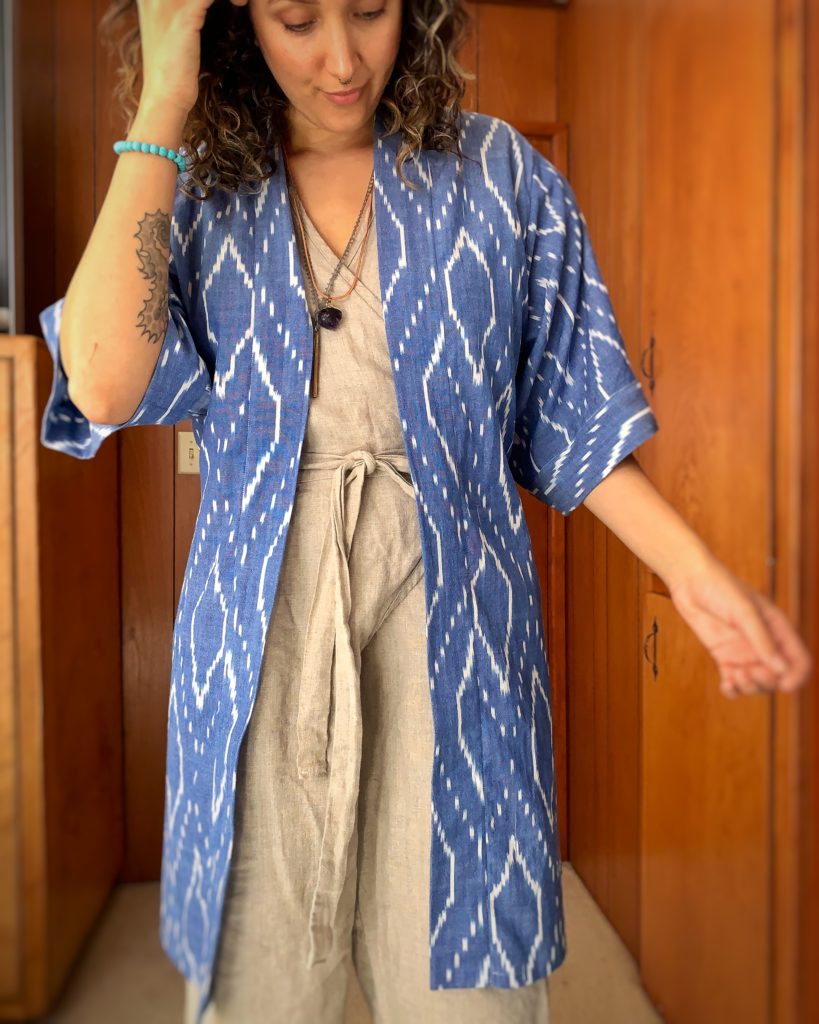 My Version
My version is about 3" shorter than the shortest version included in the pattern. Helen drafted the Suki in two lengths. I shortened this version mainly because I was working with 3 yards off 45" wide fabric and I fiddled to get the most length out of what I had. I'm honestly glad that it isn't longer. This length looks great so far with everything I've paired it with, including my Zadie Jumpsuit in these photos. The Suki normally has loops that are sewn into the side seams of the robe for anchoring the waist tie. Instead, following Helen's advice I opted to attach them as you would a belt loop in order to make my Suki more outerwear appropriate and less robe-like. You can find Helen's blog post featuring her beautiful Tencel version and with all the necessary links to make this hack here.
I opted out of the hanging loop at the back of the neck since this fabric is so light weight and semi-sheer. The waist tie normally is attached to the back of the Suki in two places but I made one single long tie. This makes the tie removable but I honestly love it on. Tying my Suki at the back actually cinches it in a bit and gives the robe a very flattering shape.
Lastly, my Suki is french seamed throughout with all seams around the front and sleeve bands covered by stitching in the ditch. The result is so worth the time, I'm tellin' ya. I followed a tutorial by In The Folds on how to make the perfect in-seam pockets using french seams and I'm smitten.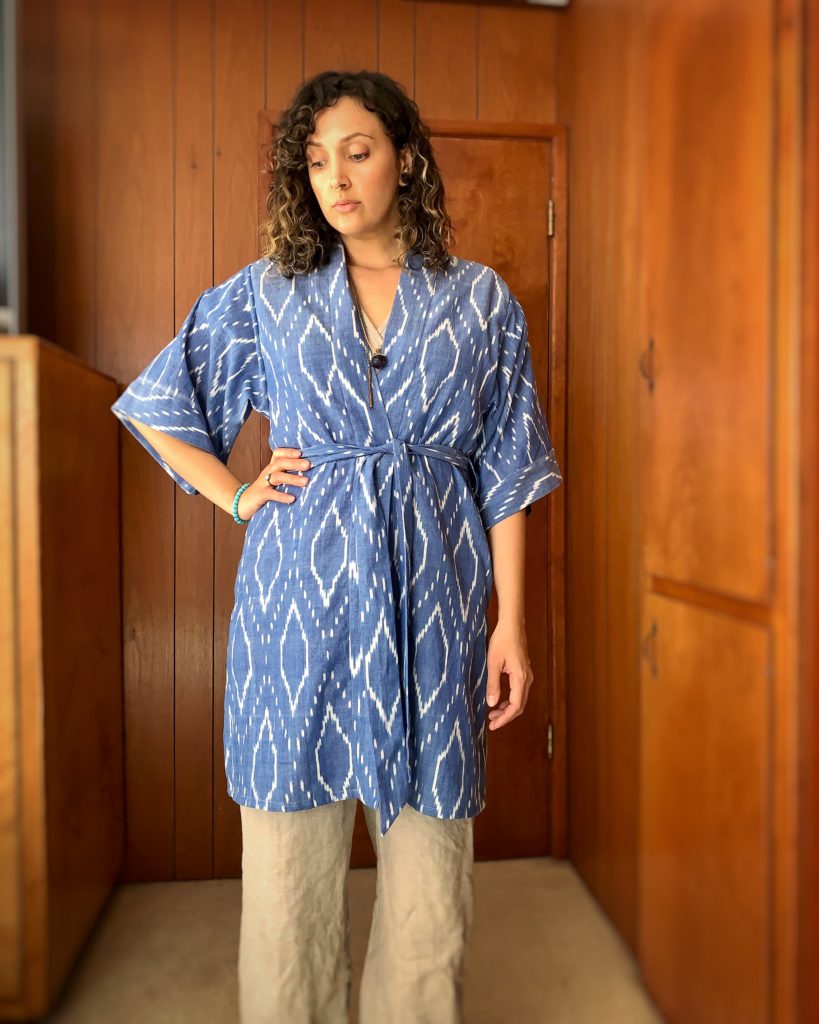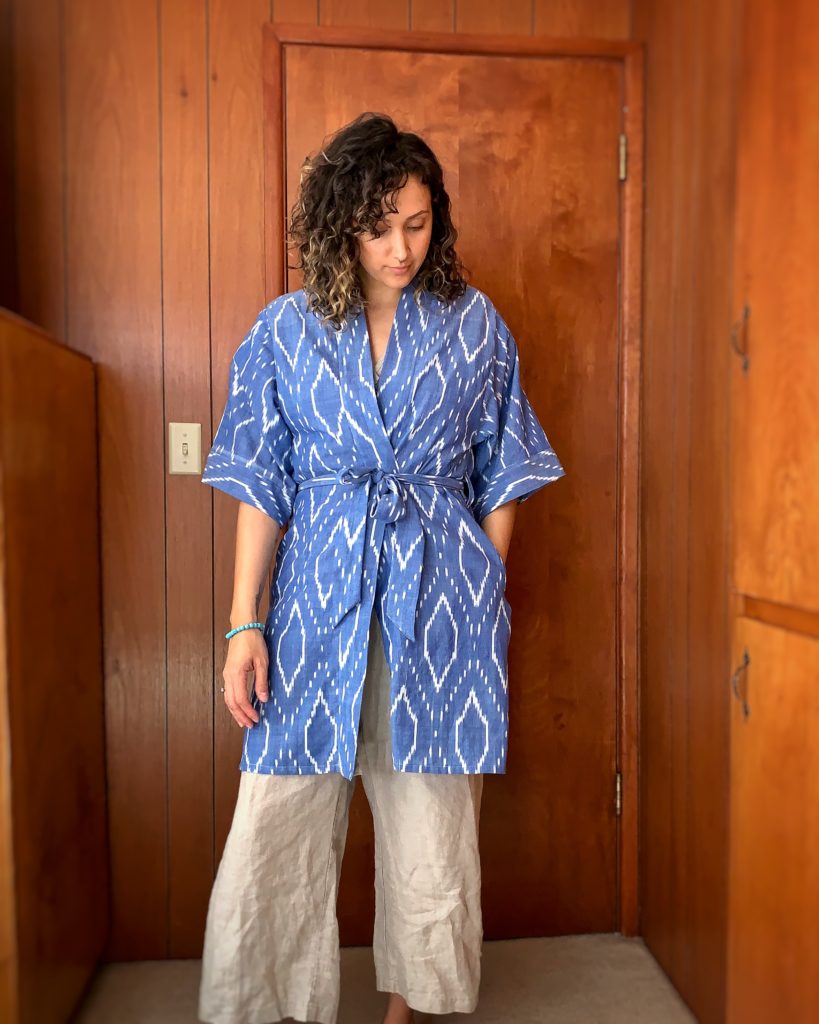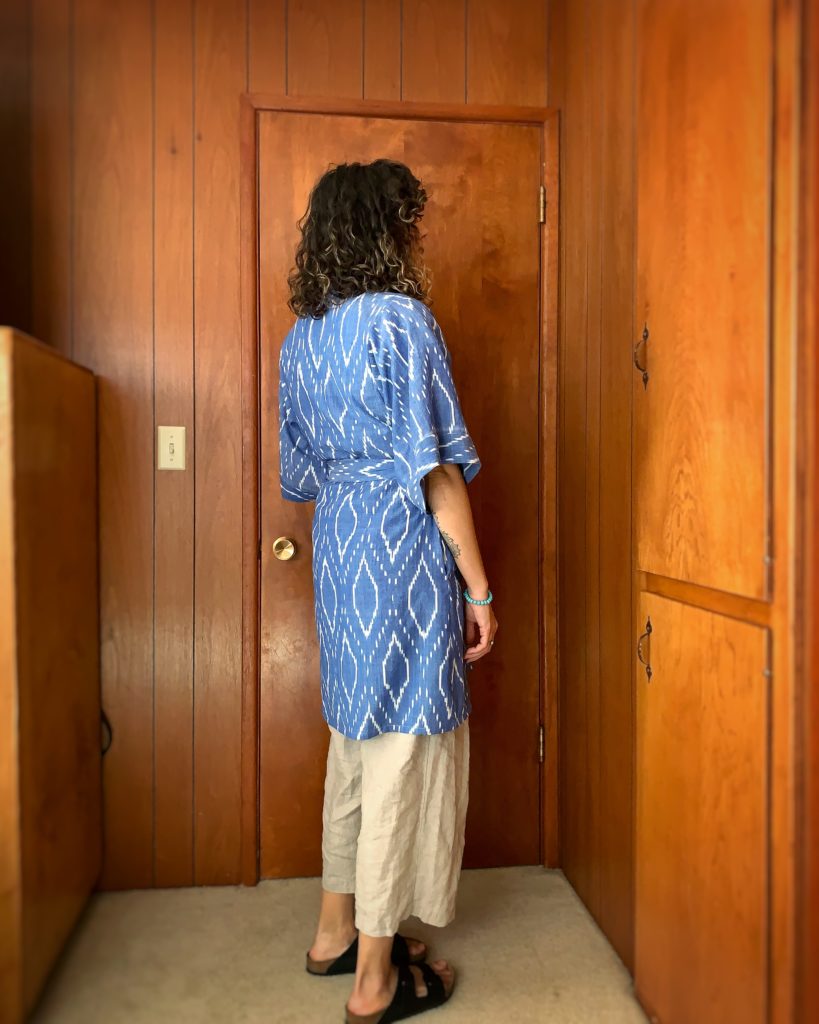 Finally
This was a very welcome and relaxing project and the result is unlike anything else in my closet. The world is seeing some very overwhelming times right now and I am so grateful to have a craft that brings me joy. My pattern choice and fabric made a great match in my opinion. This Suki is luxurious and so comfortable. As the weather warms up this will be such a good styling option to have. As always, and I really mean it, thanks so much for reading. We need our sewing community so much right now.