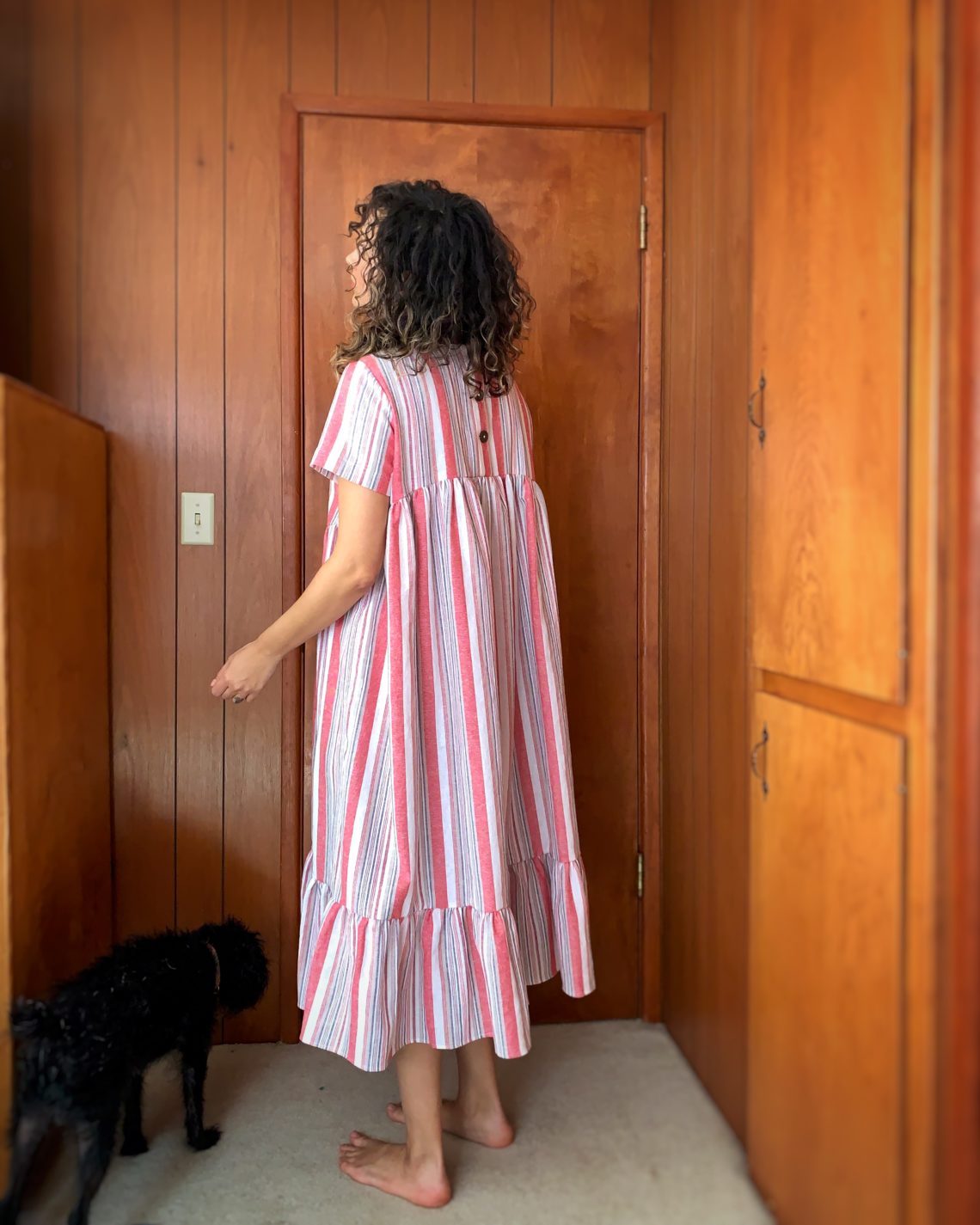 The Florence Dress in Stripes
OK, I am super happy with this new thing I made! I had to jump on here and start blogging about it ASAP. This new dress in the exact sort of thing I want to be wearing right now. Its an oversized, gathered, linen-cotton blend beauty with interesting style lines and buttons! Ahhh, the good sewing fairies are smiling down on me.
The Patten
The Florence by Merchant & Mills is, in fact, a pattern for a top but can easily be hacked into a dress. How cool is the name Merchant & Mills, by the way? This is the first time I have used one of their patterns and I've also heard other sewers rave about the quality of their fabrics. I would love to try one of their linens some day. Although The Florence pattern does not include a dress version, Merchant & Mills did include a dress sample in their photos which inspired me right away. I've really been wanting and needing more dresses for lounging around in. Honestly, many of my handmade "lounging" dresses may not be outdoors appropriate anymore.
What really stood out to me about The Florence is the style lines. I loved the interesting shape of the waist seam and the partial button placket at the back of the neck. It even has tiny darts at the back shoulders. This pattern unwaveringly sat on the top of a stack of to-do's for quite a while before I finally got around to working on it.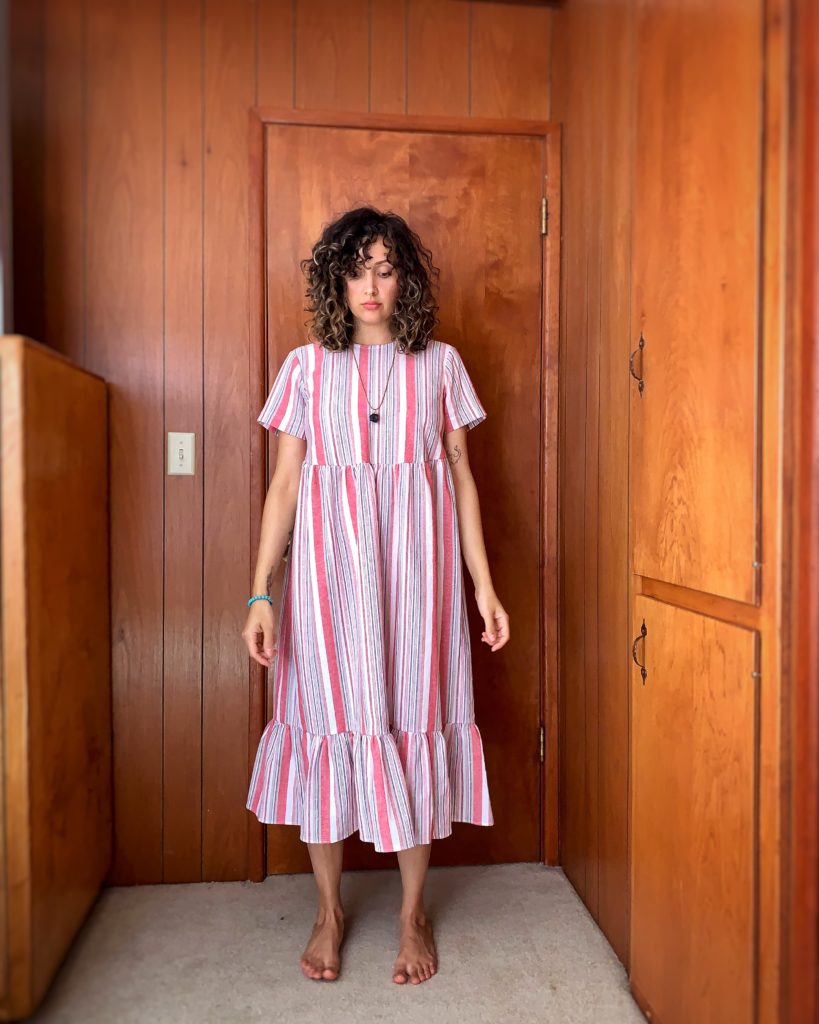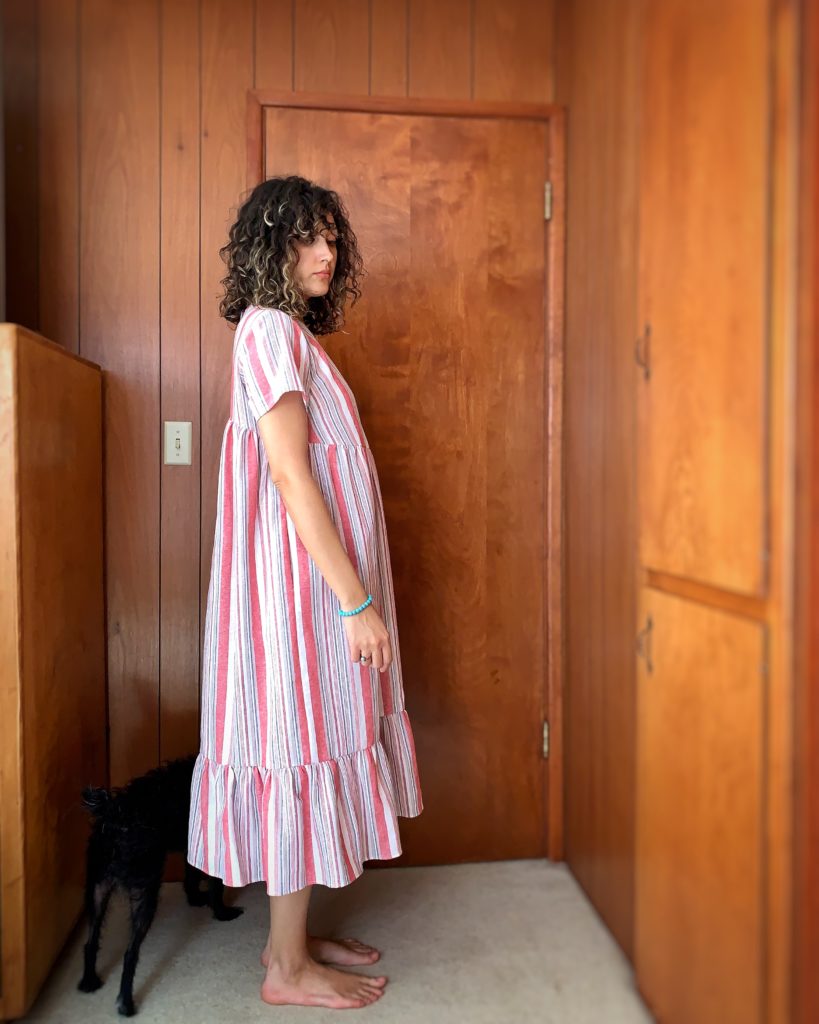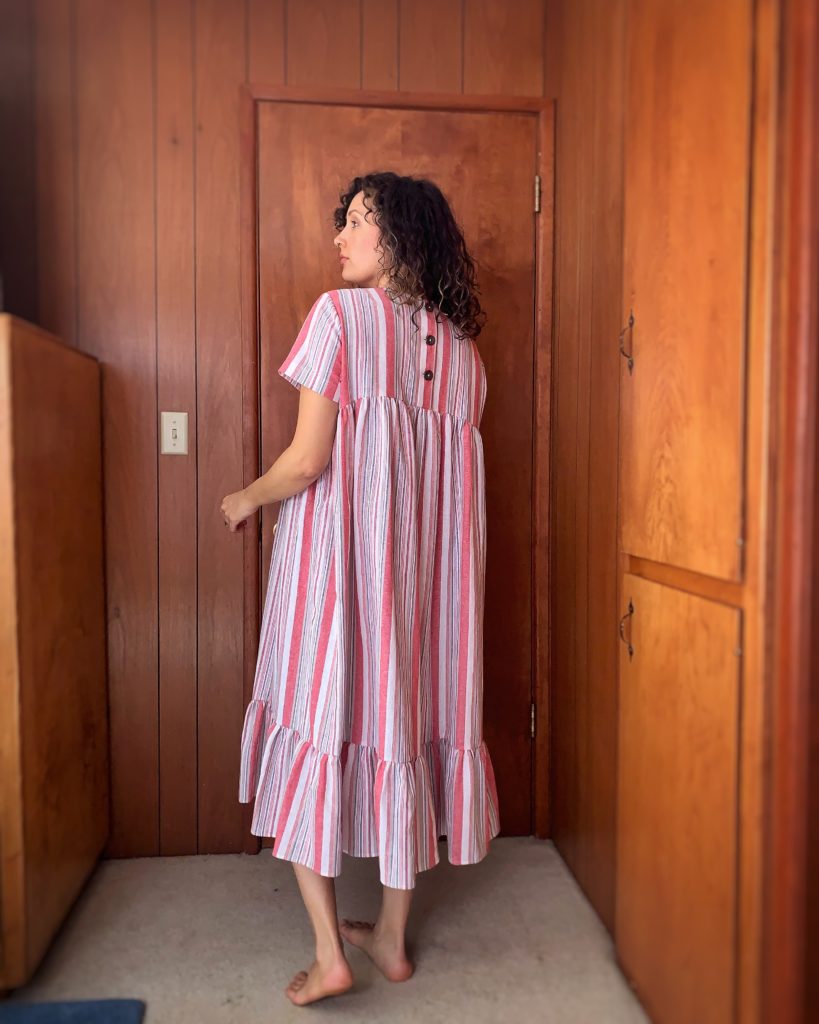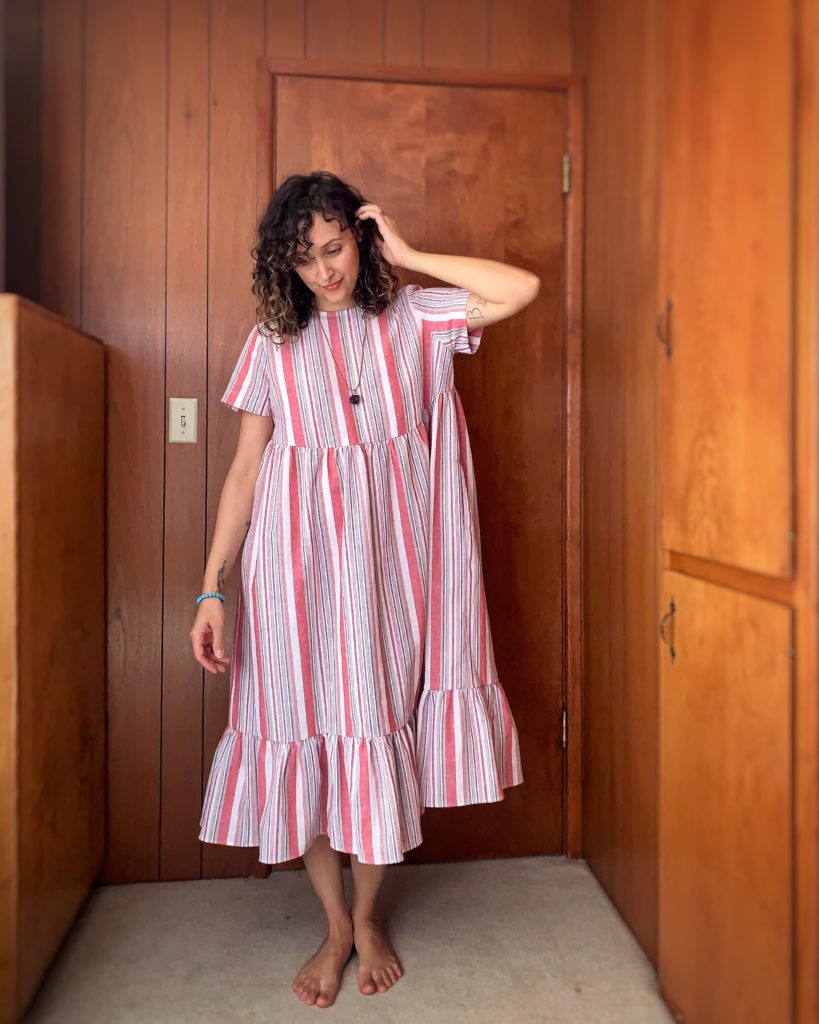 The Fabric
This fabric is another piece of the puzzle that I had in my stash for a surprisingly long time. It is a cotton-linen blend from Joann Fabrics and I had some hesitance about using it. It just sat there, and I think I just could not picture a good match for it. I don't even see it on their website anymore. The fabric was cute folded up on a stack but it really came to life as a garment. I love it so much more now.
Sewing
I loved sewing The Florence, duders. The instructions were thorough. I chose my size like I normally do. My waist measurement put me into a size 12 and my bust in a size 14. Because the finished look is oversized I went with the smaller size 12 and the fit is super good through the shoulders. I love sewing button plackets and gathers. Such simple steps with such dramatic results, know what I mean?
Rather than sewing a piece of twill to stabilize the waist seam of the bodice I stay-stitched at a normal stitch length. This worked perfectly well on my fabric which holds its shape nicely. Lengthening the peplum to dress length was simple enough. The front and back skirt pieces are different shapes but adding the same amount of length to the bottom of both pieces did the trick. The side seams needed straightened slightly. I think I added about 16". The other mod I made was to add in-seam pockets and I used the french seam method in my last post.
The remainder of my fabric after cutting out the bodice, skirt, and sleeve pieces was used for the skirt ruffle. I cut 3 even strips across the full width of the fabric and attached the ends to form a giant tube. Next I hemmed, then gathered, and then sewed it to the bottom of my skirt. I even used some scraps to make a matching waist tie and I'm not sure I should have bothered. But I guess I have one nevertheless.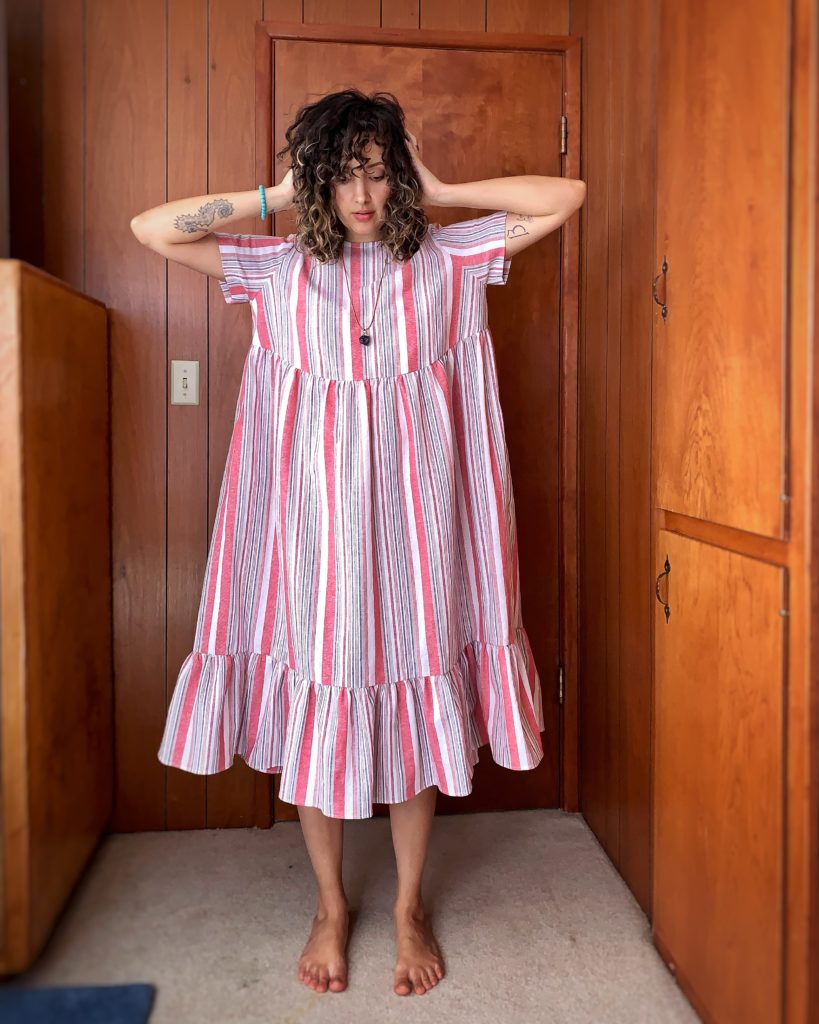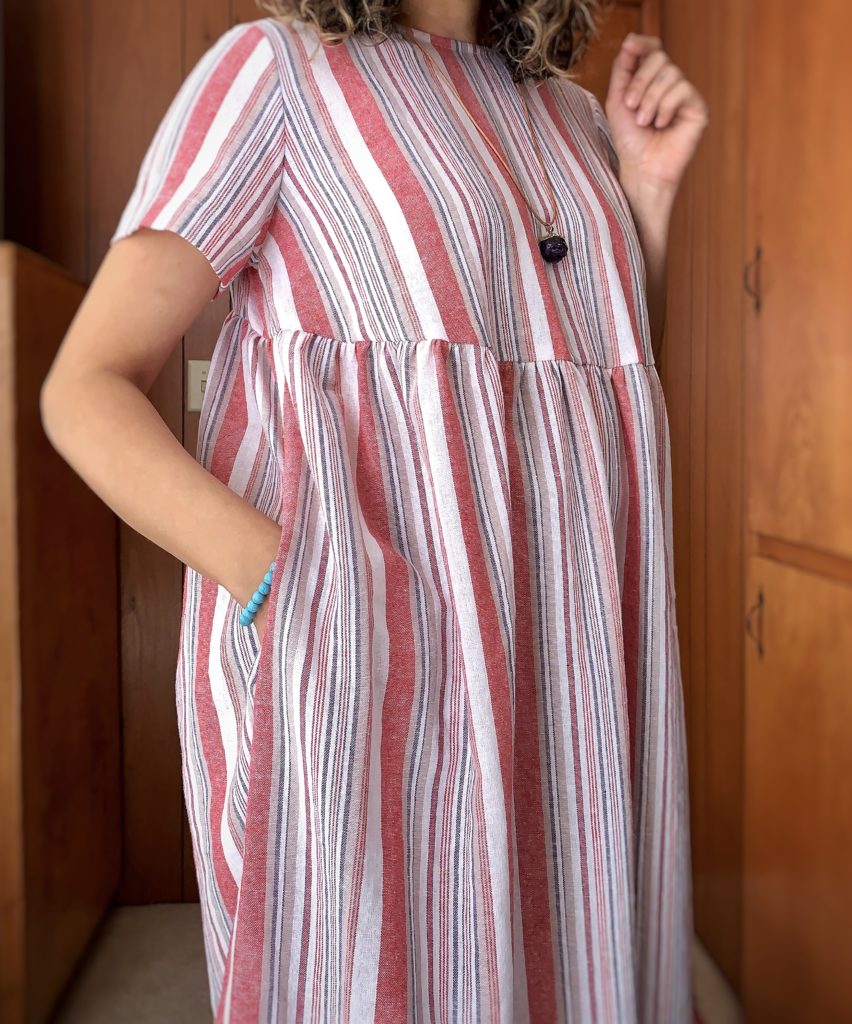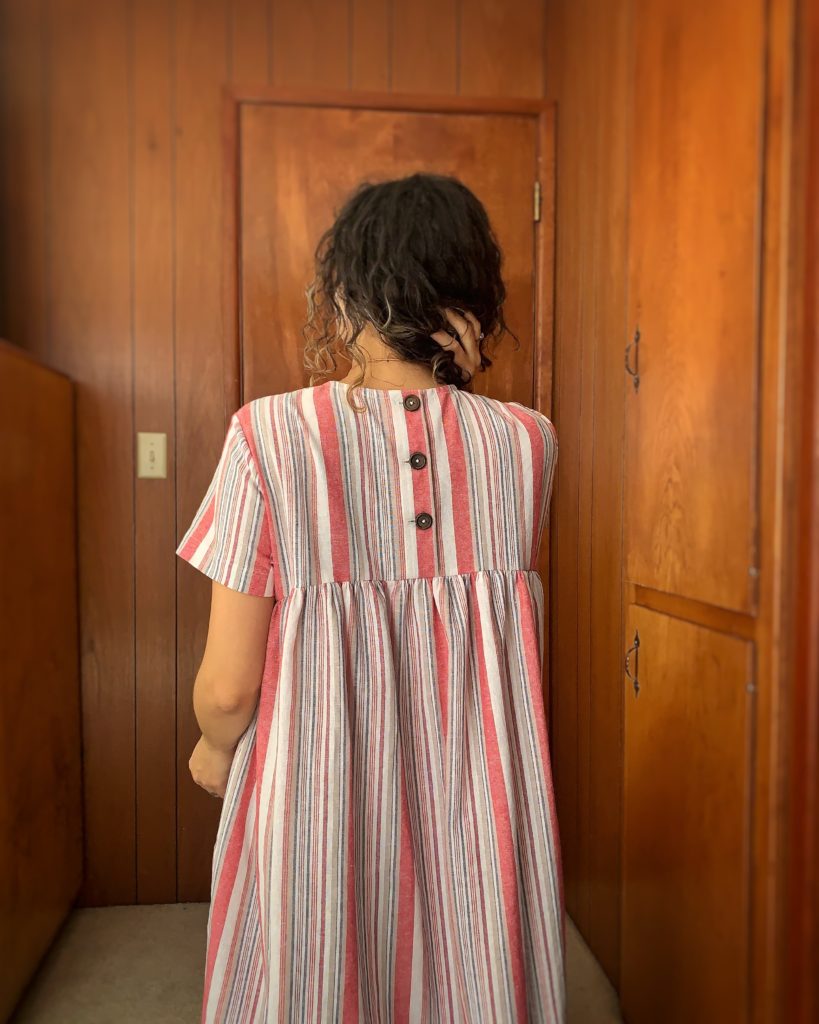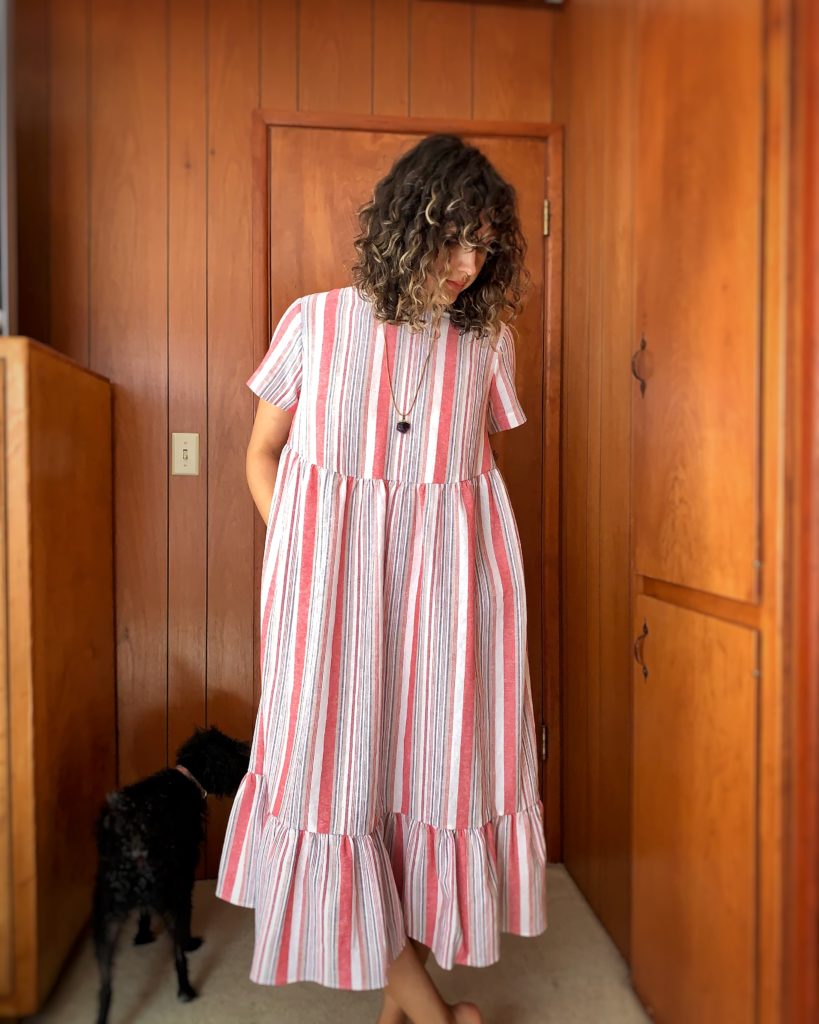 Final Thoughts
To be honest I was surprised by how much I loved this dress when I first put it on. It's important to give the sleeves some love. I'm not sure what it is, I know that they are simple short sleeves, but I love the fit of them so much. And stripes! I just love stripes and the way they add to this look. This is exactly what I need more of – simple, comfortable styles to throw on and go. Put on a Suki Robe and a necklace, and feel good at home or out and about.
The fact that the shoulders and sleeves fit so well (remember those little shoulder darts) may be what makes The Florence. There is an intentional balance there, drafted into the pattern, that I can really appreciate. The solid medium weight of the fabric compliments my dress version as well. It has a nice weighty feel to it. I'm so happy to have tried a Merchant & Mills pattern. I will definitely be making another version of The Florence.