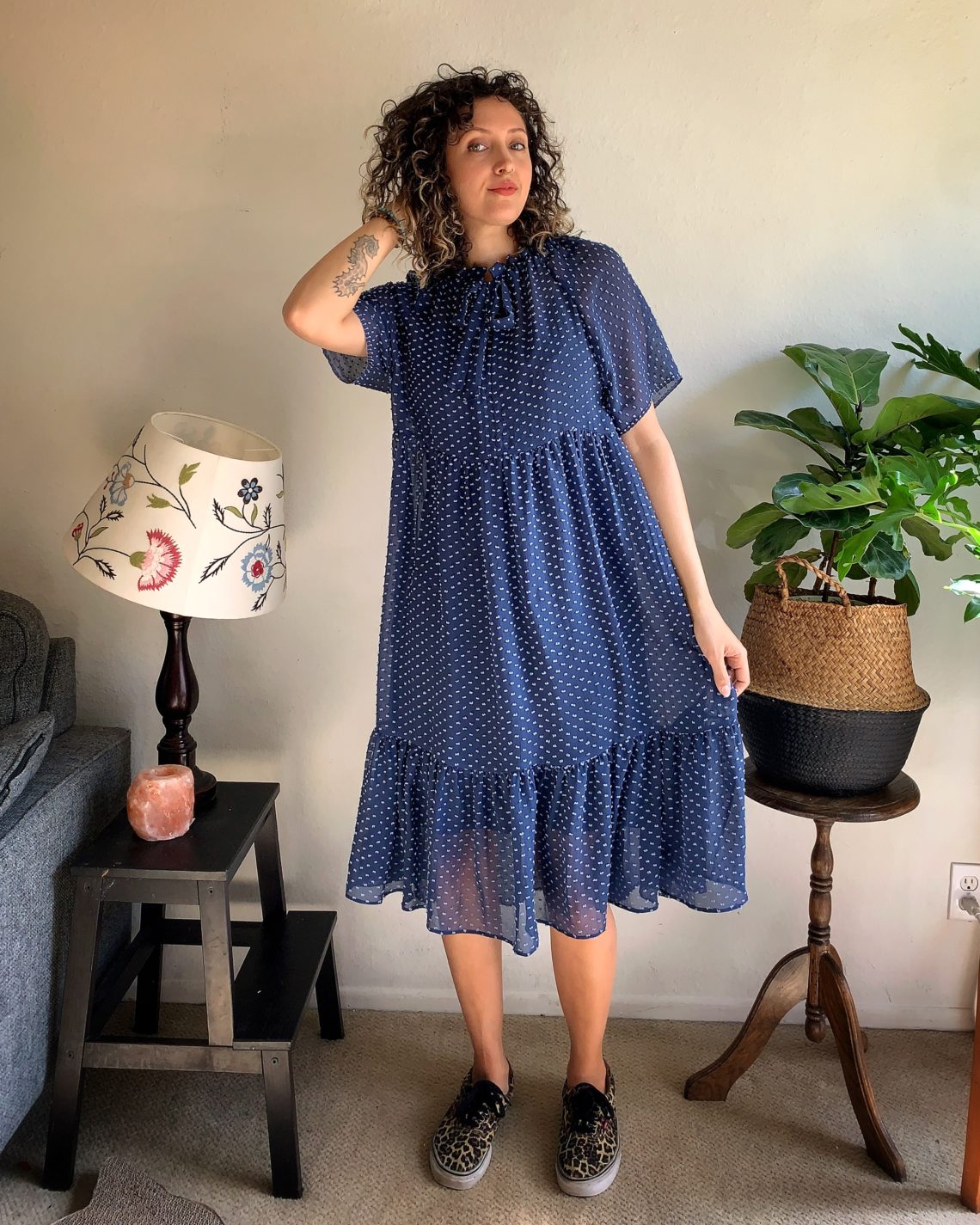 Swiss Dot Silk Chiffon Wilder Gown
Here I am again with a new make that I am so happy with. There has been lots of experimenting with new fabric types around here. Silk may be a new favorite and, surprisingly enough, was not at all as intimidating to work with as I had anticipated. Recently, I was asked to be a Measure Maker for Measure Fabrics featuring some of their very glorious salvaged designer fabrics in my makes. I could not be more thrilled about the opportunity. Today I'm sharing a dress I made with this beautiful Swiss Dot Silk Chiffon from Measure and it may be the most wispy, floaty thing I own.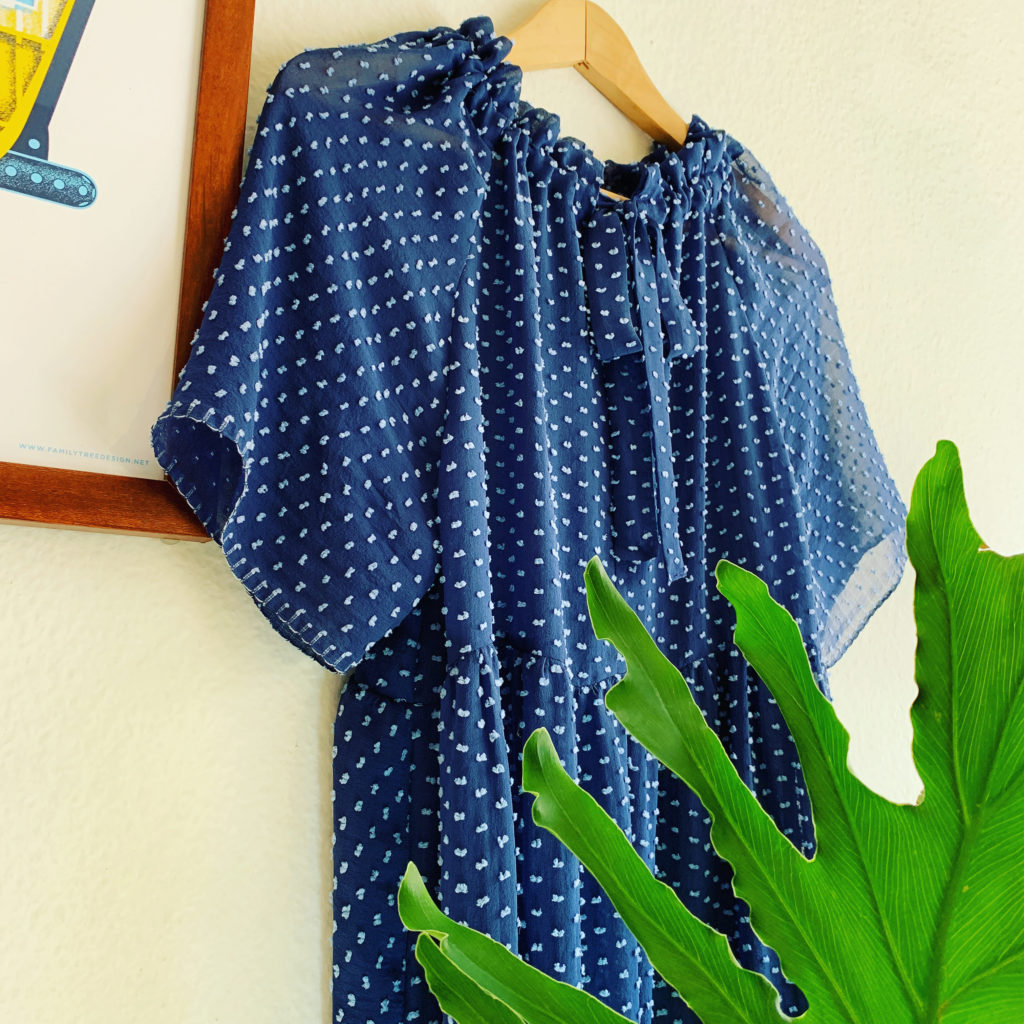 Silk
The more I work with silk the more I understand it's diversity. So far in my sewing practice I have discovered that no two silks alike. More specifically, each type of silk seems to be extremely unique. As you may have seen in my last post, the raw silk used to make my Axis Dress was a nubby, natural textured silk much like linen. I also have some experience sewing with silk noil which is also extremely nubby and has a bit of a rougher texture and heavier weight. It's funny how I haven't sewn with the slippery variety that one might think of when contemplating silk. Slippery fears may be what has kept me from experimenting with this fabric type for so long and I say "be brave fellow sewists!" There really is nothing to fear in silk.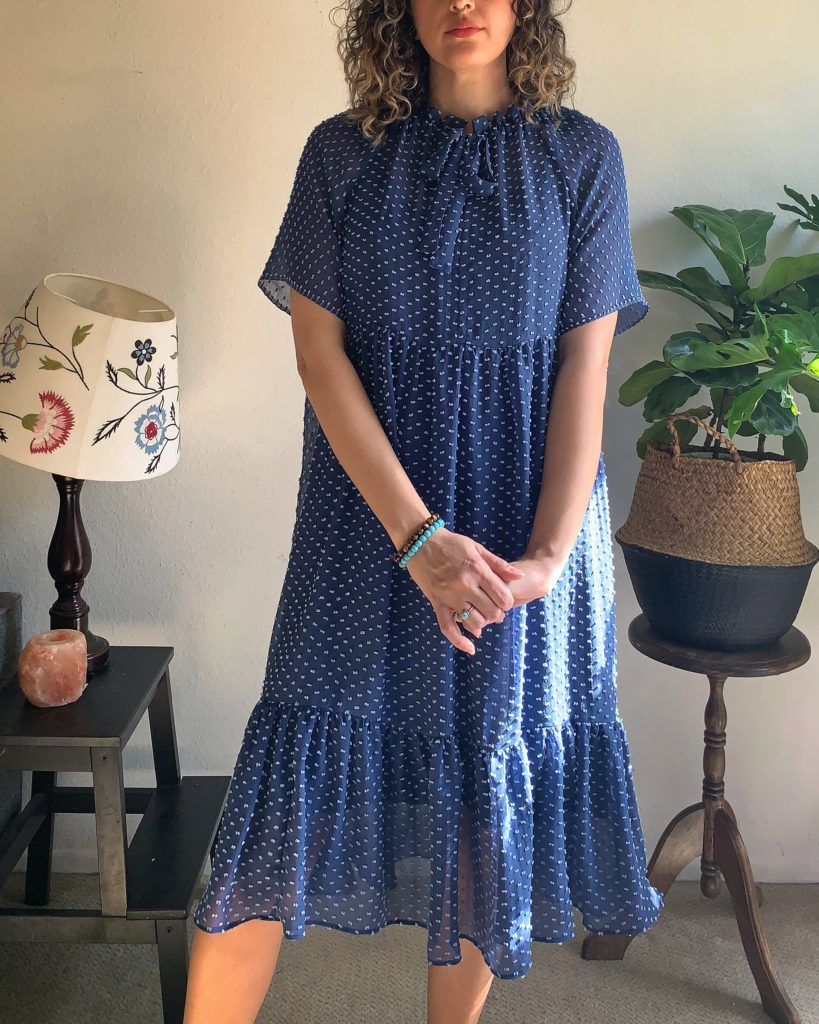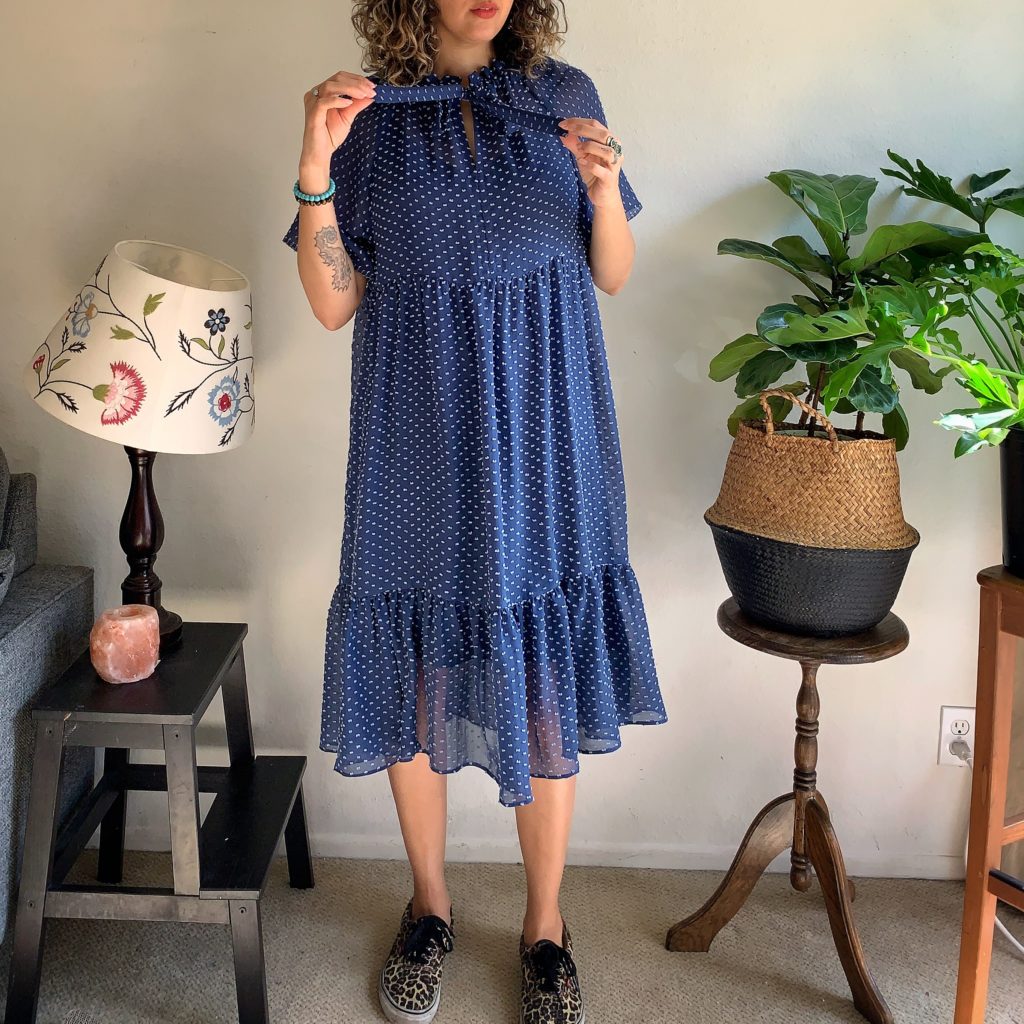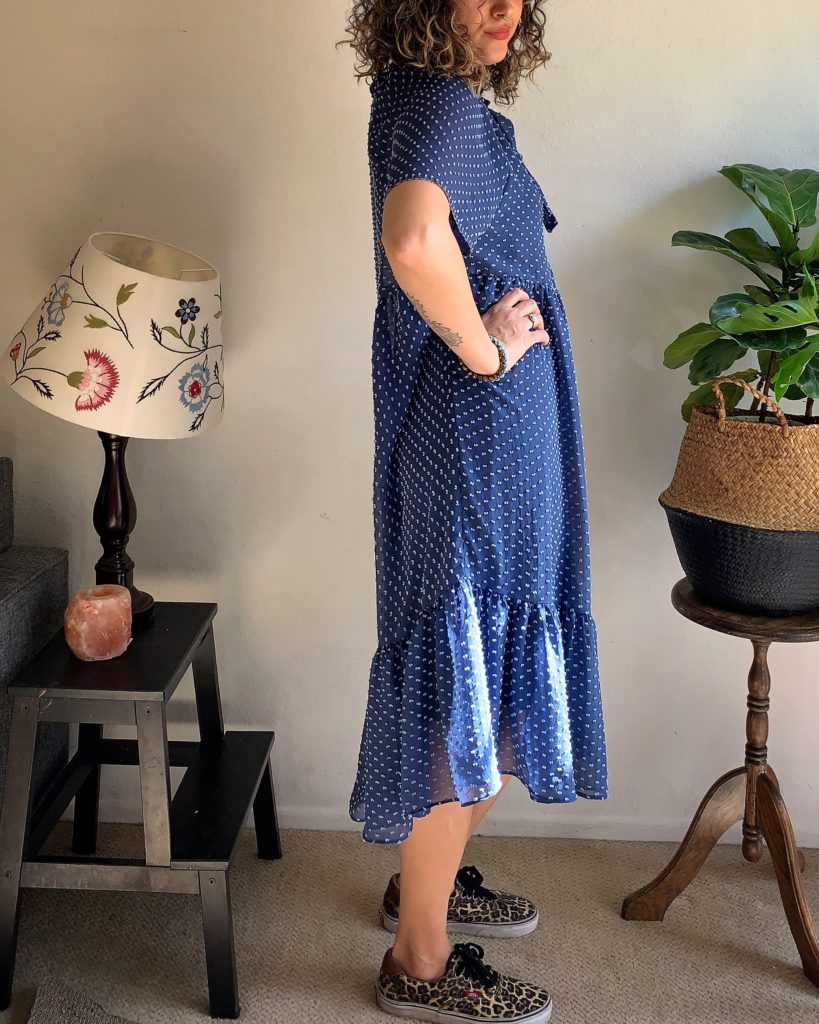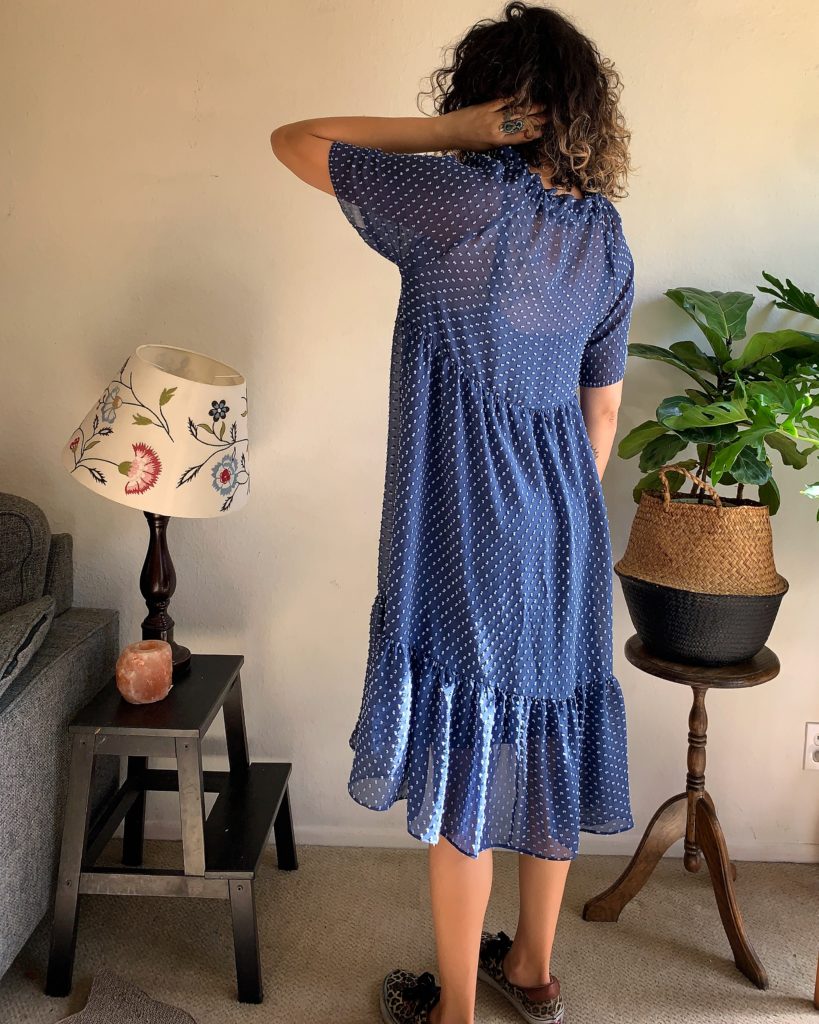 Cutting
All silk chiffons may not be created equal as far as I know but this Swiss dot silk chiffon is so very beautiful. It is very soft and light but has a bit of texture to it. The dots give it even more of a unique texture. It was surprisingly simple to cut and sew. Using my rotary cutter (I am absolutely desperate for a new cutting mat by the way) and pattern weights I had no issues cutting my delicate pieces. Sewing with it was even more of a pleasant surprise.
My only issue with cutting out my pattern pieces was that I hadn't noticed the narrow width of my fabric. I received three yards from Measure and didn't notice the 44″ width until after hand washing and laying it out on my big dining room table. The ruffle on the skirt is shorter than I originally intended and I had to do some serious pattern Tetris to get this cut out. Some of the skirt pieces were cut on the cross grain. In the end, I am super happy that I took the time to use up as much of the fabric as possible. The Skirt ruffle is a little fuller than suggested in the pattern which is so lovely in this super light-weight fabric.
Washing
To wash I used a capful of Eucalan in a basin of lukewarm water letting it soak for an hour. The fabric was pretty heavy when wet and I was worried that hanging it up in that state would cause some pulling and stretching. I decided to tumble dry it on low for 5(ish) minutes, and then hung it up for the remainder of the drying time. Silk has proved to be amazingly durable and holds up to washing without issue.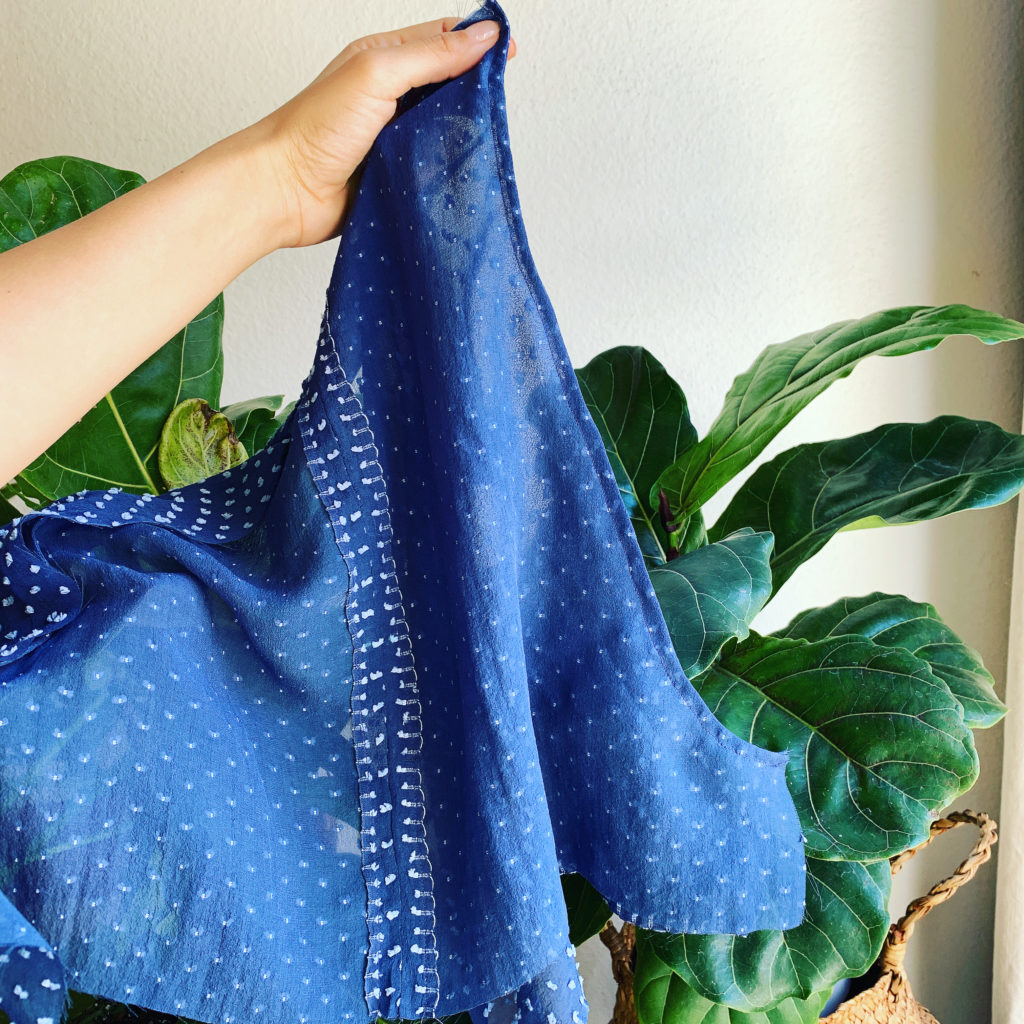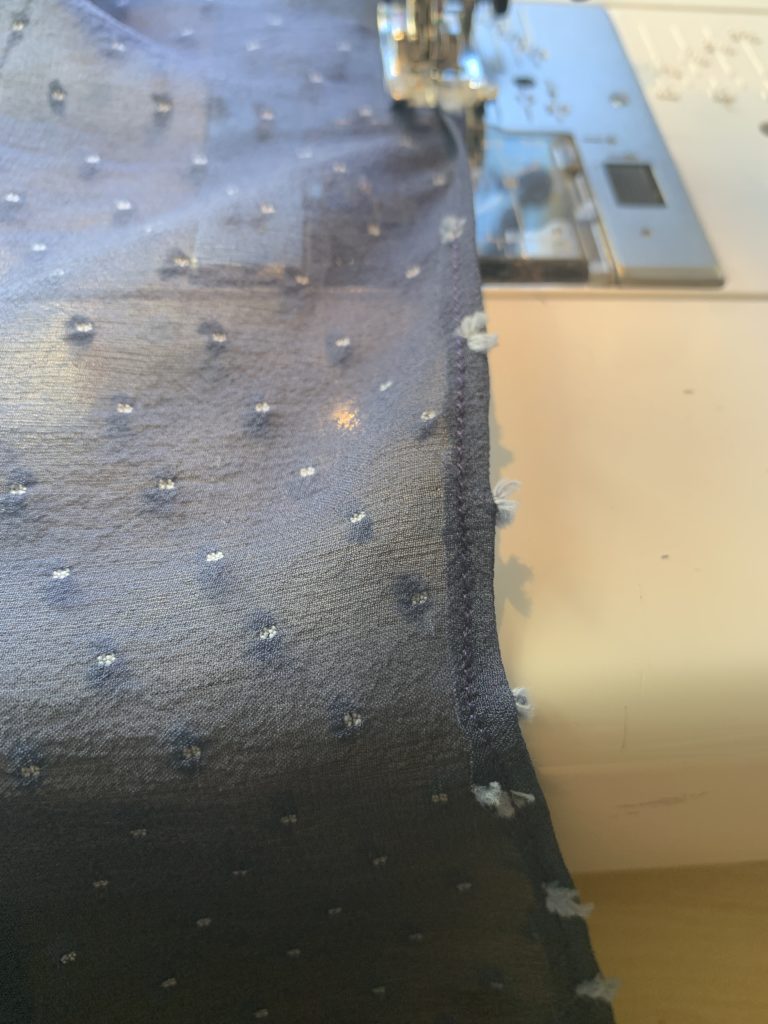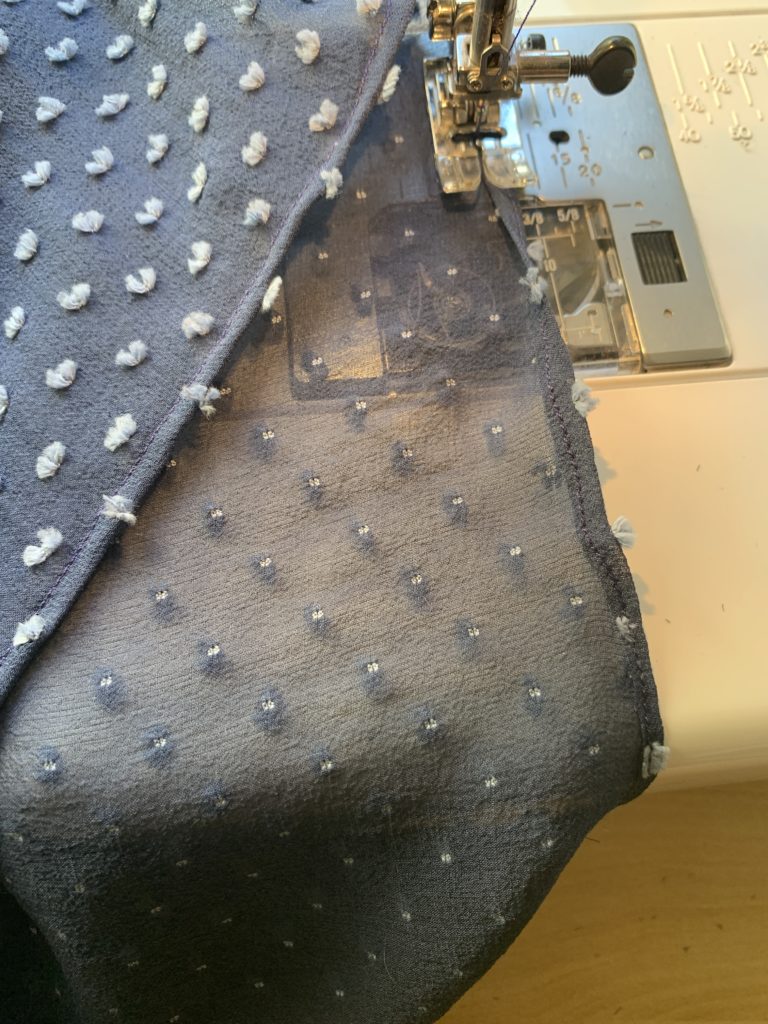 Sewing
Sewing with this silk was much easier than sewing with a rayon challis or polyester in my opinion. The texture is not at all slippery and it holds it's shape surprisingly well. This Swiss dot chiffon pressed like a dream. The simplicity of my pattern choice helped too – no darts or fitting necessary.
Most of the bodice and the side seams of the skirt were finished using French seams and a microtex needle. French seams are a strong and beautiful option when sewing with a sheer fabric such as this one. I was also able to use some of it's very sweet embroidered selvage edges. Pattern Tetris inevitably decided for us that the selvages would be used at the center front of the bodice and the sleeve edges.
The bulky gathers around the waist and second tier were finished using the overlock stitch on my regular machine. Using a serger didn't feel right when considering the sheer and delicate look of my garment. Blue serger thread would be a must as well but I didn't have that. So, in the end I decided that the more delicate look of the standard machine finish might be the ticket and it worked so nicely. The hem is finished with a tiny baby hem. I pressed the hem in by a tiny 1/4″ and sewed a line of stitching at about 1/8″ from the folded edge. I then ever so carefully trimmed off the excess fabric right along the stitching line. Next, rather than press the hem in again, I simply folded the tiny hem down underneath the presser foot as I went using the previous line of stitching as a guide. This is such an easy method for sewing a dainty little hem that only requires a little bit of patience.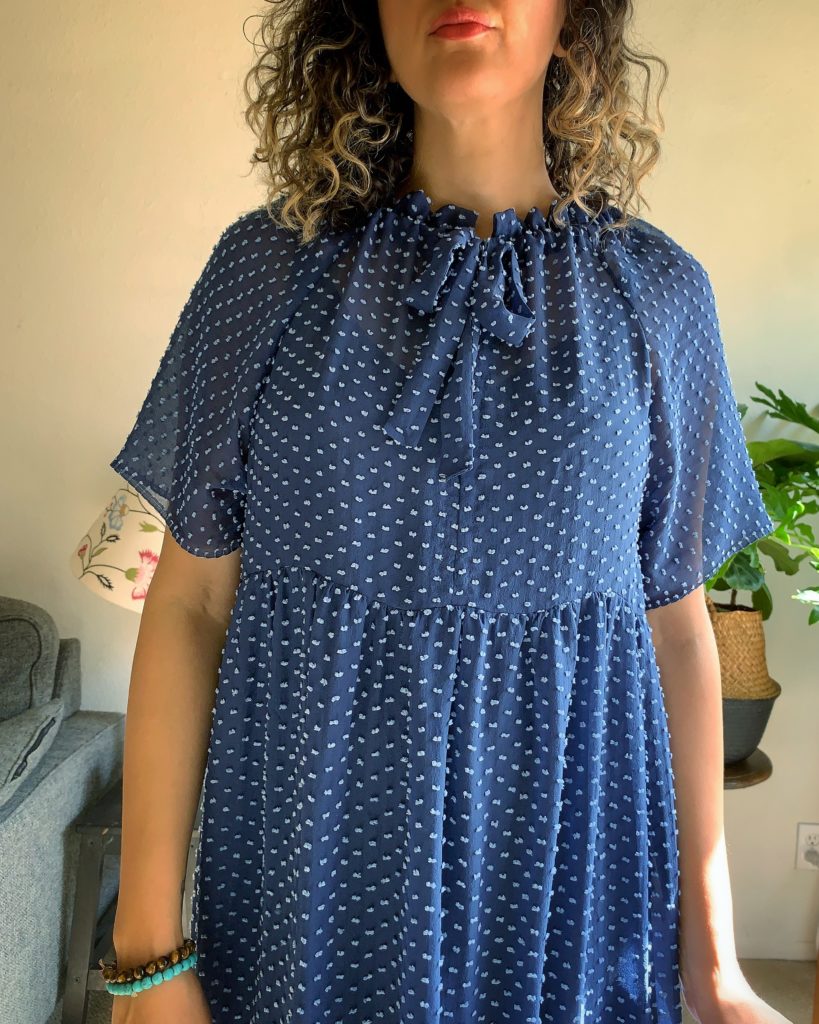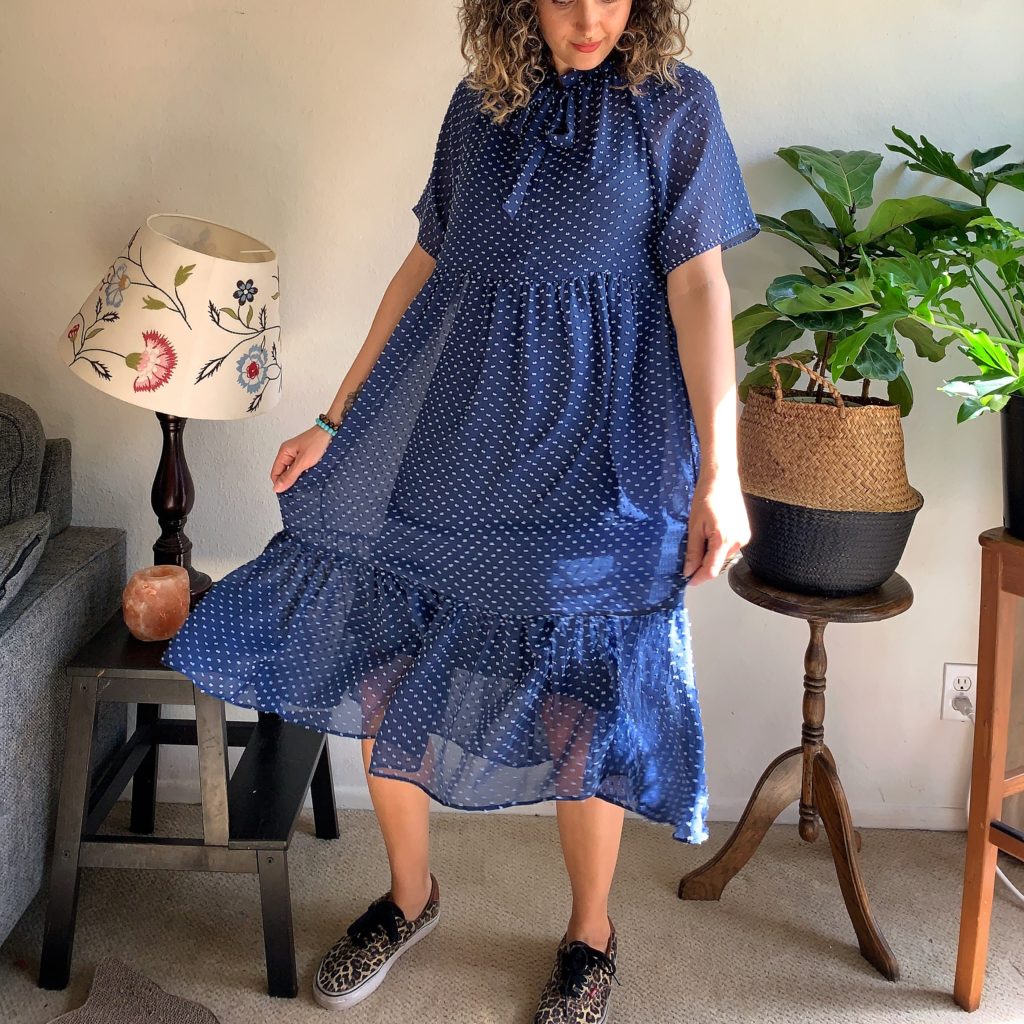 Wilder Gown
I have been wanting to sew up this dress pattern for such a long time. The Wilder Gown by Friday Pattern Company has such a dreamy and delicate design. I was sure that the pattern and fabric would make a great match. This dress truly turned out better than I had hoped.
This dress was designed with simplicity and ease-of-wear in mind. The construction was simple and sewing time was fairly short considering my fabric choice. The Wilder Gown is absolutely beginner friendly. The empire waist and loose fit make it easy to fit. The instructions were very clear and easy to follow. I would love another of these in my closet.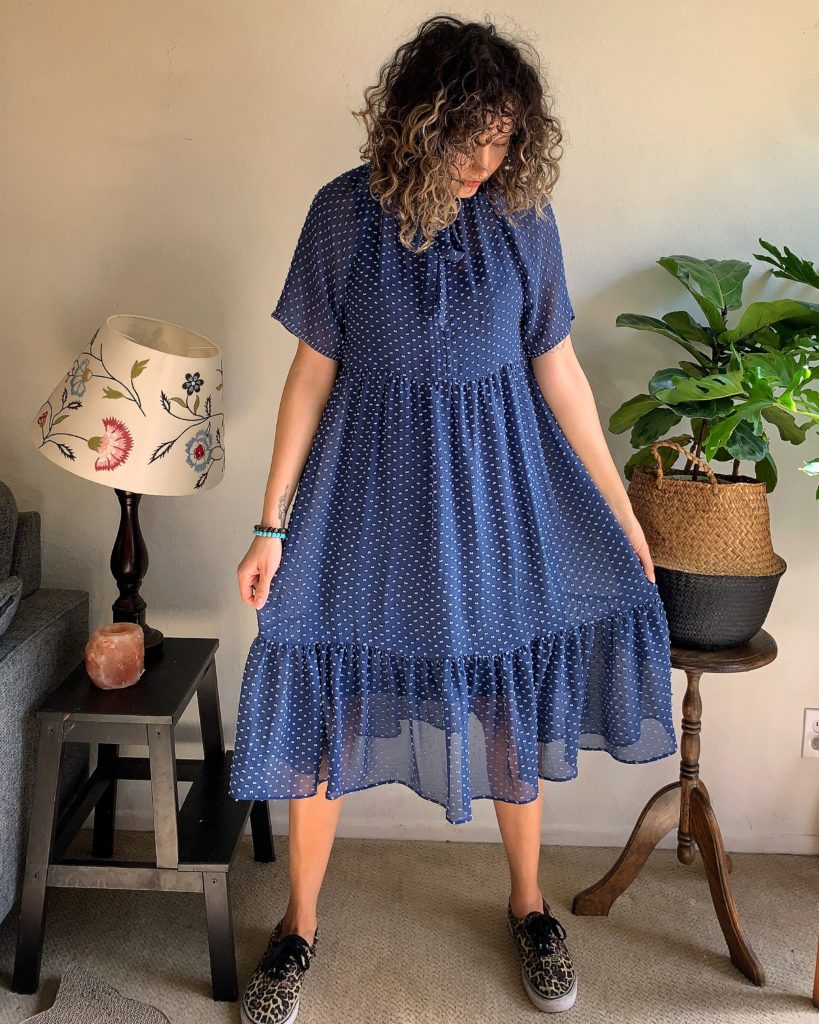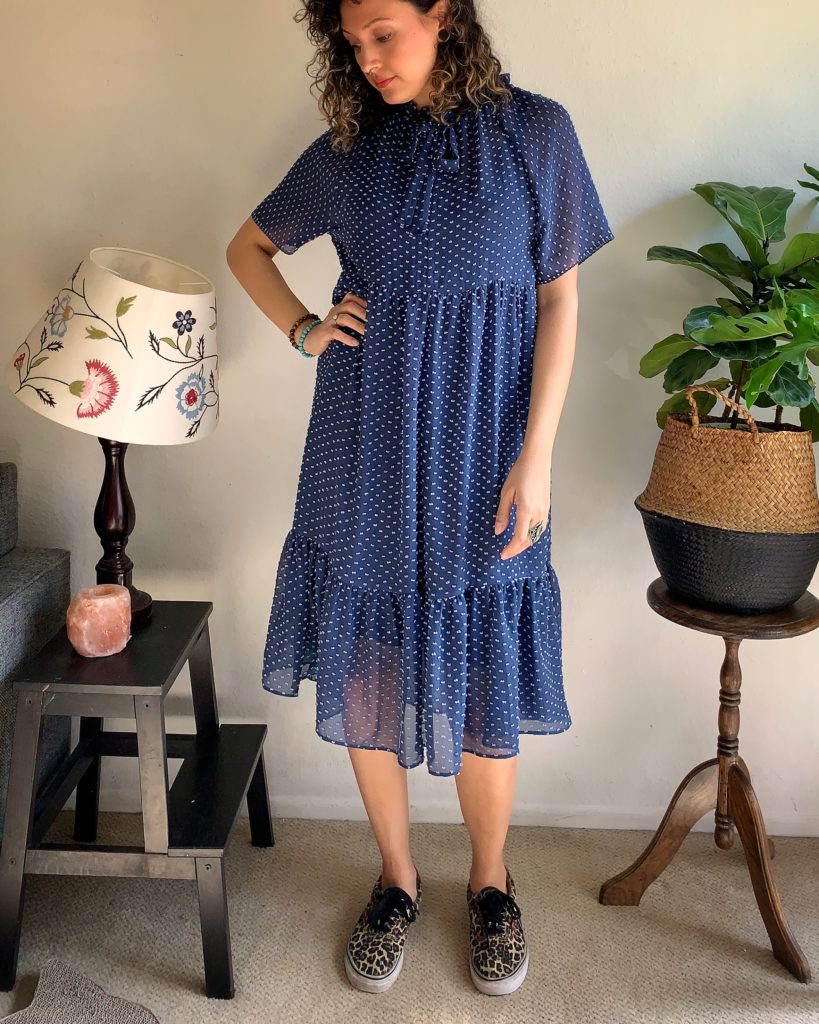 Measure Fabrics & Final Thoughts
This was such a fun make. I am so excited to see what else Measure Fabric has for me to play with in the future. They really have some beautiful finds and are an ethical choice for fabric shopping. Maria shares so many fabrics in detailed videos on Measure's Instagram account which I think can be such an important resource for sewers. A video can really put forth an element of a fabric that photos are lacking.
In the photos for this post I'm wearing my Wilder Gown over an old black thrifted slip that I had completely forgotten I owned. Don't you love rediscovering old forgotten garments? Layering this Wilder Gown over a pair of jeans could be a cool look that I will definitely be trying out.
Check out my Instagram if you'd like to see some more construction photos. I have saved them as a story highlight to my profile. Thanks for stopping by and I'll catch ya next time!