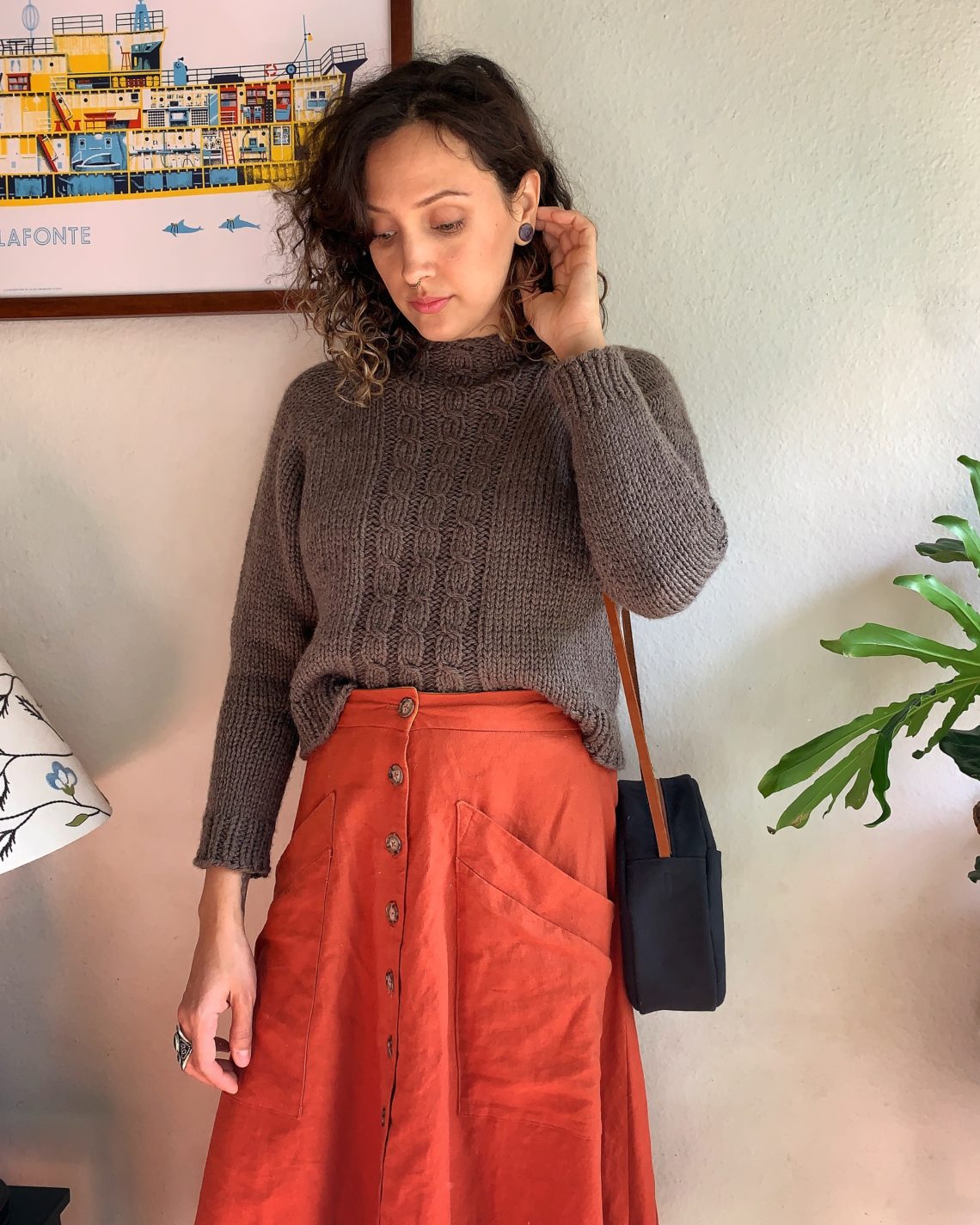 Grace Knitting Pattern Review
I thought I would jump on here to share my newly finished sweater using a beautiful pattern by Bayron Handmade. This was a very fun and fairly easy project. I want to encourage knitters, even beginner ones, to make a Grace for their own wardrobe. The pattern is gorgeous and you wont be disappointed.
The pattern
I started this project in the middle of knitting a pair of socks (not yet blogged about) as a temporary relief from tiny knitting needles. I had to force myself to put it aside in order to complete the initial project because I found the simple design so enjoyable. The Grace pullover would be a wonderful first sweater for knitters. The pattern includes links to videos and even a very easy technique for the cable pattern that does not require a cable needle. The underarm on this sweater looks so good, which I am sure some of you fellow knitters will appreciate. Lets not forget it's perfect t.v. watching compatibility as well.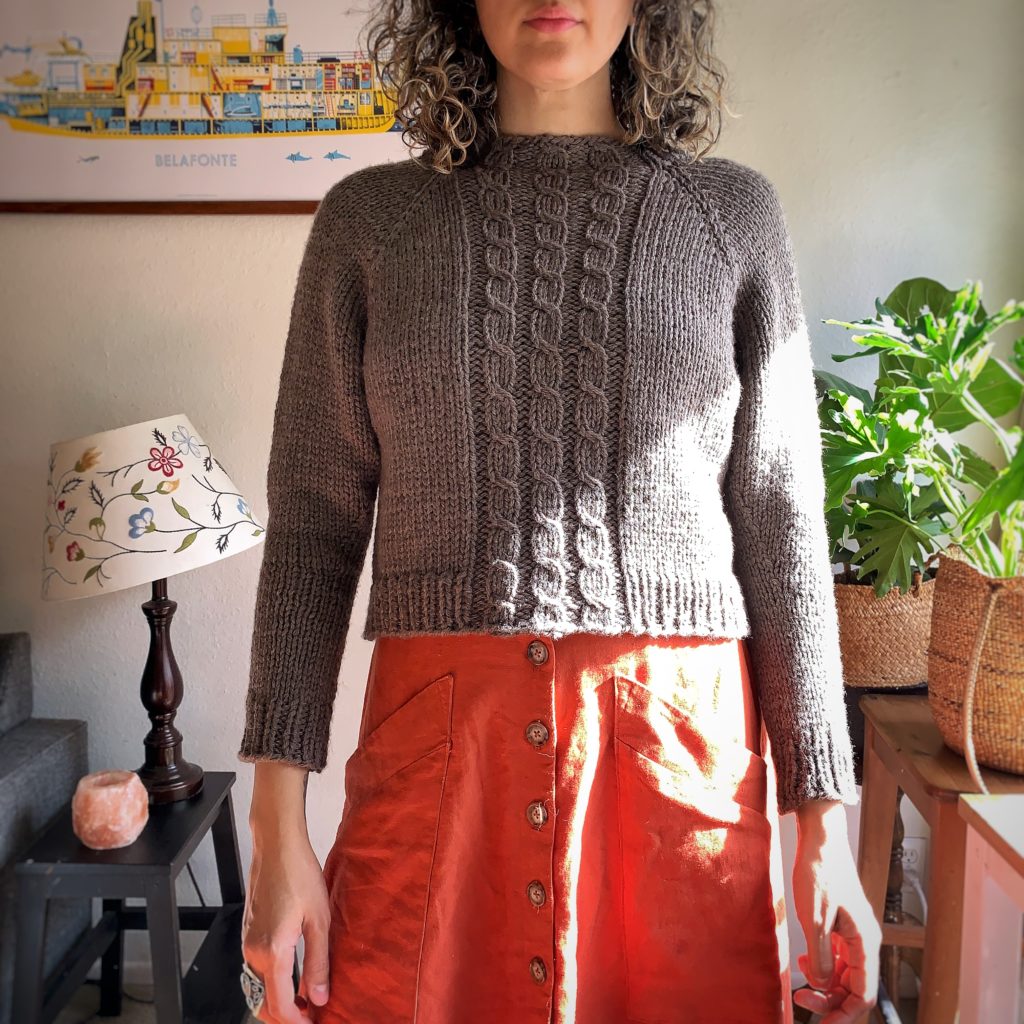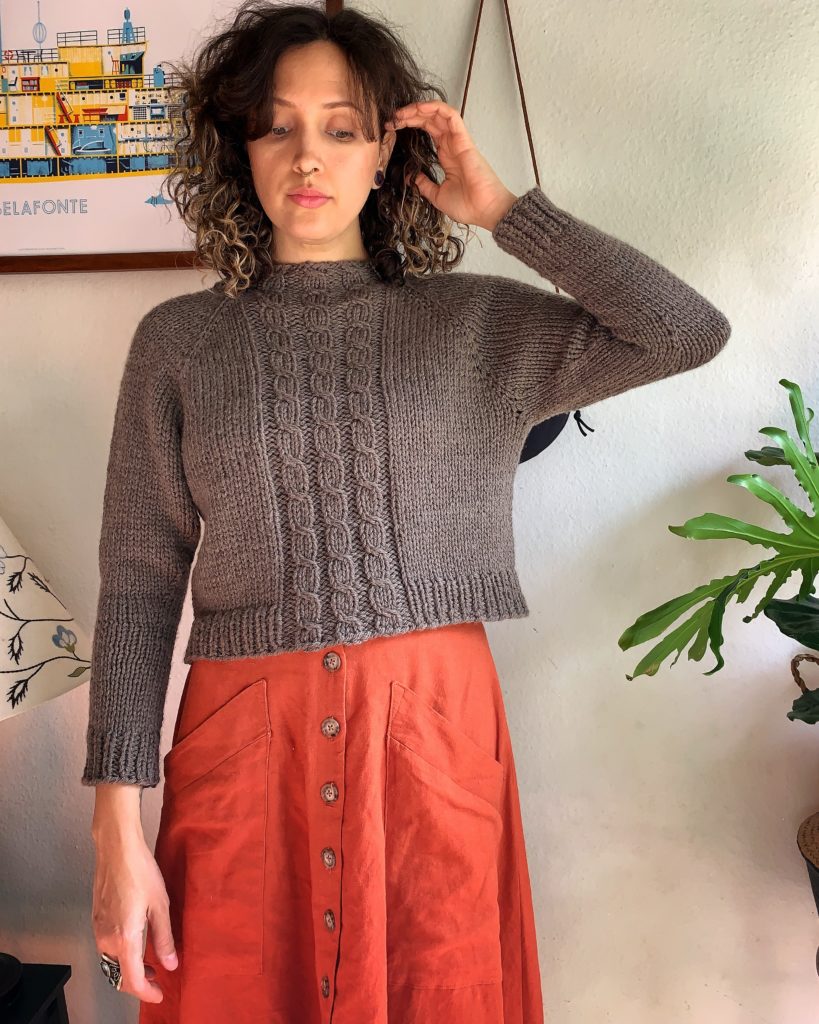 Yarn & Sizing
I just love Denise's vibe and the classic style of the Grace. I recommend following her on Instagram. We can expect great things from her, I'm sure. She was kind enough to gift me this pattern and although I didn't have bulky yarn on hand I did just receive some DK weight yarn in the mail purchased on sale from Bluprint. It is a Superwash Merino in the colorway Stone Heather, a little boring I know, but gotta love those neutrals. This yarn is deliciously soft and after a quick swatch to test the gauge, holding the yarn double, I decided it would be perfect for the Grace. I used 5 skeins to make this sweater in a size 43, basically sizing up one to compensate for my swatch being just slightly smaller than recommended. Feel free to check out my Ravelry project page.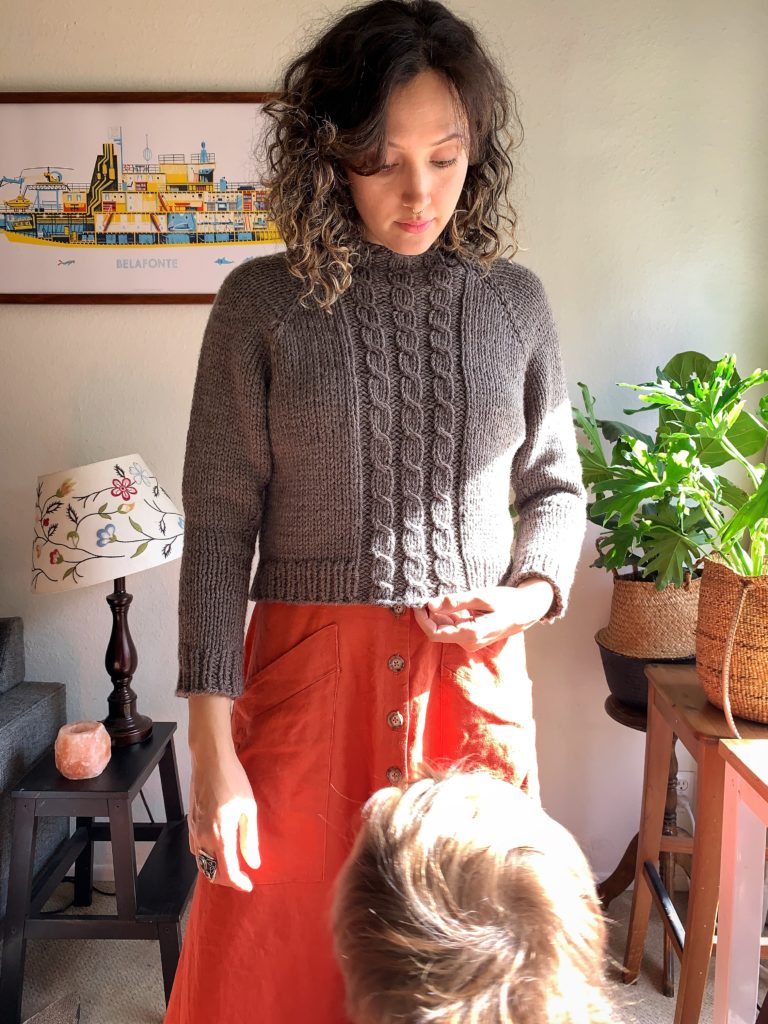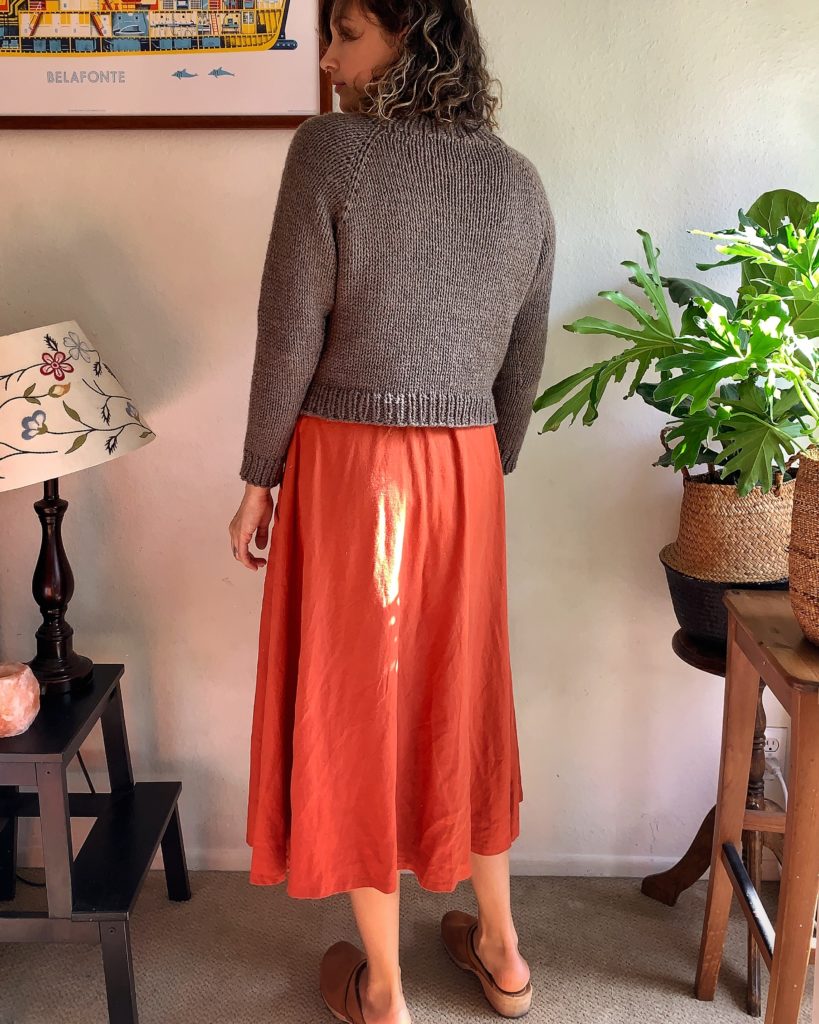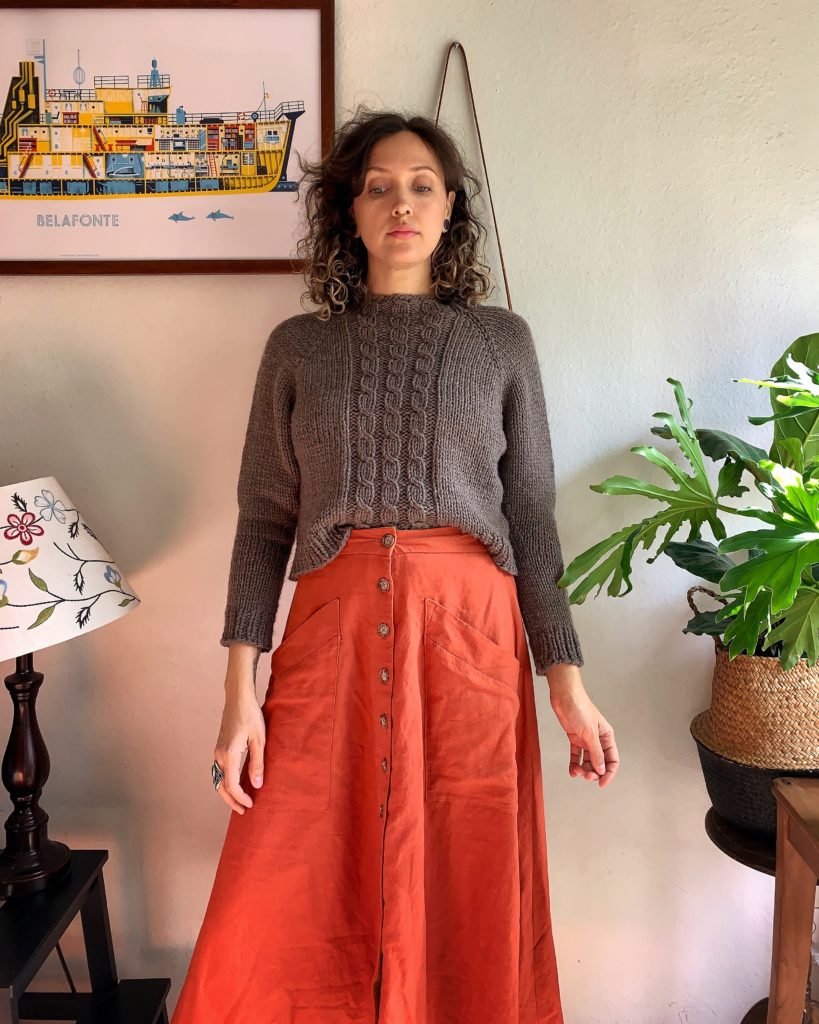 The practice of knitting
A female co-worker once, upon seeing me crocheting between clients, commented on how "domesticated" I looked doing so. I'm not sure I realized at the time how insecure this made me, but I've carried around this memory for quite a long time. I was a new mom at the time but I had been a regular crocheter for years at that point. I occasionally sewed, loved to bake, and loved being a mom, but I really didn't like being called "domesticated." I still have a problem with that word even though I know first hand the importance of what a mother does day-to-day. Moms/caregivers aren't giving into the patriarchy, but instead the patriarchy made a very necessary role in society seem unimportant.
Although people may perceive knitting or crocheting as the act of a "house-wife", I , in fact, find it very empowering and feminist. With my two hands I knit this sweater using wool, a natural fibre, and engaged in a practice that I believe interlinks me to a sisterhood of my ancestors and other knitters. Engaging in needlework is not only for women or femmes, but is definitely feminist. When we knit our own sweater we are choosing to not take part in fast fashion which continues to exploit (mainly) women and our planet. It's a kind of feminism that is not being capitalized by the fashion industry. These are my personal views at the moment as a cisgender woman so please don't be offended if you disagree. I'm also listening to Beirut as I write this so can you really blame me for getting deep?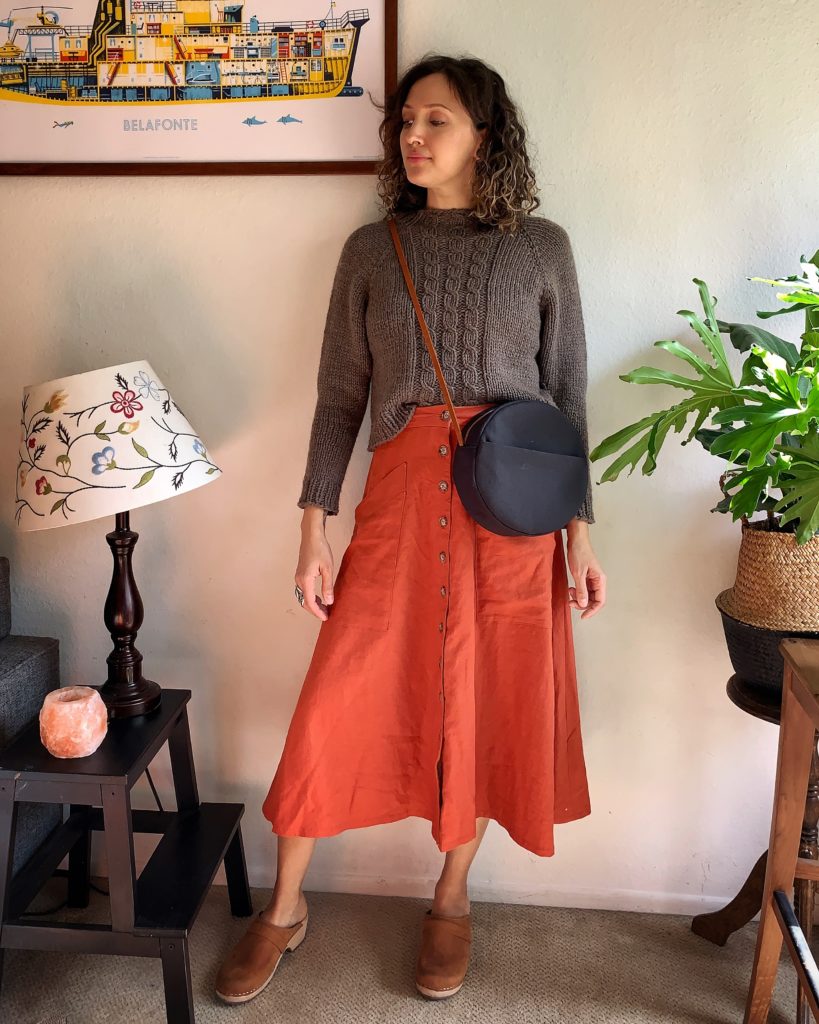 Final Thoughts
All of this to say that my new sweater, the Grace, is very soft, squishy, comfortable, warm, natural, neutral, and may be my favorite hand-knit sweater so far. I love it and it makes me happy. I am so grateful to Denise for the beautiful gifted pattern and I'll wear my Grace with pride.