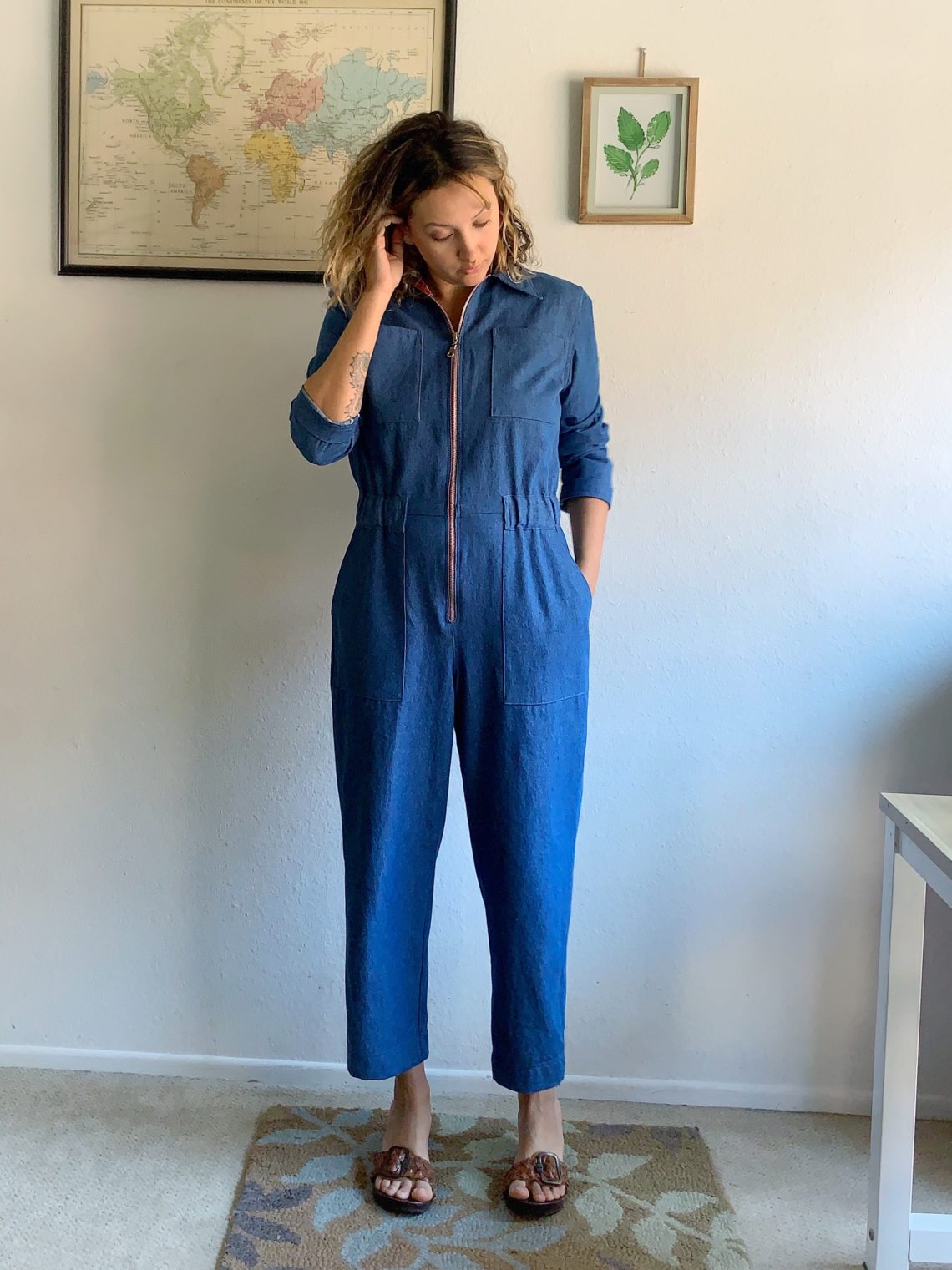 Intrepid Boiler Suit Review
Boy, do I feel intrepid in this one. Ha! This is the Intrepid Boiler Suit Pattern by Alice & Co Patterns and it was such a fun make.
Making coveralls has been on my mind for a while. I've seen a few that are drool worthy by Jesse Kamm and Madewell out there on the interweb. My hubby didn't understand the concept when I mentioned it to him and I understand why. Why would we want to wear coveralls when we're not hanging out under cars or paining houses?! Because it's fun thats why! And who knows, some house painting may be in store for me after all. I happen to now own the perfect attire for the occasion. And as a plus, my hubby loves them!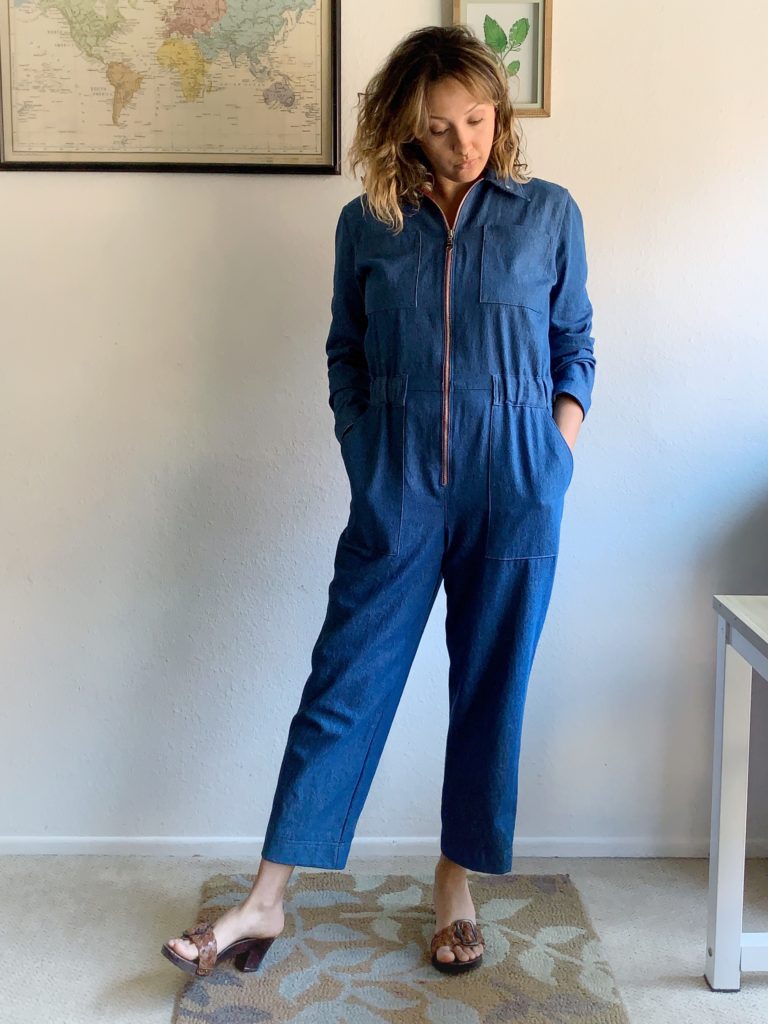 A functional boiler suit would have a nice loose fit, and this is what I was going for. The size chart put my bust in a size 14 (my waist and hips a bit smaller.) I did go with a 14 although no finished measurements were included.
Finishing every seam with the serger as the first step seemed extensive so I just used my better judgement and followed the directions for the most part.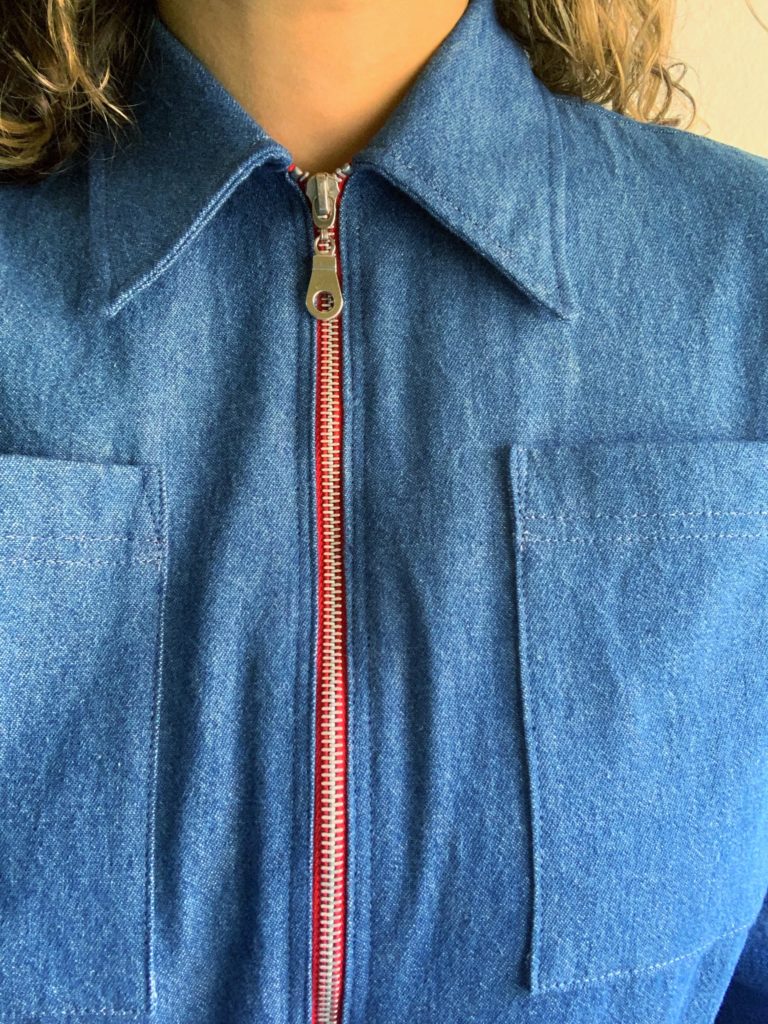 I made very little alterations to the pattern. I don't love the back pockets but kept them as is. Luckily I had a red zipper in my stash that works really well with this medium blue 7oz denim. Oof, I yelled a LOT during the zipper installation process. Fusing some interfacing along the edges where the zipper is inserted beforehand would have been helpful. This denim wanted to stretch a bit and it took ripping out one side several times and trying again before they matched.
Instead of using the chest pocket included, I drafted my own huge ones. The sleeves have a nice deep hem. I think I chopped about 1.5" off the bottom of the legs and gave those some nice deep hems as well. I decided I needed a cropped lewk on these (I'm getting redundant with the cropped pants, I know.)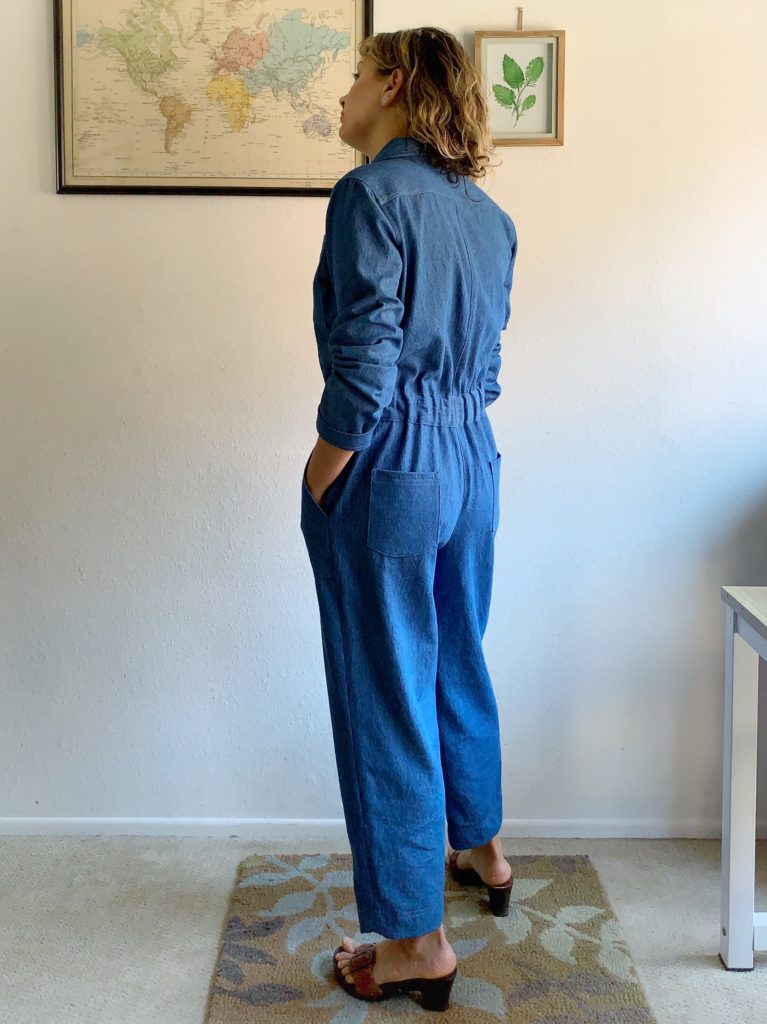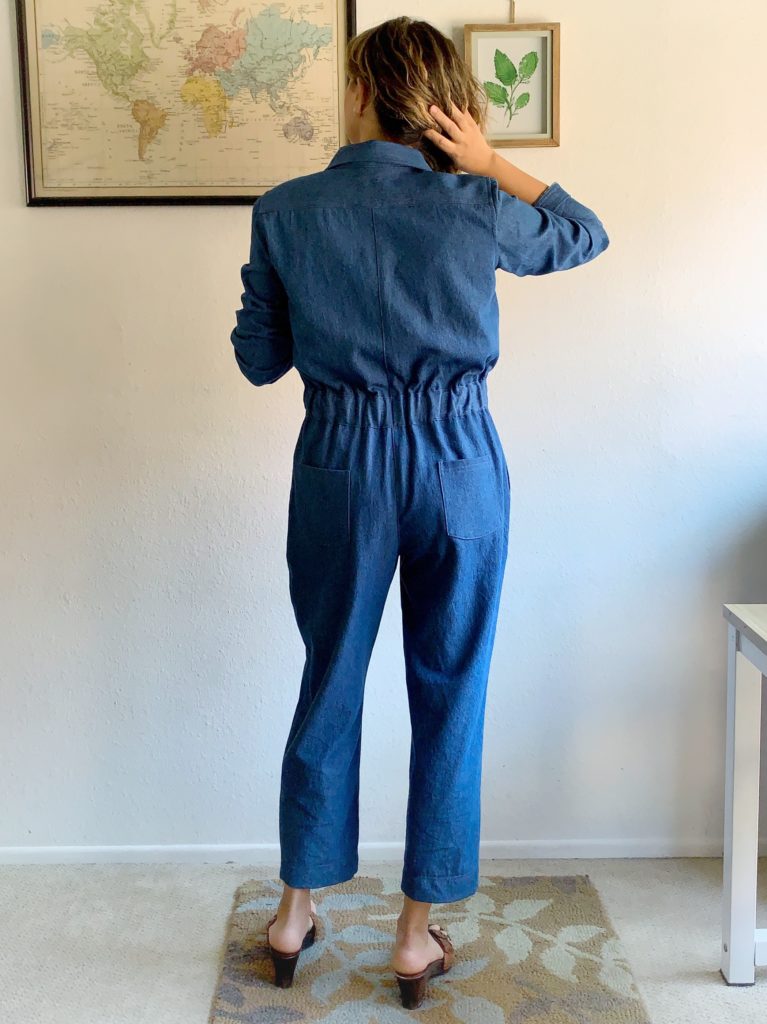 The collar pieces looked huge to me. The pattern includes 1 cm / 3/8" seam allowances and I decided to sew the collar with a 5/8" seam allowance instead. The collar could be even smaller in my opinion. The sleeves ended up a bit too wide as well so I removed about 1″ of width.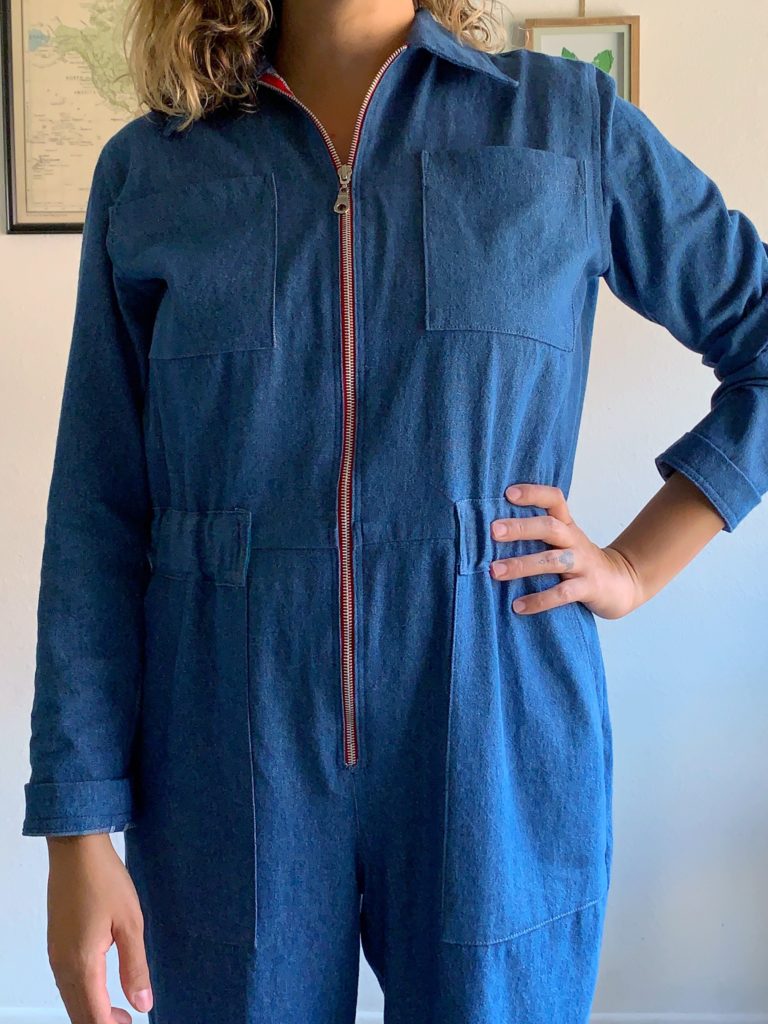 Jasika inspired me to add some elastic into the casing for some subtle shaping. It worked great. Here's a link to her blog post about this pattern. I just threaded the elastic through the casing and tacked it down with vertical lines of topstitching on the front, side seams, and center back.
Last but not least I added a LOT of topstitching. This is denim after all and it needed that utilitarian vibe. There's topstitching all around the yoke, collar, back seam and crotch seam. Double rows of top stitching are along the zipper and cuffs. There are mock flat felled seams around the sleeve caps as well.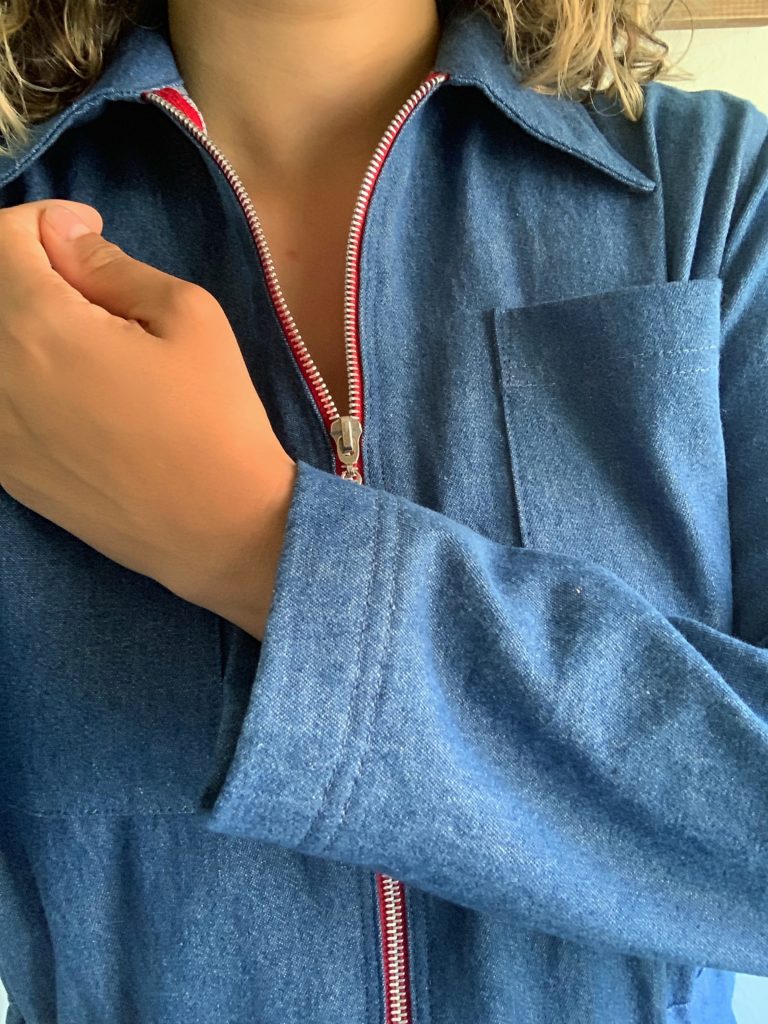 These Intrepid Coveralls are going to look so nice as this denim fades. My closet really needs another one of these! There is a free Button Front add-on which can be found through this patterns page on Alice & Co's site and I've already downloaded it. Another button front coverall in canvas or twill sounds like a no-brainer to me.